Jareth, once he became ours
I am not really paying attention to the appointment. Amber was concerned that our newly adopted stray, Jareth, pants a little when left outside to play too long. I must babysit him when I take him outside for this reason, though I think he is just young and excited, since the panting never seems to bother him. Otherwise, he is just here for a booster of one of his inoculations. Then we will leave and I will convince Amber that she wants to stop for ice cream because of this efficient and positive checkup.
While the doctor goes into the other room to finish a few of his tests, I play on my phone.
She comes back in and she doesn't have to say anything. I know how to read people. She has nothing good to tell us.
"I have some bad news," she begins.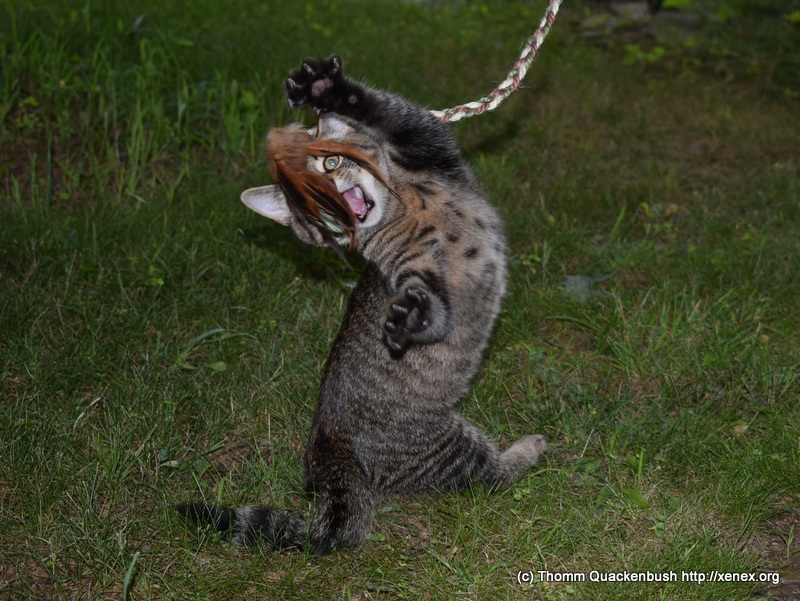 Our sick kitten
The kitten has feline leukemia. Or the antibodies to it. Amber asks if these could have been passed to him by his anonymous mother, and the doctor says this is a technical possibility, but I understand that it is not a likelihood. I understand that this doesn't matter because it is still leukemia, not a false positive.
There are different strains, some worse than others. We can bring him back in months to see if the antibodies have passed, but he is likely too old for this miracle.
He has done nothing but Love the world and annoy his adoptive brother. He is about as innocent as things come. He doesn't deserve any of this. He should have a long life of loving us and this disease means he won't. He will die young, of something we cannot cure. His life from this day forward is going to change.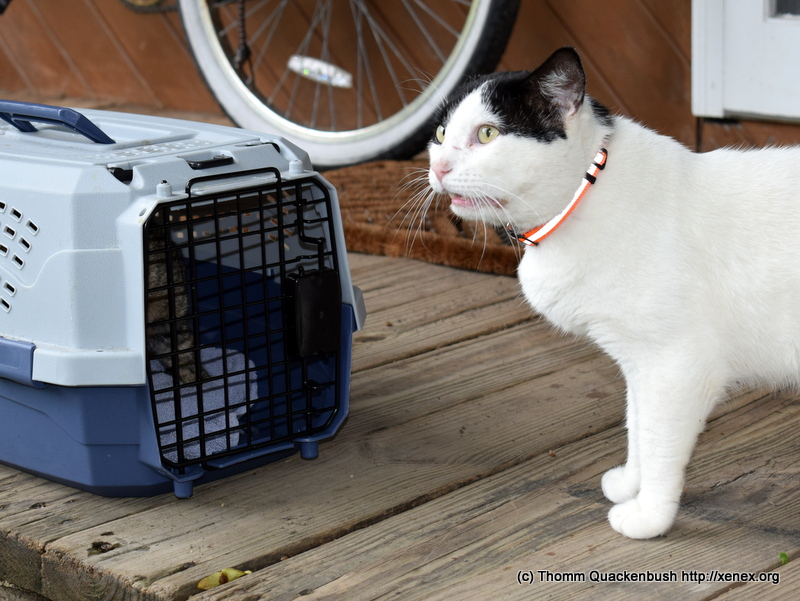 When Kit-Kat saw we brought him back
He of course understands none of this, not even that we then spend the next hours badly restraining our tears as other tests are conducted -- I don't have the ability to pay attention to anything other than the fact that a vet tech made his leg bleed and then sopped up the blood with gauze while feeding him Easy Cheese as a distraction.
In the corner, there is a dog, his tongue lolling out, under a red lamp, a Frankenstein stitch a foot long where his leg had been until only recently. On a table, a white garbage bag with something red and dense in it, a post-it attached only reading "Save," underlined three times. My brain tries to fixate on this, on an animal who is having a worse day, but it can't get a grip.
Amber cries, holding the kitten the way she would a dog to restrain him. I want to run into the car and bawl my eyes out that something I've come to love so quickly, something that chose to love me, is going to have a short and immunocompromised life. I think of the plans we had for him. Just yesterday, I earned his temporary hatred for putting a harness on him so I could see how well he would take going out on a leash, though he purringly loved me one whole minute after it was all removed from him. He was going to take walks with us, go camping, hike. Now, he cannot be allowed out again for fear he will pick up or transmit an infection.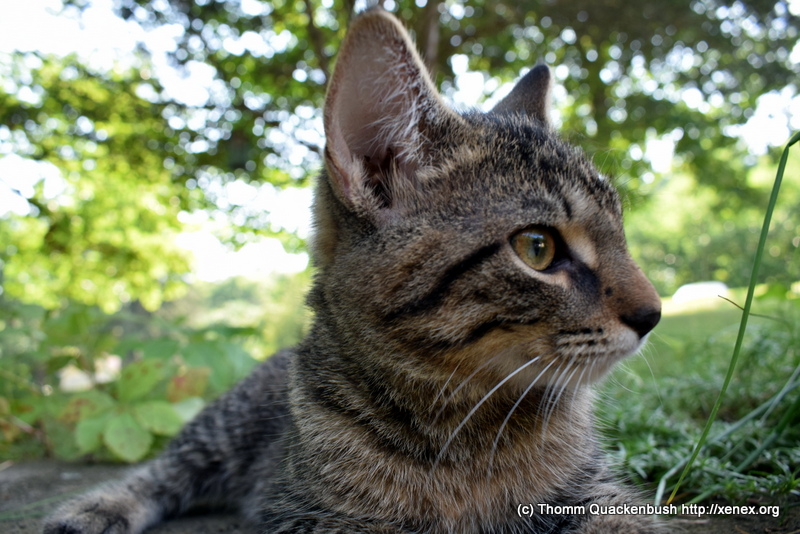 Jareth
The techs talk about a woman who has a house full of cats with feline leukemia. Of course, the vet only knows this house so well because the cats are always sick and dying, spreading sicknesses to one another. We can never give him up to such a fate.
I don't know what we are going to do about our older cat and Jareth, who attacks Kit-Kat as often as not in harmless but rough play. Even though we had Kit-Kat immunized once he ceased to be a stray collectively cared for by the complex and became ours, it is no guarantee that would be enough. "If he were going to transmit it to Kit-Kat, he probably already did," Amber notes. "Maybe he caught it from Kit-Kat, from one of his fights with other cats, from him being a stray so long."
I get in the car, turn off the radio -- I can't stand music right not, can't allow some song to become the one I heard when coming back from this diagnosis -- and break down in sobs.
"I can drive," Amber offers, though I don't think she can. She has never driven my car and now is not the time to start.
"No," I assure her, "I drive well when I am crying. I've had practice."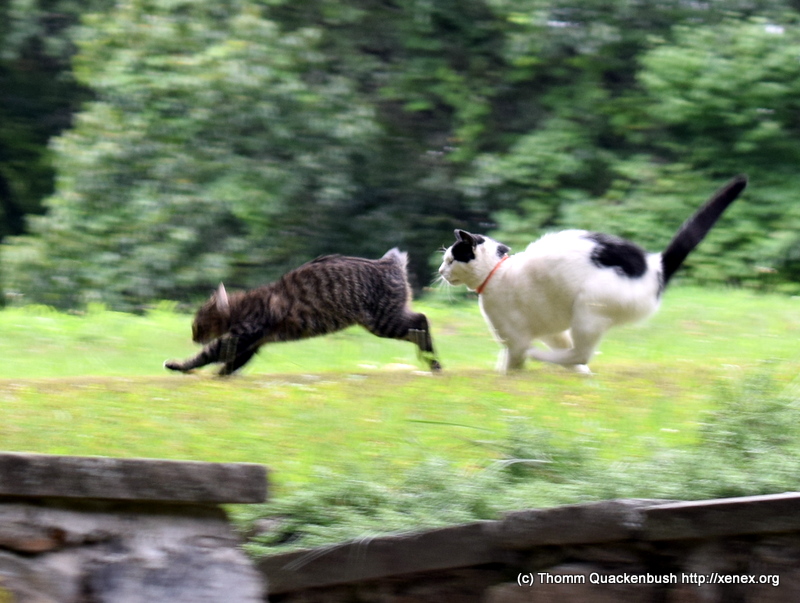 The cats
In my head, I hear the ringing echoes of the times I have joked that I have two cats too many for someone with pet allergies, but I didn't mean those. I fell for Jareth almost at once, especially after a bath, and want him in my life. Just before bringing him to his appointment, I dozed on the sofa beside Amber, the kitten inches from my face. I would occasionally squint my eyes open. He would open his to look at me, then slowly close them in a way the internet has told me means he loves me. I have never had a cat who liked me this much. It made me love him more than he loved me on sight with no hesitation.
I get home and decide against doing research as to the exact parameters of feline leukemia. Amber is already doing this, though she is far more knowledgeable owing to years of schooling to be a vet tech, and I trust she will tell me anything she thinks I need to know.
There is nothing we can do, no cure even at a price I would hate to hear. There is no treatment beyond making him a permanent indoor cat, something he will hate. Amber says she wishes we had him tested earlier, when she first took him in to get dewormed and deloused. I ask if that would have changed anything, if we could have stopped this disease. She says no, so I rule that we would have only been sad sooner. I'm not sorry I had a few more weeks loving him without worry.
The hospital calls. Their tests rule that he has a strong heart, so that won't be the thing that kills him.
Amber tells me that, worst case scenario, Jareth will probably live longer than our beloved hamster Pico.
"If you ever become a vet," I say, "we have to work on your bedside manner."
The cat doesn't understand, not even my sadness as I pet him, as I tell him how beautiful his eyes are. He just squirms away to jump at bags and bits of paper on the floor.
In the middle of the living room is a scratching post with hammock that Amber just built for him today. It all feels so melodramatic.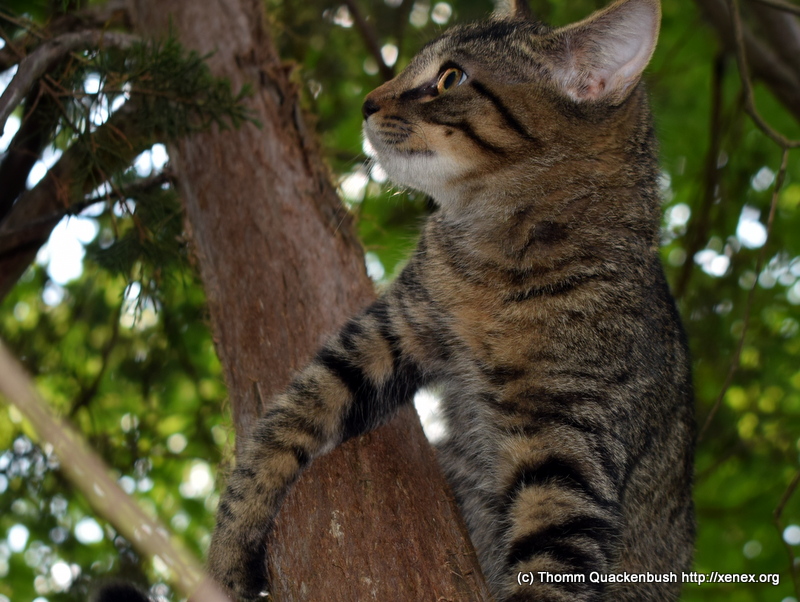 Jareth
I don't know the odds of his survival for any length of time. He isn't dying tonight, but he isn't going to be my cat long. Kit-Kat slowly earned his place in our lives, but the kitten just assumed it was his in his charming way.
We must keep him from infecting his beloved brother, which means I do not know how much contact they should really have, though they have had a month of a pronounced physical relationship. We took the kitten in partly because Kit-Kat tolerated his pouncing and bites, the first cat Kit-Kat encountered whom he didn't instantly try to murder.
We have given Jareth a better life than he would have had outdoors, though I can't imagine a kitten like him would have been outdoors much longer than he was. He's too adorable.
The next day, Amber asks how I am feeling, though she admits later she was going to tell me no matter. It was just a means of couching the news. While working, she saw the fax confirming that this wasn't a false positive, that the kitten does indeed test positive for feline leukemia.
While the kitten, for the first time in his life, cuddled on top of me and fell asleep, I looked up some facts to try to assuage some of my fear. There is a possibility that he could just get better, that he could outgrow this malady. it has happened, though it wouldn't be smart money to bet on it. He could live a long life if we keep him inside and free from stress. And there is absolutely a chance that he could catch a cold and die within a couple of weeks, though he doesn't seem to have any symptoms so far. We can't guess his lifespan until he forces us to know.
Amber hesitates, then asks how aggressive I want to be about this. I tell her to be clear because I don't know exactly what this means. There is no treatment. Antibiotics would do more harm than good, taken prophylactically. There is no surgery. What she means, as she eventually stutters out, is if I want to have the cats tested annually, even if I would have to shoulder the cost.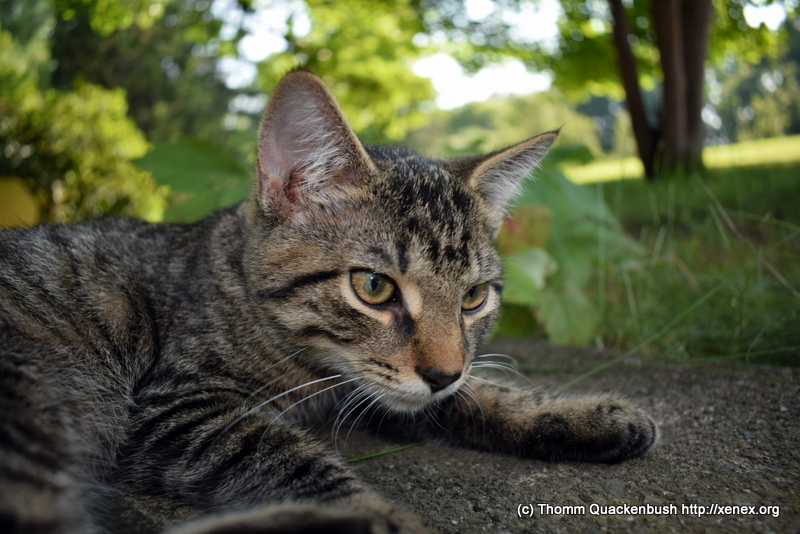 We'll give you the best life we can
"No, obviously we need to feed both cats into a thresher. They had a good run. So sad," I snark. "Of course I want to take care of them. I don't want them to die. There isn't any other option."
You love something, something that never asked for your love, and you become responsible for it forever. You want to do right by it, for it, when it didn't exist to you a month before. That tipping point and it's love.
It's cruel in a way when a part of us loves what is helpless, what cannot love us as we love them, what cannot even feel responsibility for us in return. We belong to everything we love, but it cannot follow that they belong to us. We love them beyond the capacity for reason, so we bind ourselves to them to see it through.