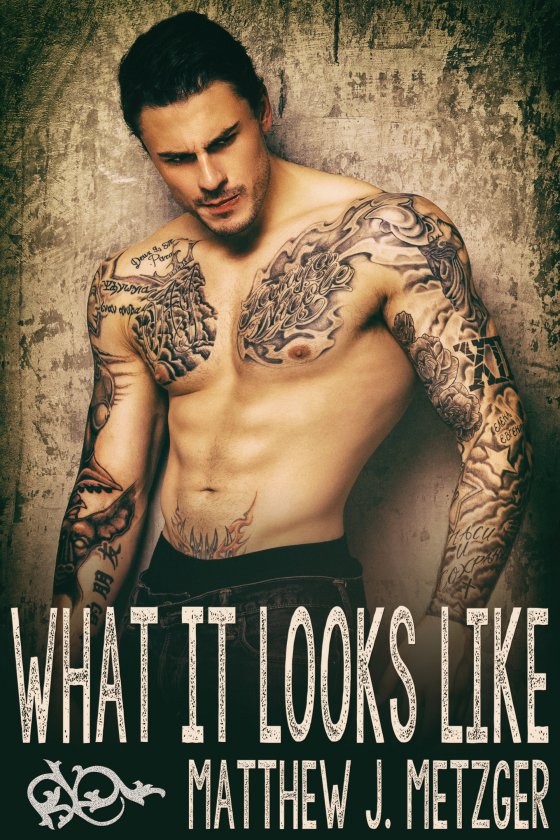 Today's guest is Matthew J. Metzger, whose trangender BDSM erotic romance book What It Looks Like was just released by JMS Books!
About What It Looks Like:
You're gonna hate this book.
Or you're gonna love it.
Authors are neurotic, and I'm no exception. We have a tendency to think our work is amazing while simultaneously thinking everyone else in the world is going to loathe it and cover it with one-star stickers.
But this book?
Yeah, this one's going to be a marmite situation.
Why?
Well, we all know the LGBT fiction community has diversity issues. But one that tends to go unmentioned is the middle-class culture in our books. On the rare occasion that the working, benefit, or criminal classes are shown, they're still shown through a middle-class lens, with middle-class values and middle-class sensibilities.
This book? Not so much.
The main character is middle-class. Eli's the son of a Police Chief Inspector and a forensic scientist. He lives in a nice house in Dore, one of the most genteel parts of Sheffield, and is a would-be artist.
His boyfriend is a drug dealer.
Yeah.
Rob, the other "hero" of this book, is a fairly dedicated criminal, with four years in prison under his belt and a permanent stash of iPads that only an Apple employee would outdo. Rob — and his brother, Danny — are criminals. They're heavy drinkers, grow and sell weed, and have a habit of getting into violent fights in their local pub. And they don't think anything of that.
And that's the marmite situation right there.
Some readers are going to love the bit of rough. Others are going to be outraged that the bit of rough speaks in slurs and doesn't care to mind his language.
But I'm okay with that. Because diversity isn't just about having non-white, non-cis, non-straight characters. It's about having characters who are not the same.
Blurb:
Eli Bell is the only son of a police chief inspector and a forensic scientist. He's grown up wonky in a world that only deals with the straight and narrow — and his new boyfriend isn't helping.
Rob Hawkes is six feet of muscle, tattoos, and arrest warrants. A career criminal and a former guest of Her Majesty's Prison Service, he'd rather hit Eli's parents than sit down to dinner with them. One wrong move, and Rob could destroy Eli — and his family — without a second thought.
But this isn't what it looks like.
Rob's not in control here — and Eli's the one to blame.
Read an excerpt or buy a copy of the book today!
About Matthew J. Metzger:
Matthew J. Metzger is the front for a British-born author dragged up in the south of England as part of a typical nuclear family with three kids, a mortgage, and no dog because a dog would get hair on the carpet. A brief escape to the north to study focused his writing from daydreaming rambles to his first novel, Our Last Summer. It is unquestionably better than the dissertation he produced at the same time for his university degree, but probably not as inventive as the excuses he provided for missing classes so often.
Matthew has since returned to the London area, and therefore lives mostly on the public transport. He suspects that his next few pieces will probably involve homicidal characters on the London Underground.
Find Matthew online at the links below!