Depending on how big a sports fan you are, you may watch many dozens of Football games in the coming years. I hope you think about this article—on playing the game of life—whenever you do.
I'd like to say I spent a great deal of time laying out this content. But, last Thursday night, I was still staring at a blank Word document, trying to think of something to write about this week.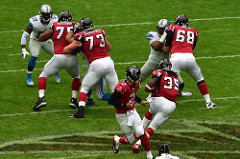 I was distracted because the Atlanta Falcons were on TV, battling the Saints in a must-win divisional showdown. It was a great game, especially when the Falcons intercepted Drew Brees in the end zone to clinch the victory.
But, as I was watching, I noticed something interesting: there's a lot we can learn from football. So, I wrote this article using football as a metaphor for the game of life. Nothing especially complicated or sophisticated, just helpful principles we can learn from a sporting event.
Because Learning to play the game of life can happen in lots of ways. Even watching football.
The pursuit of excellence involves being intentional in our preparation.
Getting in shape—physically or mentally—takes hard work, but it pays off in the end.
It's important to master the fundamentals, which are those basic tasks we do every day.
We move toward excellence when we focus on the process of what we can control, and then do the right things well, over and over. (See the related article

"Focus on the Process."

)
Developing a solid game plan will increase our odds of success.
Our plan must follow and operate within the rules of the game.
We will be more successful if we run plays that match our skills.
At times, we must react to new circumstances and change our plan.
It is important to learn how to deal with setbacks effectively.
Getting hurt or penalized—deserved or not—is an opportunity for personal growth.
When everything seems to be going wrong is when perseverance really matters.
Everyone makes mistakes; it's how we handle them that matters the most.
There are basic principles that will help us play the game of life well.

The players' role includes surrendering themselves to the will of the coach.
Players can get better by understanding and working on their weak areas.
Good teams utilize players with different skills who can work well together.
Teams who focus on making one good play at a time can make steady progress.
The best teams are those where the players are committed to helping each other.
There are many similarities between football and the game of life. But, there are also differences. In life, we don't know when the clock runs out. And it's not the final score that counts the most.
What really matters is how we play the game.
Question: Which of those principles resonates with how you want to play the game of life?
Action: The next time you watch a football game, look for life lessons that stand out to you.
Photo by JamieL.WilliamsPhoto

Photo by twosheffs

The post Learning to Play the Game of Life appeared first on STEPS: A Daily Journey to a Better Life.