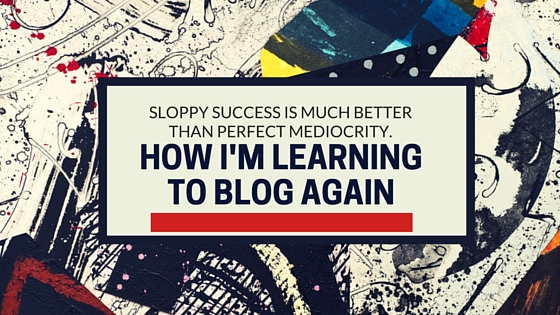 You know how it is….
You're staring at your computer screen trying to decide what subject to Write about
or what to write about that subject.
You write a sentence
then rewrite it
then delete it and start in a new direction
An hour later you've written a paragraph
if you're lucky and you aren't happy with what you wrote
Trust me I've been there and still struggle with it.
Here's what I do to help myself get over this:
Videos
I do videos – I know my topics and answer questions all the time when I'm speaking. For whatever reason I've always overthought the answers when I write them. My workaround is to do short videos and have them transcribed. It saves me a lot of time. I even figured out how to automate the process when I was my Motivation4Today passion project.
Don't Look
I write without looking at the screen – since I never learned how to touch type this is actually how I normally do it J But I don't allow myself to read or edit until I've written the entire document. Some people will even turn off their monitors, I haven't gone that far, but some people swear by it.
Constantly Searching
I write down ideas all of the time – there's nothing worse than not having any idea what you're going to blog about. So I'm always looking ideas. If I hear a quote I like in a movie I write it down.
My girlfriend looks at me like I am crazy when I pause a movie and grab my journal or jump onto my laptop to write a post. That's what happened with this one here when I was watching Denzel Washington in The Equalizer
Always Take Notes
Related to the above – If I find something interesting I take notes. It can be an interesting article, or a webinar, something I find in my house, something someone said or even a funny situation. One of my favorites was finding one of my journals from the early 90s and reviewing my goals – it made for a great blog post.
Know Your Reader
Make sure you understand your reader / customer profile – you're reading this on my personal blog so the articles on here aren't as connected as I do for clients like Avitus Group or on LinkedIn for example.
Hit Publish
Don't be afraid to publish even if you don't think you are done.
Ask yourself a question "if I don't write anything….how many people will read it"
That's right NO ONE.
It's far better to get something out for people to read and don't spend too much time worrying about typos.
Trust me someone will point them out for you. Plus you can always edit your posts – they aren't permanent
Those are my thoughts and this is my first post in Bradley's 30 day Blog Challenge so stay tuned you'll be seeing a lot more of these from me.
– so remember better
Sloppy success is much better than perfect mediocrity
Have an Awesome Day
Doug