Robots are closing a step further into entering human lives.
Previously, machines have powered many parts of the manufacturing industry. That went further, as robots helped humans in research and more, including the military that many AI specialists fear.
Robots have also resemble humans in many forms.
For example, Harmony, was considered the first anatomically correct AI-powered sex robot, and Sophia, considered as the first robot with citizenship.
This time, robots have again advanced to reach deeper into the community, when a French nighclub "hires" robots as pole dancers to amuse and entertain patrons.
The robots pole dancers, installed in a French nighclub. (Credit: Reuters)
The SC-Club in Nantes, known for its lounge bar, gentlemen's club and cabaret, has installed two robot dancers to celebrate its fifth anniversary.
Going live on September 3, the robots that were created by British Artist Giles Walker, wear high heels and are loaded with CCTV cameras instead of their head, to capture the expression of the spectators when they're getting 'mesmerized' by the moves.
He did this to "play with the notion of voyeurism", posing the question of "who has the power between the voyeur and the observed person".
And to make the machines less intimidating, he covered their metal bodies with softer and plastic parts from mannequins, making them appear more human-like.
Walker who began working on these stripper robots in 2008, was inspired by the aftermath of the 'sexed-up' Iraq war dossier.
"So I was just playing with the idea that if a document could be sexed up, maybe CCTV cameras could be as well," he said back in 2017. Since then, Walker has traveled across cities, loaning the robots for a few years for several occasions.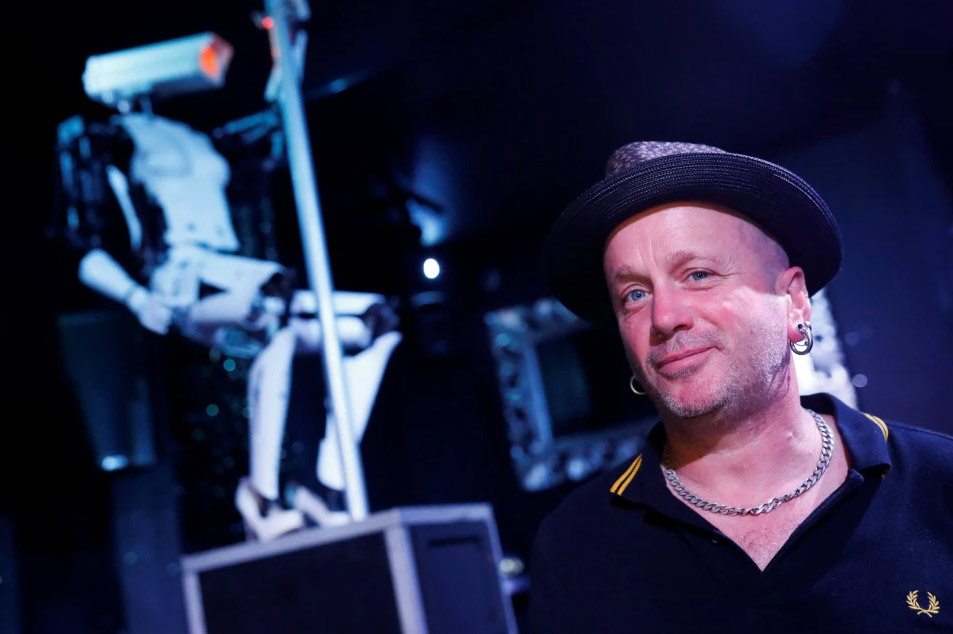 British artist Giles Walker poses next to his pole-dancing robot during its installation in the Strip Club Cafe in Nantes, France. (Credit: Reuters)
While the intent of these Robot Pole Dancers isn't to arouse, the club owner Laurent Roue, said that the robot pole dancers cannot replace the 10 human dancers the club has.
He accepted the two machines only as a way of honoring the technology.
"For us, it's a wink, a homage in a way to robotics. We need something human, warmth, physical contact, and this is really putting together opposites. To each his own," he said, assuring that human dancers on staff do not have anything to be threatened of their temporary metallic interns.
The same notion was agreed by a pole dancer of the club who goes by the name of Lexi.
She said that, "They won't really change our sector. They won't replace us. We're not in a vulgar job. It's an artistic job. It's something that's beautiful, and robots won't change that."