Whether you're representing a brand, or just your own as an influencer, going live on Social Media Networks can give you a lot of benefit when it comes to exposure.
The one major problem is that too many people are shy if compared to the bold who dares to go live online no matter the cost. Yes, it is true that broadcasting live can be intimidating. After all, viewers are tuned in real time, and mistakes here and there can be realized as fast as they happen.
In worse case scenario, since there is nothing you can do to fix or edit your video when things go wrong, your post can go from great to bad in a snap.
But because live broadcast can garner a huge amount of viewers, commentators, praise and likes, it's a strategy you should not miss and definitely worth considering. Especially if you want to get the words out about your business or cause, connect with your Audience, or let people know what you're up to in a more personal and quick way.
If you really want to go live, but shy, below is a list of tips that should help you to start sharing your own live posts.
Planning
Nothing should go online without planning, and yes, that includes you as the star of the show.
Planning can ease the nervous feeling you're experiencing. Here, planning involves proper management, knowledge about the subject you want to deliver, the character you want to convey, the message you want to pronounce, the body language you want to show and so forth.
It's wise to practice a few times offline in front of the camera to see how thing goes. Try to perfect each video with whatever you want to demonstrate.
Planning here also include knowing the cues for specific actions, like screen sharing or demonstrating. With outline, you will feel more comfortable about what's coming next, even if it's unpredicted.
Take A Class, Work With Coach
If you've planned your strategy and created outline, but still found it difficult to go live, you may as well work with public speaking coach, or take classes.
By seeing how people speak in front of many people, you can learn a few pointers by yourself. With coaching and classes, you can also get a lot of knowledge about focusing on speech, gesture and posture. It's just a matter of time before you can find your own ingredient.
With practice, you should be gradually building your confidence and until that time, fluency will come naturally.
Know The Platform, Know Your Connectivity
Before going live, you need to know which platform is the best for your live content, and the speed of the connection you are having.
First of all, different platforms have different audience. You may want to go live on Instagram but not Facebook because you know that the majority of your audience love you more over there. Here, you need to know which platform can benefit you best.
Second, is connectivity. Issues concerning connectivity can really put a wrench in your live session. Try testing your connection with a random live video session to see how everything works ahead of time.
Provide A Story
Now that you know how to talk in front of a camera without excess nervousness, you should be able to plan everything ahead before your big day.
The most basic and important thing when creating live contents, is the same as when creating any other contents, and that is a story.
Everyone loves a story, and your live broadcast should give something valuable to your viewers. Value can, of course, fall into different categories, but before you go live, take a moment to think about what your intention for the video is, and what you want your audience to get from it. This will help you focus better on the efforts.
To ensure that you can tell a story, start your broadcast with a beginning (like introduction and the summary of the broadcast), the middle (where everything happens) and an end (where you give your conclusion about the subject, and thank your viewers for tuning in).
Following this simple format is the easiest way to organize your thoughts, and it'll help you give your audience something engaging and interesting. By having an outline for a story, you can keep yourself within subject, and away from wandering off track.
Be Flexible
Know you voice, your tone and language. Try to not copy others' character by eliminating yours. Understand that everyone is unique, and here you should make people love your because your uniqueness.
And when you're going live, there is no saying what can go wrong. If you go out there as yourself, you should be able to pick up those mistakes as if they never happened. Even if you encounter unpredicted circumstances or technical issues, you should be able to wrap things up the way people will like it.
This is why you should take advantage of your flexibility.
Go Live With A Friend
If you're not sure about going live alone, try going live with a friend, a colleague, or invite influencers. Try conducting interviews, and praise the person going live with you. You can do this a couple of time until you feel comfortable enough to go at it alone.
When it comes to live broadcast, inviting someone else as a guest is never a bad thing. The more the merrier, and your friend here should also help you greatly when combating nervousness.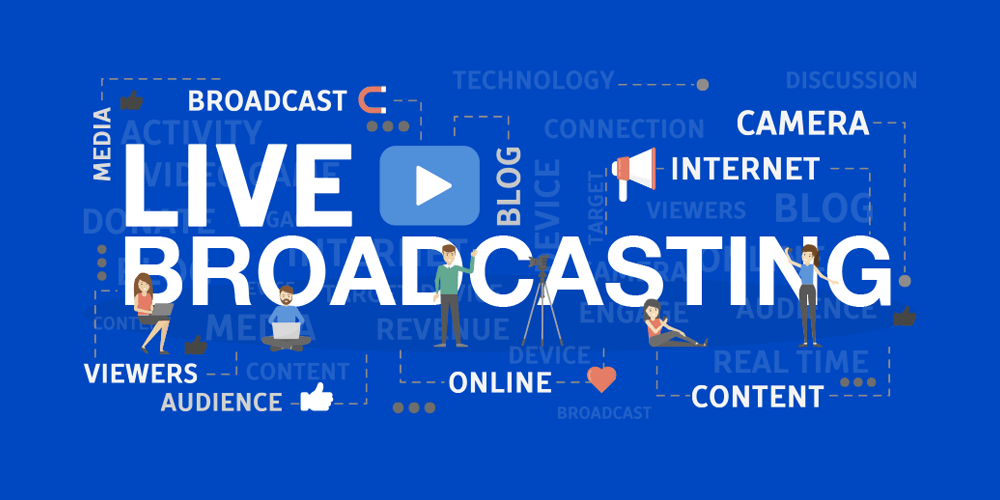 Conclusion
Yes, going online can be scary, especially if you're the shy type. But you shouldn't all that worried if you can be confident.
Remember that no one should force you to broadcast live on the internet. If you do want to go live, do that with your own choice, and no one else's. With confident, focus should come naturally, and with practice, you should be able to perfect your live session.
And for last, always check on people's comments. While some can be painful to read, know that those comments can be the feedback you can use to build your future confidence. After all, your live broadcast is for others to see, so you may as well acknowledge that people have their own thoughts.
Value your audience, and they will value you.