According to the 2018 Global Digital suite of reports from We Are Social and Hootsuite, it reveals that there are 4 billion people around the world using the internet.
What this means, more than half of the 7.6 billion human population is connected.
The report indicates that nearly a quarter of a billion new users came online for the first time since 2017, with Africa seeing the fastest growth dates. The Number of internet users across the continent increasing by more than 20 percent year-on-year. In Benin, Sierra Leone, Niger, and Mozambique for example, the number has grown to more than a double over the past year.
Much of the year's growth was fueled by more affordable smartphones as well as cheaper Mobile data plans.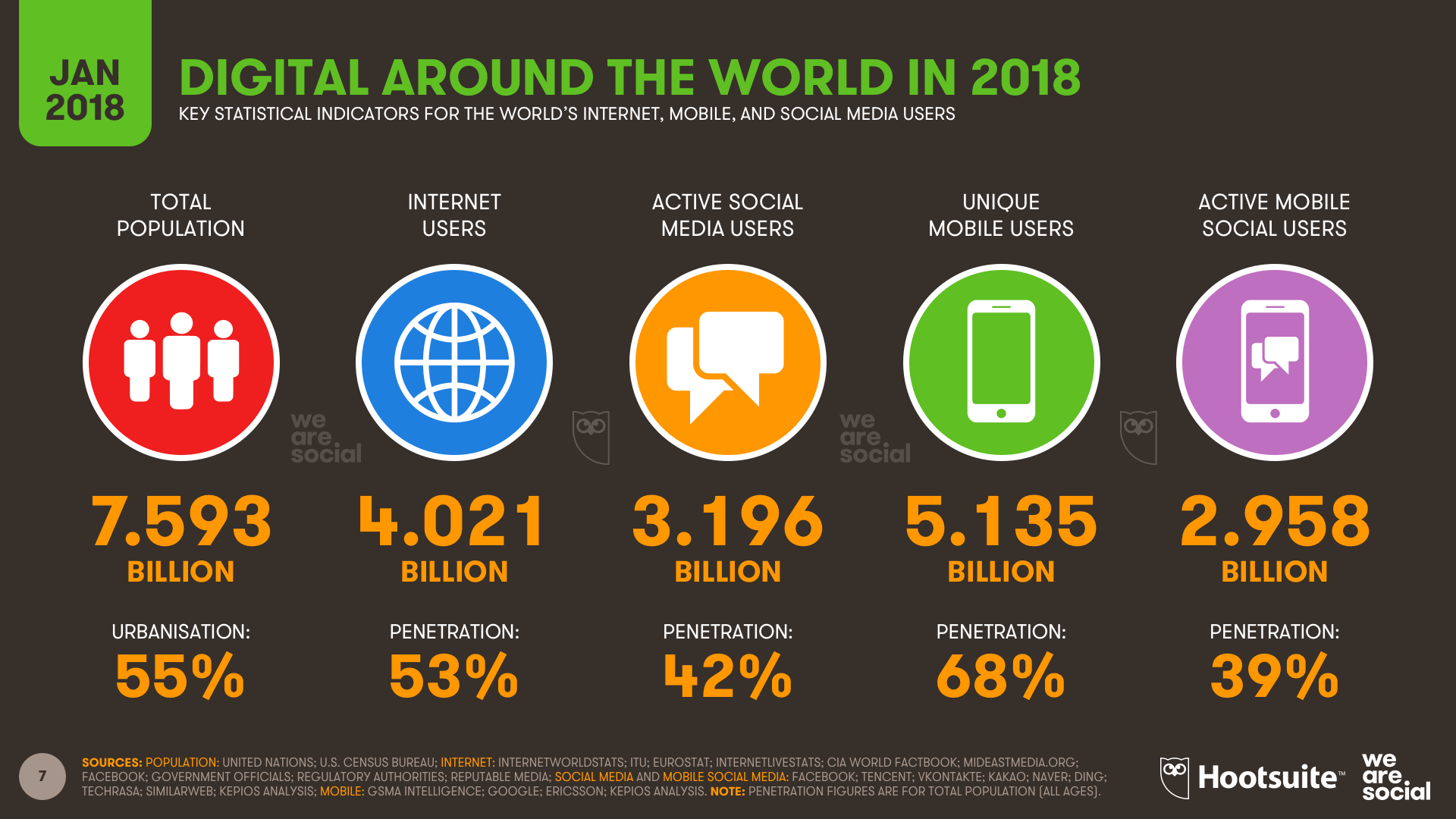 The essential headlines for digital in 2018 include:
The number of internet users in 2018 is 4.021 billion, up 7 percent year-on-year.
The number of social media users in 2018 is 3.196 billion, up 13 percent year-on-year.
The number of mobile phone users in 2018 is 5.135 billion, up 4 percent year-on-year.
Much of this year's growth in internet users has been driven by more affordable smartphones and mobile data plans. More than 200 million people got their first mobile device in 2017, and two-thirds of the world's population are having a mobile phone (more than half of them are smartphones).
And not just the number of people using the internet that has increased, the amount of time spent on the internet has also gone up drastically.
According to the data from GlobalWebIndex, the average internet users spend at least 6 hours a day on the internet. And according to the data from App Annie, people are using mobile apps 7x longer than using mobile web browsers.
Social media also continues to grow, with the number of people on top platforms like Facebook, Instagram, and others, increased by almost one million users every single day during the last 12 months (13 percent increase). This resulted more than 3 billion people around the world using Social Media each month, with 9 out of 10 preferring mobile devices to access them.