Southeast Asia becomes the world's third largest region for internet users, with 330 million users (more than 70 million new internet users since 2015). In the region, the internet is having a bigger impact than originally thought.
Google and Temasek examined the growth in Southeast Asia's internet economy. It turns out that the region's economy growth has exceeded expectations, with market growing above $50 billion in 2017, outpacing earlier growth expectations by 35 percent.
China and India are still dominating the internet when it comes to emerging economies in Asia. However, Southeast Asia is rapidly being acknowledged as a market where the internet is changing daily behaviors and creating new opportunities.
In the region, online travel remains the biggest segment for internet-based spending. On the other hand, e-commerce and ride-hailing saw the highest growth.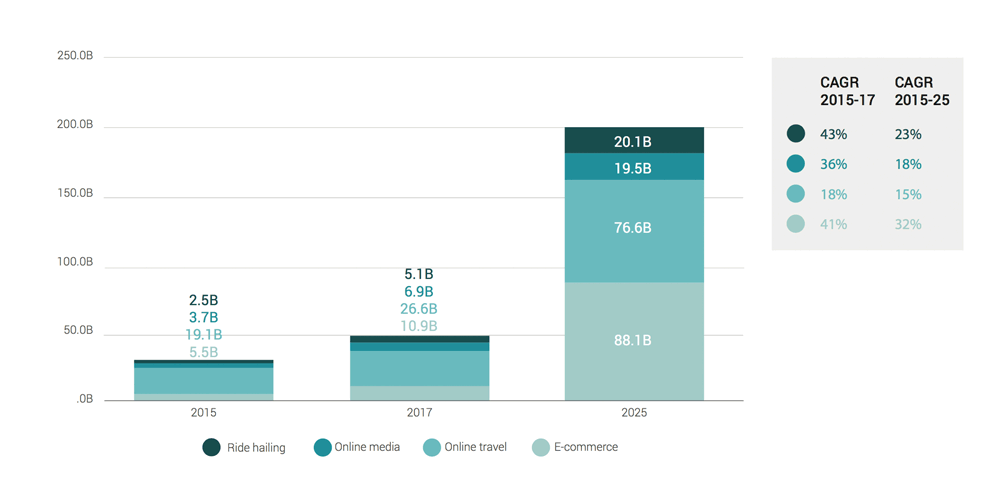 In the e-commerce segment, it has grown to a compound annual rate of 41 percent to cross $10 billion for the first time in 2017. Users in Southeast Asia spend 140 minutes shopping online every month, or twice the amount of time Americans spend in e-commerce marketplaces
Uber and Grab which are the two of the most popular ride-hailing service, are battling to get most of the Southeast Asia's ride-sharing market. At the same time, startup unicorn Go-Jek is planning to expand beyond Indonesia. All that has made spending on ride-hailing services doubled over the past two years to cross $5 billion in 2017 (6 million rides booked every day).
In Southeast Asia, Indonesia is the largest economy, with share market of more than 40 percent.