Bed bug infestation can happen to anyone. They get into our homes in a variety of different ways. Luggage, school bags or even on jackets are just a few ways these hitchhiking pest can get into our living space. Once they have infested you and your family there are some Bed Bug prep tasks after you call a professional bed bug exterminator. this series is a little more specific but you can also check out our "How To Prep Page", which summarizes the process of how to do the laundry. Lets take a look at the first steps:
ITEMS YOU WILL NEED
Most of the items below you may have handy and some you may need to stop a pick up when going to the store in order to get your home in order for the bed bug exterminator.
Access to a Large Washer and Dryer or Laundromat in order to clean linens and fabrics
Laundry Detergent
Strong Trash Bags (preferably clear) with ties
Bag less or Bagged Vacuum Cleaner. Extra bags if you are using a bagging vacuum system for bed bug cleanup.
Pillow and Mattress Encasement for each bed and pillow
PREPARATION FOR EXTERMINATOR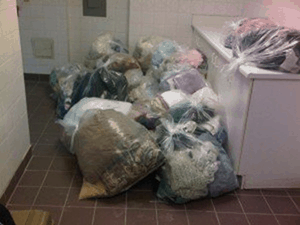 Collect and Clean All Fabrics, Linens and Clothing
Take all the fabrics, linens and clothing out of every drawer and off all the bedding. This is not limited to:
Bed Sheets
Covers
Throw Rugs
Curtains
All Clothing
Jackets
We suggest organizing this by room and labeling the bags. All of these items will need to be washed or taken to a laundromat or dry cleaners to be cleaned. Remember the dryer cycle is the most important due to the heat so make sure it is as hot as the item and the dryer will allow. DO NOT PLACE ITEMS BACK INTO THE ROOMS OR HOME UNLESS THEY HAVE BEEN CLEANED OR RUN THROUGH THE DRYER.
Throw Out or Reorganize Items and Furniture
Take all furniture you are not planning on keeping and remove from home. Please label these items as to avoid anyone picking them up and placing them in their homes. Do the same for any items that are bed bug infested or need to be thrown out regardless. This is most likely a good time to clear all the unwanted items, clothing and trinkets that are not needed moving forward.
In our next Bed Bug Series, Part 2, we will talk about how to prepare your kitchen and what to do after your bed bug exterminator leaves to avoid re infestation
If you discover bed bugs in your home, contact Enviro Pest Control for immediate relief. Our certified team is educated in the most advanced bed bug protocols and equipped with the state-of-the-art resources necessary for complete eradication of these pests.