Angola LNG said September 4 it has entered into a multi-year LNG sales agreement with commodities trader Vitol, adding that it will deliver cargoes to Vitol at destinations around the world
Angola LNG Marketing CEO Artur Pereira said: "This sales agreement is an important step for Angola LNG and demonstrates our ability to respond to the needs of our customers and the market. Vitol has already purchased many LNG cargoes from Angola LNG, and we look forward to continuing our successful relationship."
Vitol's head of LNG, Pablo Galante Escobar, said; "We are delighted to have entered into this agreement with Angola LNG. It is an exciting initiative for Vitol; we have a long history of investment and partnership across Africa and are pleased to add these LNG purchases to our portfolio."
Last year Angola LNG entered into a flexible sales arrangement for the delivery to EDF Trading through 2018 of cargoes delivered ex-ship (DES) at its home port of Soyo, Angola. In the absence of details about annual volumes with Vitol, it's likely that Angola LNG's latest deal is also a flexible volume arrangement, with no set volumes.
Angola LNG 'eying more such deals'
Angola LNG however declined to disclose volume details of its latest agreement (with Vitol) saying: "Information about the terms of this agreement is commercially confidential." Its spokesperson did however add: "We can confirm that further sales agreements are under consideration."
Angola LNG has a nominal liquefaction capacity of 5.2mn metric tons/yr and has a dedicated shipping fleet of seven LNG vessels, each of 160,000 m3 capacity, that are chartered on a long term basis to transport cargoes to customers around the world – including under this latest deal to Vitol.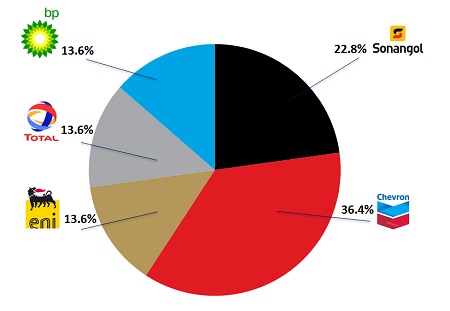 Shareholdings in Angola LNG are shown above (Credit: the company). In contrast, Angola LNG Marketing is 50%-controlled by Sonangol.
Mark Smedley