Rosneft and the Kurdistan Regional Government (KRG) signed a series of agreements in St. Petersburg on widening their cooperation in exploration and Production of hydrocarbons, commerce and logistics, Rosneft said June 2.
The parties signed an investment agreement under which they committed to develop cooperation in exploration and production, agreed on monetisation of the export oil pipeline in Iraqi Kurdistan, as well as entered into a number of production sharing agreements.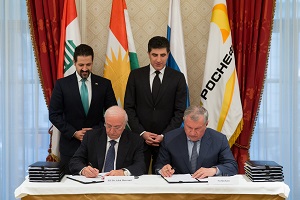 Signing ceremony in St. Petersburg (Credit: Rosneft)
Rosneft will get access to the major regional transportation system with its throughput capacity of 700,000 b/d, which is planned to be expanded to 1mn b/d by the end of 2017.
The Russian firm and KRG will work together on five blocks and will also cooperate in exploration and production of natural gas, Rosneft said, adding that the new agreements pave the way for further talks about the company fully entering "one of the most promising regions of the developing global energy market" with the expected recoverable reserves in the order of 45bn barrels and 5.66 trillion m3 of gas.
Shardul Sharma