Indonesia Batik Tulis Lampung with dark color. Batik Tulis Lampung comes from Lampung. It produced by Siger Rumah Batik that is located in Lampung. Siger Rumah Batik produces many kinds of Batik Lampung. It is including the fabric, pattern, color, and etc. The most popular patterns of Batik Lampung are Siger, Gajah (elephant), and Sulur-suluran. Those are very popular because of those patterns full of culture and tradition from Lampung. Those patterns also became an icon of Lampung.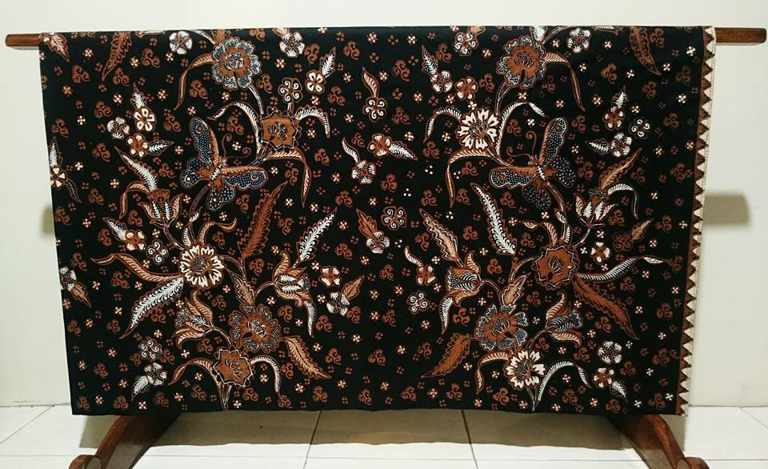 Besides of those patterns, the pattern of Pohon Ayat, Sembagi, and Lampung are also elegant. Batik Lampung usually applies the dark color such as brown and black. These are an absolute color from the forefathers. But now, the maker creates a new innovation in coloring. The bright colors are chosen. It enhances the kinds of Batik Lampung, so it can be worn by anyone.
There are no differences in making the process of Batik Lampung. It is similar to Batik Solo, Yogyakarta, Pekalongan, and others. The process begins by creating the pattern, pencantingan, coloring, washing, and drying.
Indonesia Batik Tulis Lampung at Batikdlidir
Indonesia Batik Tulis Lampung at Batikdlidir. Batik Tulis Lampung is now available in our store, Batik Dlidir. Batik Dlidir is one of several centers of Batik Tulis that is located in Solo. We have more than 1000 kind patterns of Batik Tulis. You can choose which one do you like. Besides that, you also can design your own pattern and we will make it for you.
We have a lot of experienced – maker here, so you don't have to worry about our Batik fabric. They have worked in Batik since tens year ago. So we will give you the best quality of Batik ever.
The price of Batik Tulis in our store starts from US $44.30 /meters. For Batik Cap (stamp) is US $1.84 and the price for Batik Printing is US $2.06.
So if you are interested, you can order in Batik Dlidir. Contact us at +6282265652222. Phone and WhatsApp are available. You will directly connect to the owner, Mr. Mudzakir.
The post Indonesia Batik Tulis Lampung with dark color appeared first on Batik Dlidir.