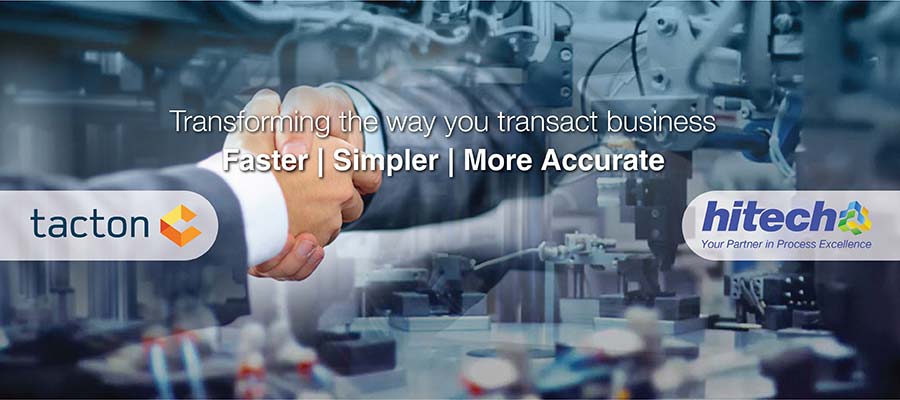 Hitech iSolutions, an Ahmedabad-based Engineering and technology company, operating in the digital solutions space, forges a strategic partnership with Tacton Systems, Sweden, to strengthen CPQ offerings to product manufacturers worldwide.
"Tacton's unique CPQ configurator and Design Automation process, combined with our knowledge and expertise in Design Automation as well as developing product configurators, will provide manufacturing and engineering firms a competitive edge in pacing sales of customized industrial products. We look forward to this enriching collaboration with Tacton."
Milind Patel, Director – Engineering Solutions,
Hitech iSolutions LLP
The Hitech-Tacton partnership leverages on their respective delivery, design automation and technology capabilities to deliver powerful CPQ solutions, which will drive sales and operational efficiencies for manufacturers across verticals.
The CPQ solutions to be offered include developing a product configurator using multi CAD systems like Autodesk Inventor, SolidWorks or CREO. The configurator will integrate with business systems such as CRM, ERP, PDM, PLM or SAP and other pricing tools to digitalize the quote to cash process.
Our CPQ solutions offer manufacturing and engineering firms the following benefits:
A streamlined operational process on account of real time visibility
Increase in quoting accuracy due to minimal human intervention
Accelerated sales cycle riding on automated quoting process
Optimized sales opportunities with greater cross selling and upselling opportunities
Higher customer engagement driven by visual configuration and faster and accurate responses to customer
Fast-tracked business growth
Increase your quoting accuracy »
Driven by Industry Expertise
Hitech's CPQ offerings leverage on its deep understanding of, and its extensive years of working with the manufacturing sector. The domain and technology expertise garnered over these years position it to deliver optimized digital solutions for enhanced value creation for its manufacturing and engineering customers.
Hitech worked with a US-based manufacturer of hollow metal doors and windows to streamline their unstructured and manual operational engineering processes. Its engagement resulted in quality improving by 99% and design cycle time reducing by 70%. Our design automation specialists teamed up with the client's design engineers to help increase productivity by becoming lean in their ETO (Engineer to Order) manufacturing practices.
About Hitech iSolutions LLP

Hitech iSolutions LLP is an Integrated Engineering Consulting and Solutions company focused on process management and optimization. Hitech CADD Services, the engineering wing of Hitech Isolutions Llp, established in 1992, is a one-stop CAD service provider to leading firms of AEC and Mechanical engineering sector. For over 27 years, Hitech has partnered with clients globally to support, improve and automate their engineering processes, resulting in scalability, flexibility and operational efficiencies.
Hitech delivers value added CAD and BIM services through excellent project management skills and deep domain expertise of their architects and engineers. The company excels in providing professional CAD services and CPQ consultancy and services with skilled and trained experts in CPQ, Design Automation as well as CAD designing as per client requirements regardless of the level of complexity.
For more information, please visit https://www.hitechcaddservices.com/.
About Tacton

Tacton is an established leader in Sweden for advanced sales tools and complex product configurators.
Tacton's technology redefines how product configuration is managed, making it radically simpler to design, configure and sell complex products. Tacton's solutions integrate easily with surrounding systems and have standard integrations for many leading e-commerce, ERP, CRM, PDM, PLM, and CAD systems. Customers currently using Tacton's solutions include Meyn Food Processing, ABB, Siemens and Aker.
Read more about the Hitech-Tacton partnership at https://www.tacton.com/partners/hitech-isolutions/
Accelerate sales and increase operational efficiency with CPQ.
Talk to our Expert