Hours after Air India grounded a senior pilot for twice failing the pre-Flight Breath Analyser test on Sunday, a Bangkok-bound flight belonging to the international carrier was forced to return to Delhi around 36 minutes after takeoff as the co-pilot allegedly missed his breath analyser test.
According to news agency ANI, a co-pilot on Air India 332 Delhi-Bankok flight missed the test. The flight path of AIC332/AI332, according to FlightAware, a flight tracking data company, showed the plane taking off from the Indira GandhiInternational Airport in Delhi before making several sharp manoeuvres to return to the airport.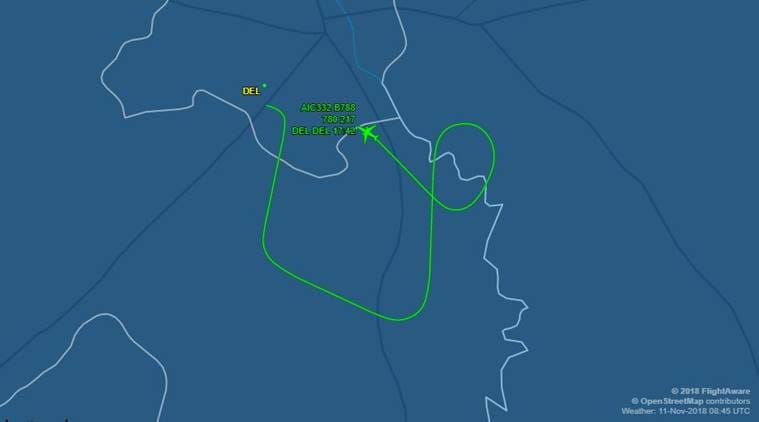 The loopy flight path of AI332. (Source: FlightAware)
Several aggrieved passengers on the Bangkok-bound flight took to Twitter to complain about the plane purportedly being stranded at the airport for more than four hours. There is no official reaction from the airline so far about the incident
Earlier today, Air India's Director (Operations) Captain A K Kathpalia was grounded after allegedly failed a pre-flight alcohol test. Captain Kathpalia, who was to operate Air India's London-bound AI-111 flight from New Delhi on Sunday afternoon, has also been grounded earlier for a similar offence.
"We have grounded Captain A K Kathpalia as he failed twice in the breath analyser test. He was to operate the London flight from New Delhi, but he failed to clear the pre-flight alcohol test," PTI quoted an Air India official.
"He was given another chance, but the second test was also found positive following which he was grounded," the official added.
The national carrier's spokesperson was not available for comment on the matter.
News credit-Indian Express
The post Air India's Bangkok-bound flight forced to return after co-pilot Misses Breath Analyser test appeared first on The Canadian Parvasi.