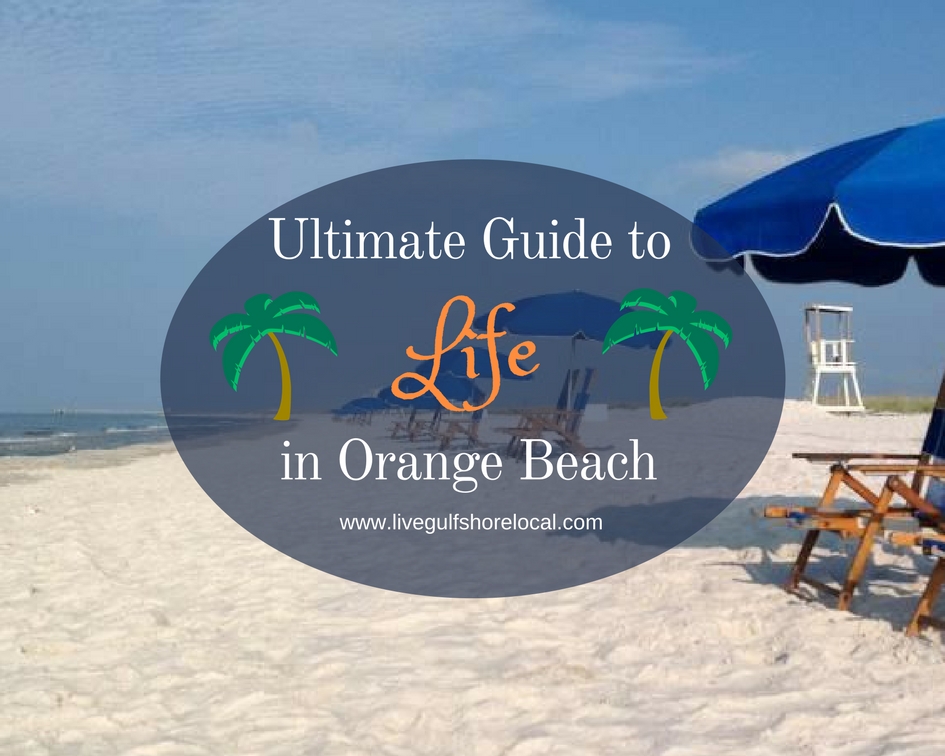 Moving to Orange Beach?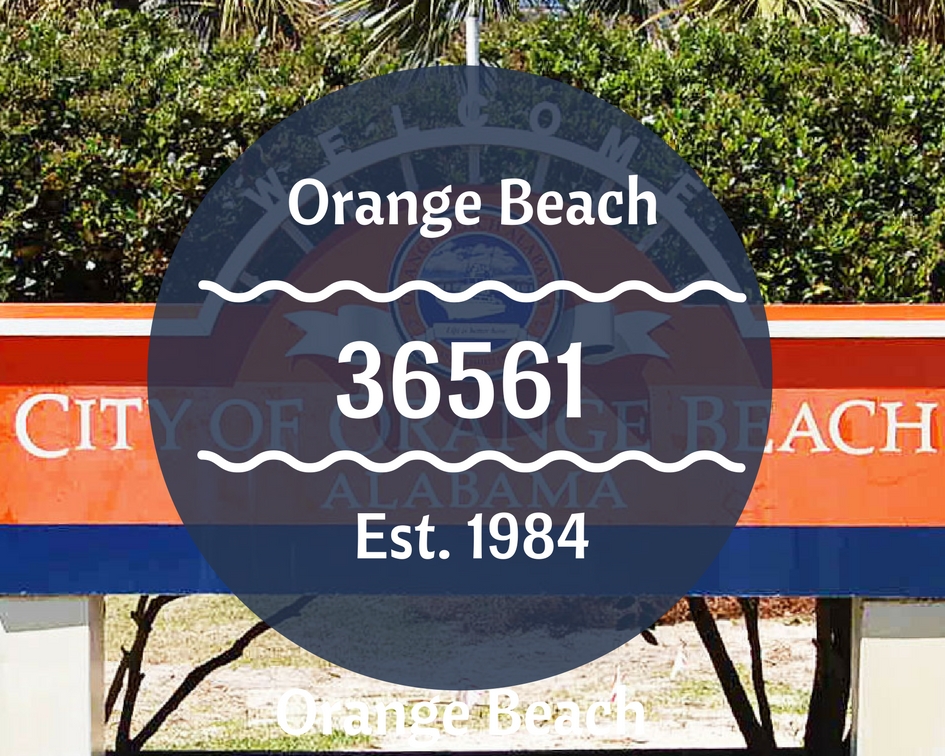 So you're thinking about making the big move to Orange Beach? What an exciting decision! Most everyone knows that Orange Beach and Gulf Shores are very popular with tourism but our residential population is growing every year as well. As a Realtor for 13 years, I see tons of folks moving to lower Alabama annually. Many are retirees but all walks of life are continually attracted to our beautiful city.
Whether you're moving from Ohio or from across town, it can be a daunting task to take up roots in another area. That's why this page, The Ultimate Guide to Life in Orange Beach, was created for you. So, if you're moving to Orange Beach yourself or you know someone who is, read this article first!
This resource is packed with information to help make your destination a little more familiar.
Here's What You'll Find Below:
Facts & Figures
Beautiful Surroundings
Strong Economy & Jobs
Thriving Community
Outdoor Activities
Easy Commute
Restaurants & Entertainment
Weather & Climate
Public Safety
Schools & Programs
Real Estate
Final Thoughts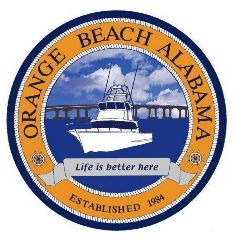 The Ultimate Guide to Life in Orange Beach
I hope that you'll find great value in this resource. Sure you could find information on Orange Beach all over the web but here you won't have to sift through dozens of pages and spend countless hours trying to find what you want. So let's get moving!

I know, reading over the facts and figures of a city can be uneventful so let's get them out of the way so we can get to the fun stuff. They are important though, at least for only the next few minutes.
Population: 5,850
Total Area: 15.95 square miles (1.25% of that is water)
Median Home Price: $238,000
Median Household Income: $57,750
Sales Tax: 10%
State Income Tax: 5%
Median Age: 48.2
Average Commute Time: 19.24 minutes
Out of the six major cities in Baldwin County (Spanish Fort, Daphne, Fairhope, Foley, Orange Beach, and Gulf Shores), Orange Beach is the smallest with 5,791 full time residents. Population growth has been strong with an increase of 54.60% increase since 2000. While you will see a lot of tourists during the hot season, you'll find that Orange Beach gives you the feeling of a low-keyed, layed-back coastal town.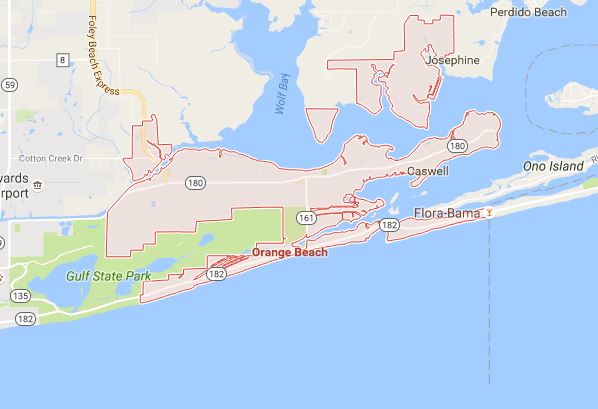 Orange Beach is the southeastern-most city in Orange Beach and lies between Gulf Shores and Florida. You'll read more about traveling around the city in the Easy Commute section below. You can see that, land-wise, the city isn't very big at all but many of the residents of Orange Beach get to enjoy beautiful waterviews every day.
In addition to the Gulf of Mexico, here are the other bodies of water that lie near Orange Beach:
Intracoastal Waterway
Wolf Bay
Ingram Bayou
Roberts Bayou
Arnica Bay
Bay La Launch
Terry Cove
Johnson Cove
Cotton Bayou
Old River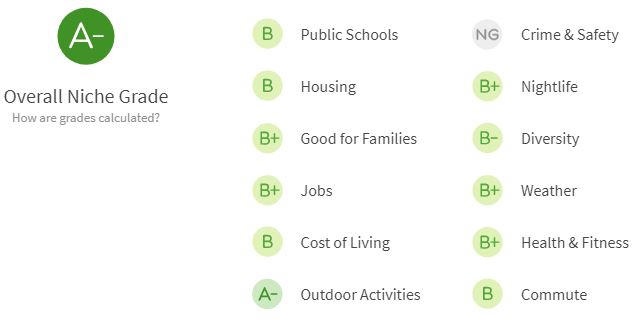 For some reason crime is "Not Given" in Niche's score but I'll go more into that in the Public Safety section below.
Here are a couple of reviews taken from Niche.com: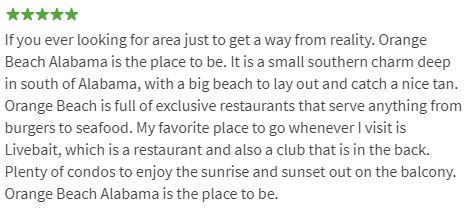 Interesting Facts & Accolades
Orange Beach got its name from large citrus groves that once grew here prior to 1926. The crops eventually died out due to several hard freezes and tainted seedlings brought in by a salesman.
The 112 foot tall ferris wheel at The Wharf is the largest in the southeast.
Our beautiful white beaches were made from quartz that has filtered down from the Appalachian Mountains over 1,000 years ago.
There are 4 islands just north of Perdido Pass: Bird Island, Gilchrist Island, Robinson Island, and Walker Island. There's nothing there but vegetation and sand, providing boaters and jet skiers a great place to stop to relax a little.
Coastal Living – Best Beaches in the USA
Huffington Post – 10 Best Beach Cities in America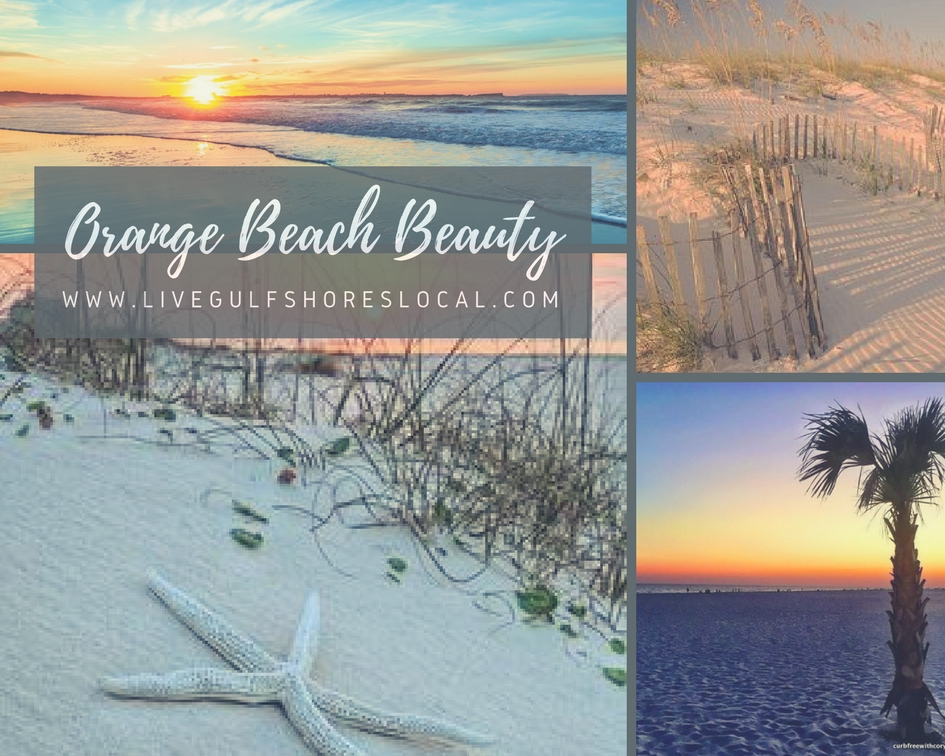 When you move to Orange Beach, you're re-establishing yourself in one of the most gorgeous places in the country, where the sand is white and the water is clear.

Can you imagine walking this beach with your significant other whenever you want?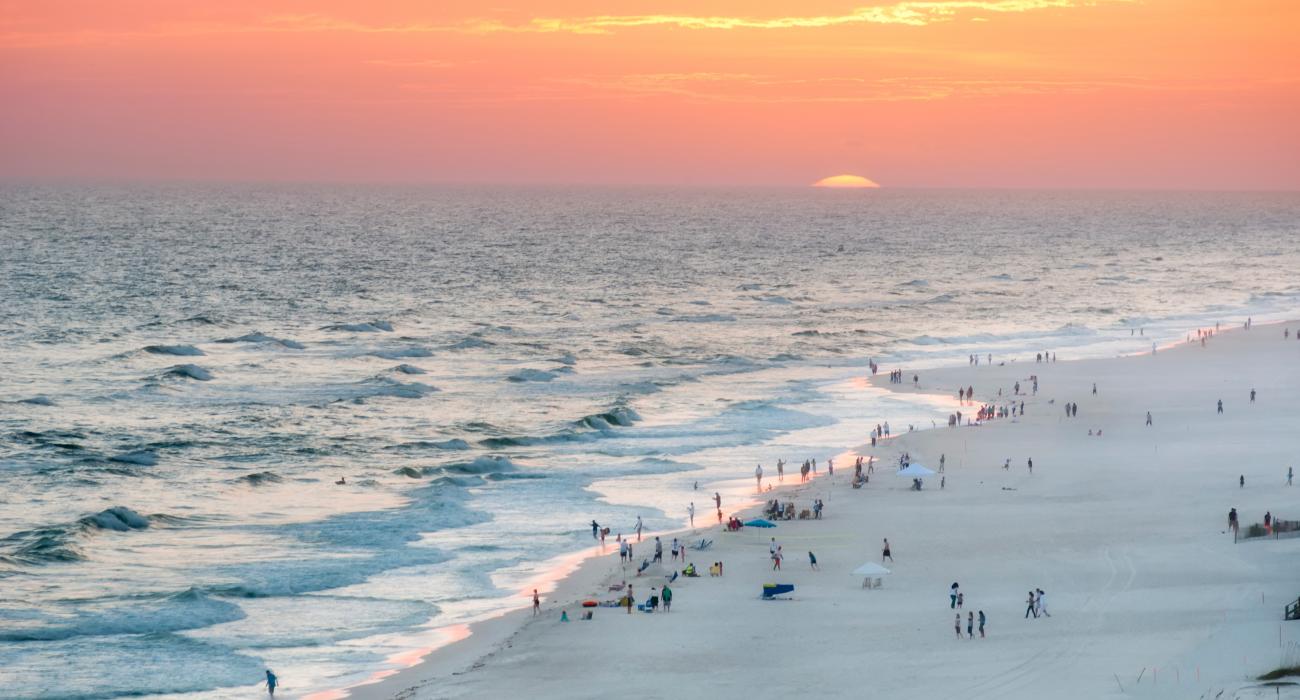 You get to take your pick, sunrise or sunset…..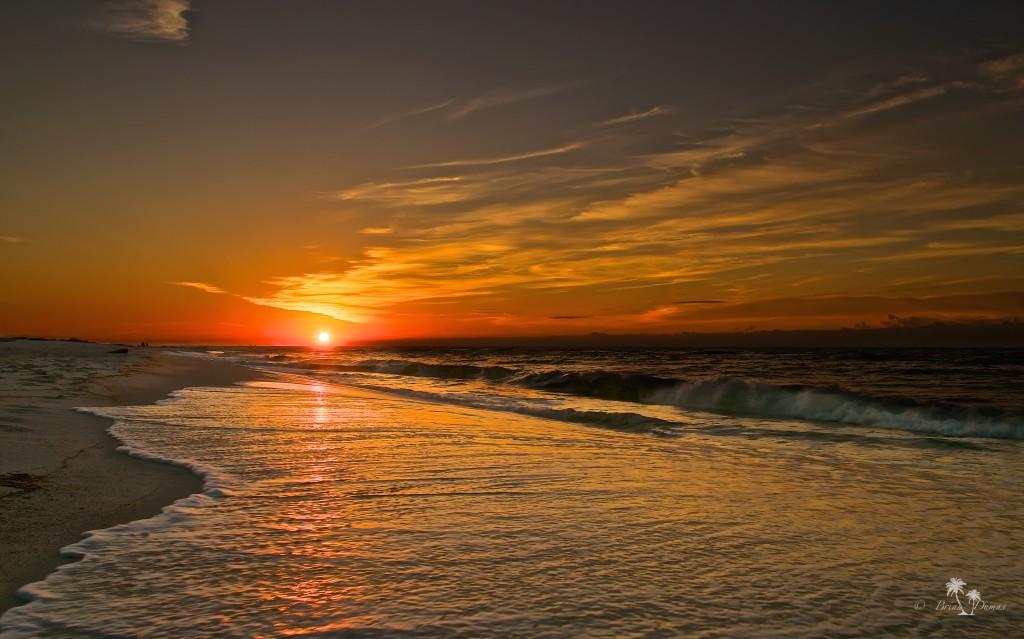 Photo by Brian Dumas Photography

The beautiful surroundings of Orange Beach will be your next home!

The bulk of the Orange Beach economy is fueled by tourism all through the year. For the past 6 years in a row, the Alabama Gulf Coast has experienced record setting years in visitors and revenue. Last year over 6.3 million people visited the beach, spending about $4.2 billion before leaving. That's pretty powerful!
Employment By Industry
| | |
| --- | --- |
| Industry | Orange Beach % |
| Arts, Accommodation, Recreation, Food Services | 20% |
| Educational, Health Care, Social Assistance | 18.4% |
| Finance, Insurance, Real Estate | 15.2% |
| Retail Trade | 12.8% |
| Construction | 7.4% |
| Transportation, Warehousing, Utilities | 6.4% |
| Professional, Scientific, Admin, Waste | 4.6% |
| Manufacturing | 4% |
Interesting Employment Facts:
The unemployment rate in Orange Beach is 5.6% with a positive job growth of 1.78%.
The unemployment rate is lower than the state and national averages.
The poverty level is 42% lower than the national average.
Income per capita in Orange Beach is 26% higher than the national average.
The median household income is 8% higher than the national average.

Jobs
According to Glassdoor.com, there are 875 jobs within 15 miles from Orange Beach.
The top 5 positions that are being hired for in the area are:
Welder
Resident Property Manager
Accounting
Phlebotomist
Warehouse
If you're moving to Orange Beach and not retired, there are many opportunities in our small town.

Although Orange Beach is a small city, it's big on appeal. With only a little over 5,000 full time residents Orange Beach continues to grow as a community. I think for a community to thrive there has to be a balance of livability, low crime rates, a strong economy, great schools, entertainment, planning, and development. Many of these factors are being covered in this article.
With the massive amount of tourism that flows into the city every year, Orange Beach does a great job at maintaining this balance for its residents.
One of the ways that Orange Beach shows a strong sense of community is how business is incorporated throughout the city. You'll find very few national fast food chains here with most of the restaurants being owned and operated by the locals.
There are a couple of strip shopping centers here with grocery stores but other than a few locally owned shops, Orange Beach is not known as a the shopping mecca of the south. That's okay though. Orange Beach trys hard to cater to its residents as well as take care of the many tourists who visit the area all year long.
Don't get me wrong though. You're not going to be deprived if you need a new bathing suit or patio set. You just won't see a McDonald's on every corner. One of the ways that Orange Beach has excelled in creating a thriving community is The Wharf…….
The Wharf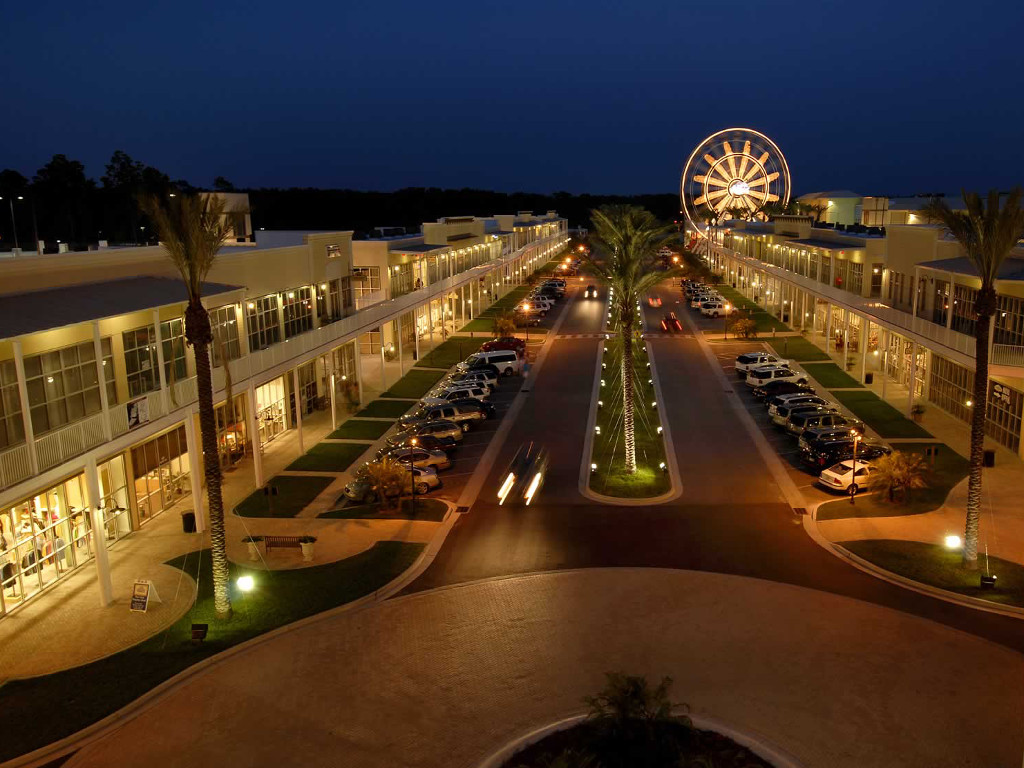 The largest shopping district of Orange Beach can be found at The Wharf, located at the intersection of the Foley Beach Expressway and Canal Rd. This is quite an impressive place to visit and stay. I say stay because The Wharf is like a city within the city. You not only have dozens of cool shops and restaurants to visit but you also will find a large condo community at The Wharf offering well-appointed condos with great water views. Whether you want to live here full-time or just visit for the week, you should definitely look into this great community.
Please visit the link above to find a full write up on what The Wharf has to offer.
Quality of Life
I believe Orange Beach has created balance by taking into account residential living, outdoor activities, a strong economy based on tourism, and quality of life.
Areavibes gives Orange Beach a Livability Ranking of 74 which is much higher than the rest of the state and the US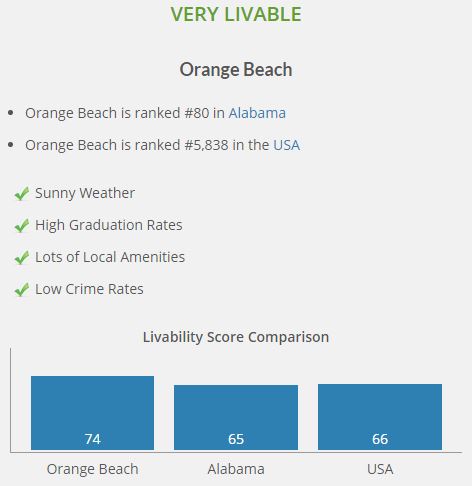 The Beach
Our beautiful beach and teal-green waters of the Gulf will forever draw people to our little area in lower Alabama. The very nature of it all is a magnet for not only those who are visiting us for a short time but mainly for the residents who call Orange Beach their home. That's why the beach has to be included in why Orange Beach is a thriving community.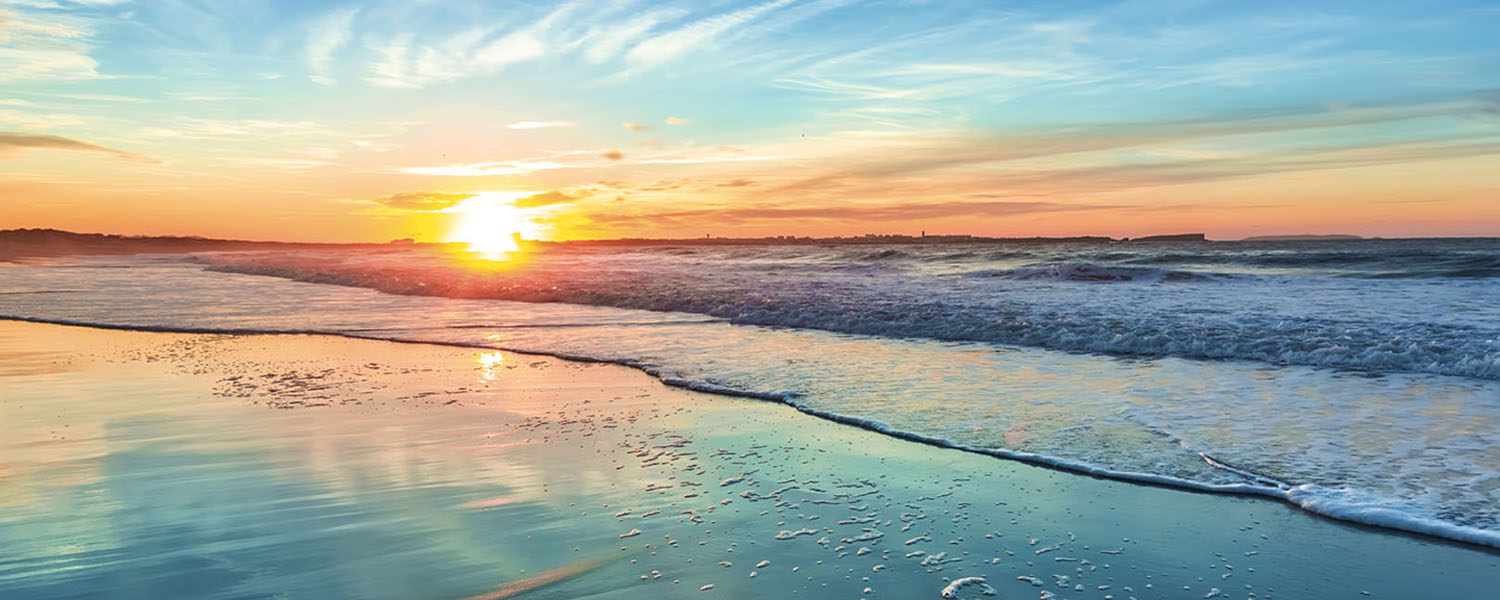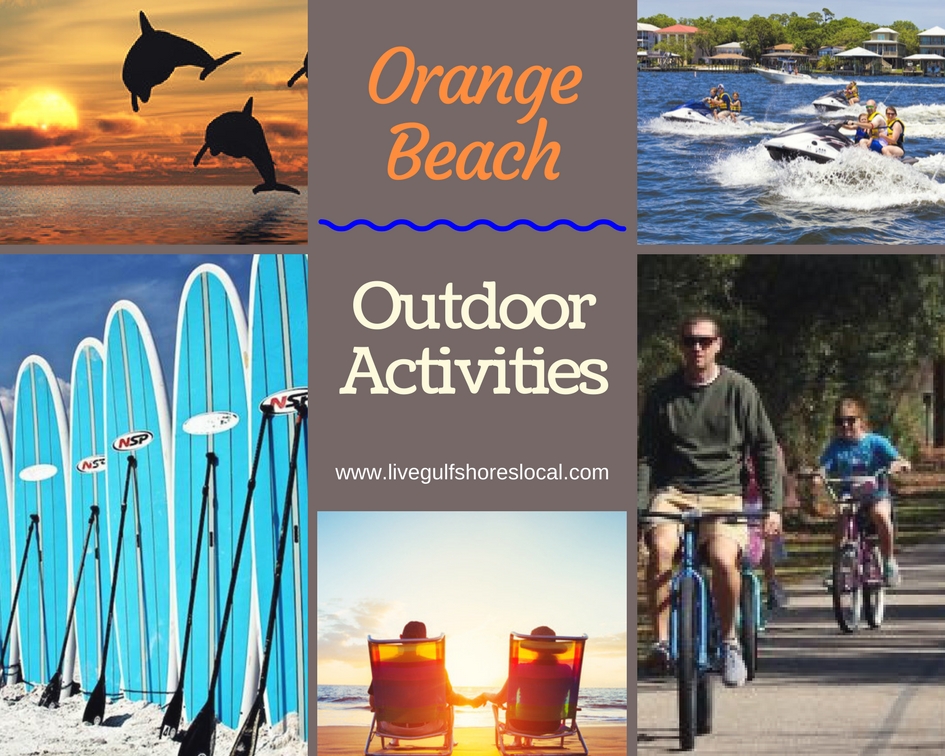 If you're moving to Orange Beach and love the outdoors, well, you've just hit a home run! There is so much going on where you can be active and catch some Vitamin D at the same time.
Boat Tours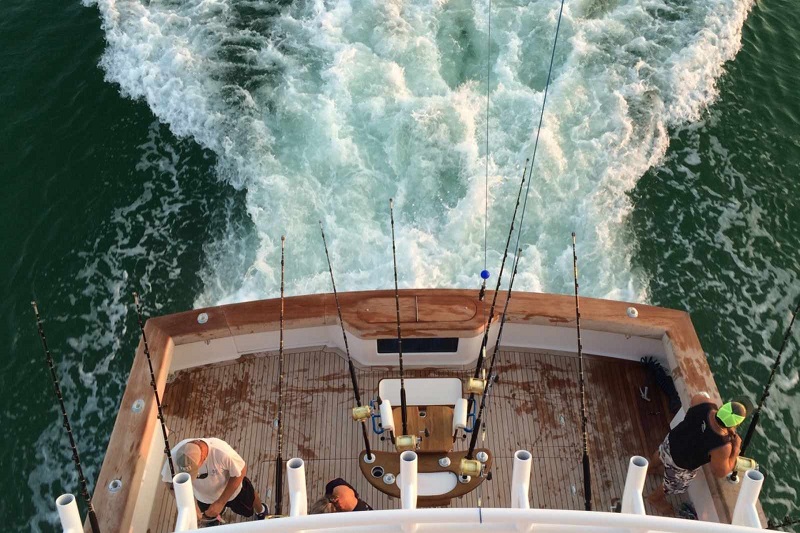 There are over 100 fishing charter captains on the Alabama Gulf Coast to give you an experience of a lifetime. Orange Beach boat tours are great for deep sea fishing trips, dolphin/whale watching, and enjoying one of our beautiful sunsets on the Gulf. Here are the Top 10 charters as rated by TripAdvisor.com.
The Fun Boat Dolphin Cruises
Distraction Charters
Sail Wild Hearts
Orange Beach Private Family Dolphin Tours & Boating Safaris
Cruise Orange Beach Dolphin Cruises
Blue Dolphin Cruises
Hudson Marina
Orange Beach Sailing Charters
Dolphin Cruise aboard the Cold Mil Fleet
Getaway Charters
Hugh S. Branyon Backcountry Trail
The Backcountry Trail is a staple in Orange Beach for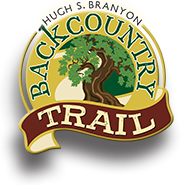 exploring the beauty of the area and taking in some incredible outdoor activities.
Whether you're into hiking and biking over 15 miles of trails or discover nature in the 6 distinct eco-systems, you are shown to be blown away with what Orange Beach has to offer with this natural escape.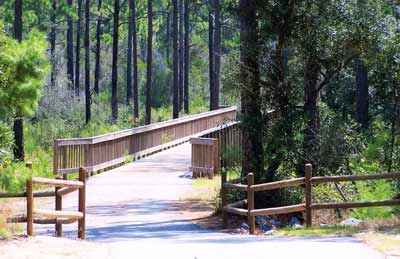 Watersports
Do you enjoy being active in the water? Orange Beach has a plethera of options to have fun. Many of the Boat Tour companies above offer water sports activities as well but here's a list of locals that focus on getting wild and wet!
Below you'll find options for paddle boarding, kayaking, parasailing, banana boat rides, pontoon rentals, jet skis, skim boarding, scuba diving, and surfboarding.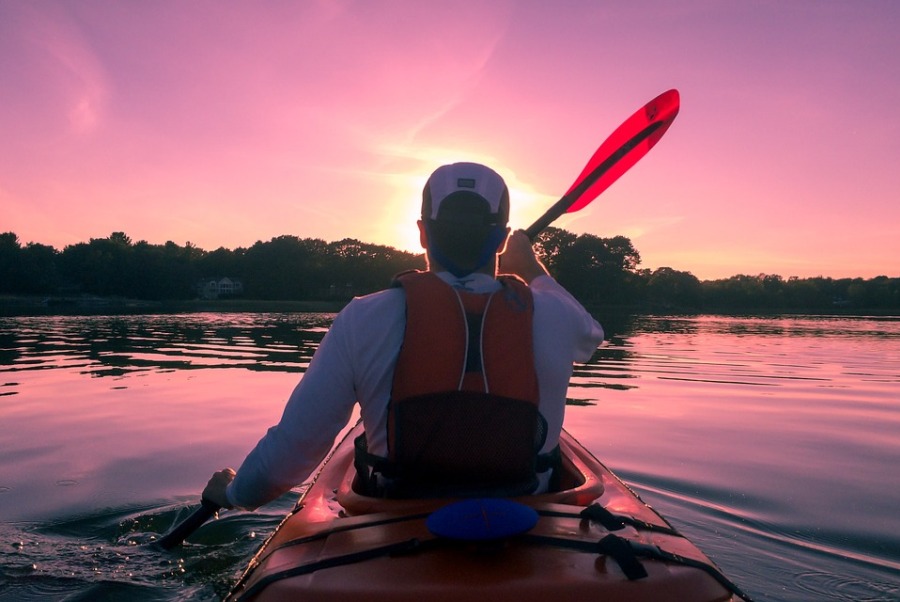 OB Watersports
251-981-2527
Pleasure Island Divers
251-301-8010
Perdido Paddle Board Company
Perdido Key Watersports & Little Heads Kayak Rentals
251-284-5107
Perdido Beach Services
251-981-4807
Paddled By-You
251-752-9250
Alabama Extreme Watersports
251-345-1301
Coyote Beach Sports
251-228-2080
Flora-Bama Marina & Watersports
251-980-5222
Gulf Coast Paddle Company
251-550-7235
Go Go Kayaks
251-752-5500
Happy Harbor Watersports
251-981-6111
Ike's Beach Service
251-948-3757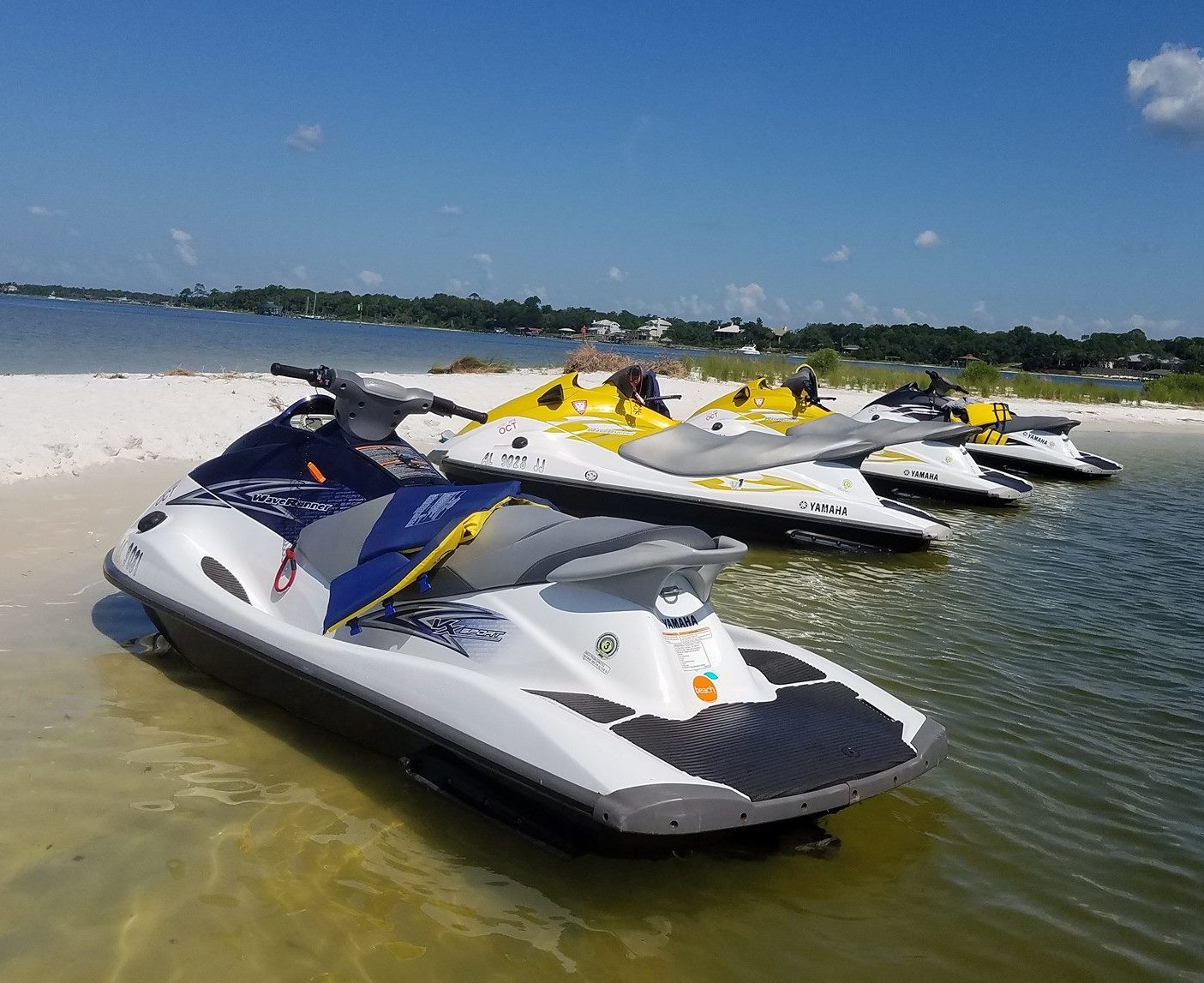 Orange Beach Parks
Waterfront Park – Lighted kids park, walking paths, pavilions, picnic areas with grills, 400 foot fishing pier. Open year around. Located 26425 Canal Road (1/4 mile east of Hwy 161).
The BackCountry Trail – 7 hiking and biking trails spanding 15 miles, 6 eco-systems, guided eco-tours, campsites, and segway tours. Located at 3801 Orange Beach Blvd.
Dog Park – "Unleashed in Orange Beach" – Separate fenced in areas for small and large dogs. 3/4 acre dog park has water stations, disposal stations, and benches. Located at 27920 Canal Road (1.3 miles east of Hwy 161).
Bird Island Park & Robinson Island – The islands are located just north of the Perdido Pass Bridge. The islands are only accessible by boat or jet ski and are often used by residents and visitors as a park.
Orange Beach Canoe Trail – There are 10 designated canoe trail landing sites along the shores of Cotton Bayou, Bayou St. John, Arnica Bay, Bay La Launch, and Wolf Bay. Here are where the landing sites are located:
Cotton Bayou
Boggy Point
Wilson Boulevard
Look Rook Rd
Mississippi Ave
Harrison Park
Palmetto Extension
Waterfront Park
Cypress Ave
Gulf Bay Road
Download and print your copy of the Canoe Trail here.
Disc Golf Course Park (Frisbee Golf) – 9 holes Par 27. Located at 27920 Canal Rd next to the dog park.
Orange Beach Sports Complex – The Sports Complex has hosted a number of events from high school softball to collegiate soccer events. Located at 4389 Wilson Silvers Pkwy.
Orange Beach Tennis Center – The Tennis Center has 8 lighted, medium speed hardcourts and pro shop. Located at 4851 Wilson Blvd. Lessons are provided for senior adults, adults, and kids.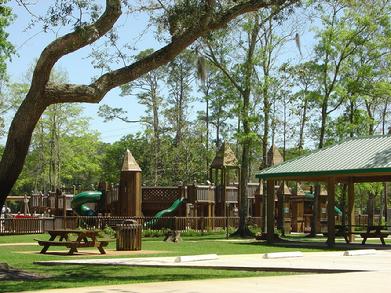 Golf
There are quite a few great golf courses on the Alabama coast but most of them are located in Gulf Shores. Here's information for golfing in Orange Beach.
Orange Beach Golf Center – Located at 4700 Easy St. This is a 9 hole course with driving range. Green fees are very reasonable and low annual memberships are available.

Getting around in Orange Beach isn't that complicated. There's just 2 routes that will take you into the city from the west: Canal Rd and Perdido Beach Blvd. From the Florida state line there is just 1, Perdido Beach Blvd.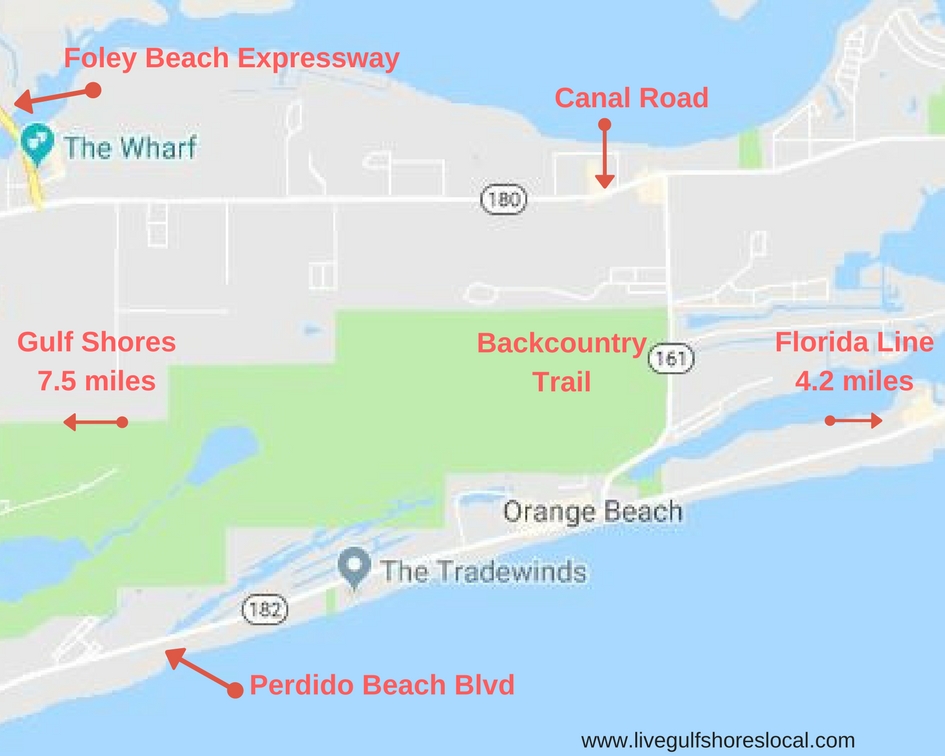 If you're traveling through Gulf Shores or wanting to go to Foley, you can take a short cut through the Gulf State Park. The "cut through" isn't pictured here but the state park is the left portion of the green area above, adjacent to Backcountry Trail.
Here are some common places along with their distances to Orange Beach:
Downtown Pensacola – 25.8 miles
The Hangout (downtown Gulf Shores) – 6.8 miles
Foley – 15.8 miles
Walmart – 7.8 miles
The Wharf – 5.3 miles
OWA Theme Park – 11.5 miles
Waterville USA – 7.5 miles
Target – 9 miles
Tanger Outlets – 13.4 miles

American
| | | |
| --- | --- | --- |
| Moe's Original Bar B Que | 25603 Perdido Beach Blvd | 251-981-7427 |
| Brick & Spoon | 24705 Canal Rd | 251-981-7772 |
| Luna's East & Drink | 25753 Canal Rd | 251-980-5862 |
| Cosmo's | 25753 Canal Rd | 251-948-9663 |
| Another Broken Egg Cafe | 25910 Canal Rd | 251-981-7780 |
| Anchor Bar & Grill | 4575 Wilson Blvd | 251-200-0250 |
| Big Mike's Steakhouse | 25638 Canal Rd | 251-981-2652 |
| Buns in the Sun | 3099 Loop Rd | 251-240-0498 |
| Duck's Diner | 4560 Easy St | 251-948-9191 |
| Hogfish Grille | 24821 Commercial Blvd | 251-980-3474 |
| Barefoot Island Grill | 27370 Canal Rd | 251-256-0055 |
| Hurrican Grill & Wings | 25755 Perdido Beach Blvd | 251-981-3041 |
| The Ruby Slipper Cafe | 24151 Perdido Beach Blvd | 251-800-7470 |
| Flipdaddy's | 24221 Perdido Beach Blvd | 251-929-9508 |
| Ginny Lane Bar & Grill | 4780 Wharf Pkwy | 251-224-6500 |
| Waffle House | 25101 Perdido Beach Blvd | 251-981-2085 |
| Big Wave Dave's | 22703 Perdido Beach Blvd | 251-981-2340 |
| Latitude 30 | Located in Perdido Beach Resort | 251-981-9811 |
| The Keg | 26796 Canal Rd | 251-981-9462 |
| Hot Rod's Diner | 25908 Canal Rd | 251-974-0004 |
| Happy Harbor Restaurant & Bar | 27212 Marina Rd | 251-981-6111 |
| STKburger | 4651 Main St | 251-240-0500 |
| Blue Water BBQ | 4780 Wharf Pkwy W | 251-256-0081 |
| Tipseas | 23479 Perdido Beach Blvd | 251-981-8477 |
| O' Choppers | 25908 J Canal Rd | 251-974-1300 |
| Zeke's Down Under | 26619 Perdido Beach Blvd | 251-981-1864 |
| Sugar Shack and Deli | 4830 Main St | 251-981-4600 |
| SanRoc Diner | 27267 Perdido Beach Blvd | 251-981-8960 |
| Splash Bar & Grille | 27200 Perdido Beach Blvd | 251-981-9811 |
| Bikini Wings | 25755 Perdido Beach Blvd | 251-981-9464 |
| Vic's Diner | 25594 Canal Rd | 251-980-2374 |
| Taste | 4725 Main St | 251-224-2333 |
| Janna's Market | 25908 Canal Rd | 251-981-7467 |
| Pleasure Island Tiki | 27844 Canal Rd | 251-981-8454 |
| Maria's Deli | 27121 Canal Rd | 251-981-8288 |
Seafood
| | | |
| --- | --- | --- |
| Blalock Seafood & Specialty Market | 24822 Canal Rd | 251-974-5811 |
| Big Fish Restaurant & Bar | 25814 Canal Rd | 251-981-5516 |
| Gilbey's Seafood & Steaks | 25775 Perdido Beach Blvd | 251-981-2988 |
| Fisher's | 27075 Marina Rd | 251-981-7305 |
| Doc's Seafood | Hwy 180 & 161 | 251-981-6999 |
| Wolf Bay | 26619 Perdido Beach Blvd | 251-965-5129 |
| The Gulf | 27500 Perdido Beach Blvd | 251-424-1800 |
| The Flying Harpoon 2 | 23479 Perdido Beach Blvd | 251-981-8100 |
| Gulf Shores Steamer | 27267 Perdido Beach Blvd | 251-948-6344 |
| Voyagers | 27200 Perdido Beach Blvd | 251-981-9811 |
| Cobalt | 28099 Perdido Beach Blvd | 251-923-5300 |
| Shrimp Basket | 26650 Perdido Beach Blvd | 251-974-1833 |
| Cotton's Restaurant | 26009 Perdido Beach Blvd | 251-981-9268 |
| Tacky Jacks | 27206 Safe Harbor Dr | 251-981-4144 |
| Live Bait | 24281 Perdido Beach Blvd | 251-974-1612 |
| Sassy Bass Caribbean Grille | 27212 Marina Rd | 251-981-1910 |
| GTs on the Bay | 26189 Canal Rd | 251-980-8400 |
| Bubba's Seafood House | 24621 Perdido Beach Blvd | 251-974-1800 |
| Undertow | 25025 Canal Rd | 251-981-3331 |
| The Intracoastal | 4851 Wharf Pkwy E | 251-256-0039 |
| SALT | 27267 Perdido Beach Blvd | 251-589-7258 |
| Gulf Bay Seafood Grill | 24705 Canal Rd | 251-974-5090 |
Italian
| | | |
| --- | --- | --- |
| Rotolo's Pizzeria | 25755 Perdido Beach Blvd | 251-981-8891 |
| Mama Lottie's | 25405 Perdido Beach Blvd | 251-981-2911 |
| Villaggio Grille | 4790 Wharf Pkwy | 251-224-6510 |
| Franco's Casual Italian | 25241 Perdido Beach Blvd | 251-981-9800 |
| Franco's Italian | 26651 Perdido Beach Blvd | 251-981-9800 |
| Perdido Beach Pizza | 27200 Perdido Beach Blvd | 251-981-9811 |
| Pizza Hut | 4575 Orange Beach Blvd | 251-981-8900 |
Mexican
| | | |
| --- | --- | --- |
| Mexico Lindo | 25405 Perdido Beach Blvd | 251-974-2777 |
| Cactus Cantina | 25908 Canal Rd | 251-974-0060 |
| Chronic Tacos | 25775 Perdido Beach Blvd | 251-981-0040 |
| El Potro Mexican | 25637 Canal Rd | 251-981-3400 |
| Sol Y Mar Mexican Grill | 4725 Main St | 251-271-0800 |
| Monterrey's Mexican Grill | 25405 Perdido Beach Blvd | 251-981-1084 |
| Tijuana's Mexican Restaurant | 25637 Canal Rd | 251-981-3666 |
| El Palenque | 4725 Main St | 251-224-8160 |
| Frontera Grill | 4724 Main St | 251-224-4745 |
Asian
| | | |
| --- | --- | --- |
| Master Joe's Sushi | 27121 Canal Rd | 251-981-8889 |
| China Dragon | 25405 Perdido Beach Blvd | 251-981-5855 |
| China King | 25637 Canal Rd | 251-224-1888 |
| Niki's Seafood and Thai | 22641 Canal Rd | 251-981-1833 |
Cajun/Creole
| | | |
| --- | --- | --- |
| Louisiana Lagniappe | 27267 Perdido Beach Blvd | 251-981-2258 |
| Little New Orleans | 25241 Perdido Beach Blvd | 251-981-5252 |
| Bayes Southern Bar & Grill | 4673 Wharf Pkwy | 251-240-0411 |
| The Louisiana Pantry | 4851 Wharf Pkwy | 251-923-2448 |
Fast Food
| | | |
| --- | --- | --- |
| Domino's Pizza | 25814 Canal Rd | 251-981-8880 |
| Dairy Queen | 25496 Hwy 182 | |
| McDonald's | 4511 Orange Beach Blvd | 251-974-2663 |
| Subway | 25755 Perdido Beach Blvd | 251-981-6881 |
| Subway | 25814 Canal Rd | 251-981-4184 |
Dessert/Coffee
BuzzCatz Coffee & Sweets
25753 Canal Rd
251-980-2988
Cafe Beignets
25405 Perdido Beach Blvd
251-981-2711
Liquid Life Cafe
25741 Perdido Beach Blvd
251-968-3758
The Southern Grind Coffee House
4751 Main St
251-923-3265
City Donut
26551 Perdido Beach Blvd
251-981-3688
Starbucks
25773 Perdido Beach Blvd
251-597-2033