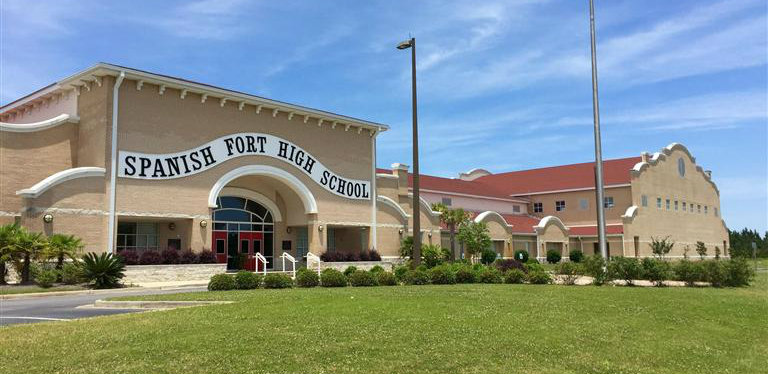 Living in an area where your kids can be in a great school system is extremely important to most, and Spanish Fort is one of those areas. If you are thinking about buying a home, keep scrolling down to find all of the neighborhoods in the Spanish Fort school district.
Spanish Fort High School
1 Plaza De Toros
Spanish Fort, AL 36527
251-621-6629
Quick Facts About Spanish Fort High School:
Established in 2005
Mascot – the Toro
School colors – red and black
Campus includes: main building with library, band room, cafeteria, choral room, track, baseball/softball complex, athletic building, and football stadium
Current enrollment – 1,112
Student-to-teacher ratio – 20:1
Full-time teachers – 55
Average daily attendance – 99%
Graduation rate – 94%
Since the 2009-2010 school year, Spanish Fort has consistently scored higher than the state and national average in the ACT exam.
Attendance in post-secondary institutions – 81%
Greatschools.org gives SFHS a rating of 10 out of 10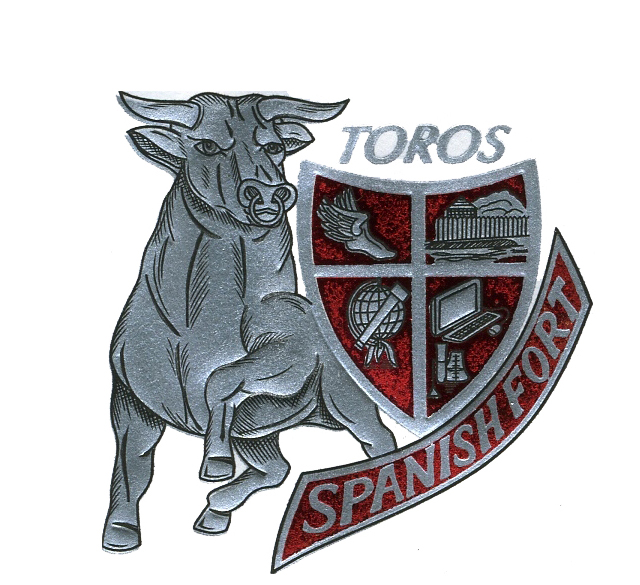 Spanish Fort has seen significant growth since incorporating in 1993, which is more than likely due to its great schools, easy access to Mobile and Pensacola, and close proximity to lots of shopping and restaurants.
Below you will find all of the neighborhoods that are within the Spanish Fort School system, including average prices and the approximate distance to the high school. By clicking on the links, you'll find all of the homes that are for sale in that neighborhood.
Audubon
$400K's
1.9 miles
Bay Branch Estates
Low to mid $200K's
4.5 miles
Bay Branch Villas
High $100K's
4.8 miles
Blakeley Forest
Mid to high $300K's
4.9 miles
Blakeley Oaks
Mid to high $200K's
8.9 miles
Blakeley Ridge
Low $400K's
4.2 miles
Bridgewood
$500K's
6.8 miles
Bromley Woods
$400K's
9.3 miles
Brookewood
$200K to $400K
1.9 miles
Cambron
$300K's
4.7 miles
Churchill
$200K's
3.1 miles
D'Olive Creek Estates
$400K's
4.1 miles
Garrison Ridge
$400K's
4.7 miles
Grace Magnolias
$250K to $300K
3.4 miles
Heidelbrook
High $100K's
1.5 miles
Highland Park
Mid $300K's
3.7 miles
Highpointe Place
$200K's
3.9 miles
Historic Malbis
$200K to $400K
2.4 miles
Lexington
$300K to $400K
4.4 miles
Military Bridge Estates
$300K's
6.4 miles
North Lake
Mid $200K's
7.8 miles
Oakridge
$200K's
4.8 miles
Osprey Ridge
High $200K's
3.8 miles
Pineda Island
$300K's
6.5 miles
Plantation Hills
High $100K's
4.2 miles
Rayne Plantation
Mid to high $400K's
4.1 miles
Saluda Ridge
$300K to $400K
10.1 miles
Savannah Woods
Mid $250K's
2.8 miles
Spanish Fort (homes that are not in a particular neighborhood)
$100K to $300K
Spanish Fort Estates
Mid $100K to $300K
5.3 miles
Spanish Village
Mid $100K's
4.1 miles
Stillwater
$300K to $700K
7.2 miles
Stone Brook
High $100K's
3.8 miles
Stonebridge
$200K to $300K
4.1 miles
Tanager
Mid to high $200K's
2.1 miles
The Lakes
High $300K's
8 miles
Timbercreek
$250K to $600K
2.4 miles
Tucker Farms
$300K's
3.8 miles
Wakefield
$300K's
2.6 miles
Walden
$500K's
5.7 miles
Westminster
Mid $250K's
4.3 miles
Wilkins Creek Estates
Mid $300K's to high $400K's
8 miles
Wilson Heights
Mid $150K's
3 miles
Please contact me if you would like to see any of these homes for sale or if you need more information about neighborhoods in the Spanish Fort school system.
Jeff Nelson
Bellator Real Estate & Development
251-654-2523
[email protected]
The post Neighborhoods in the Spanish Fort School System appeared first on Condos and Homes for sale in Gulf Shores and Orange Beach, AL..