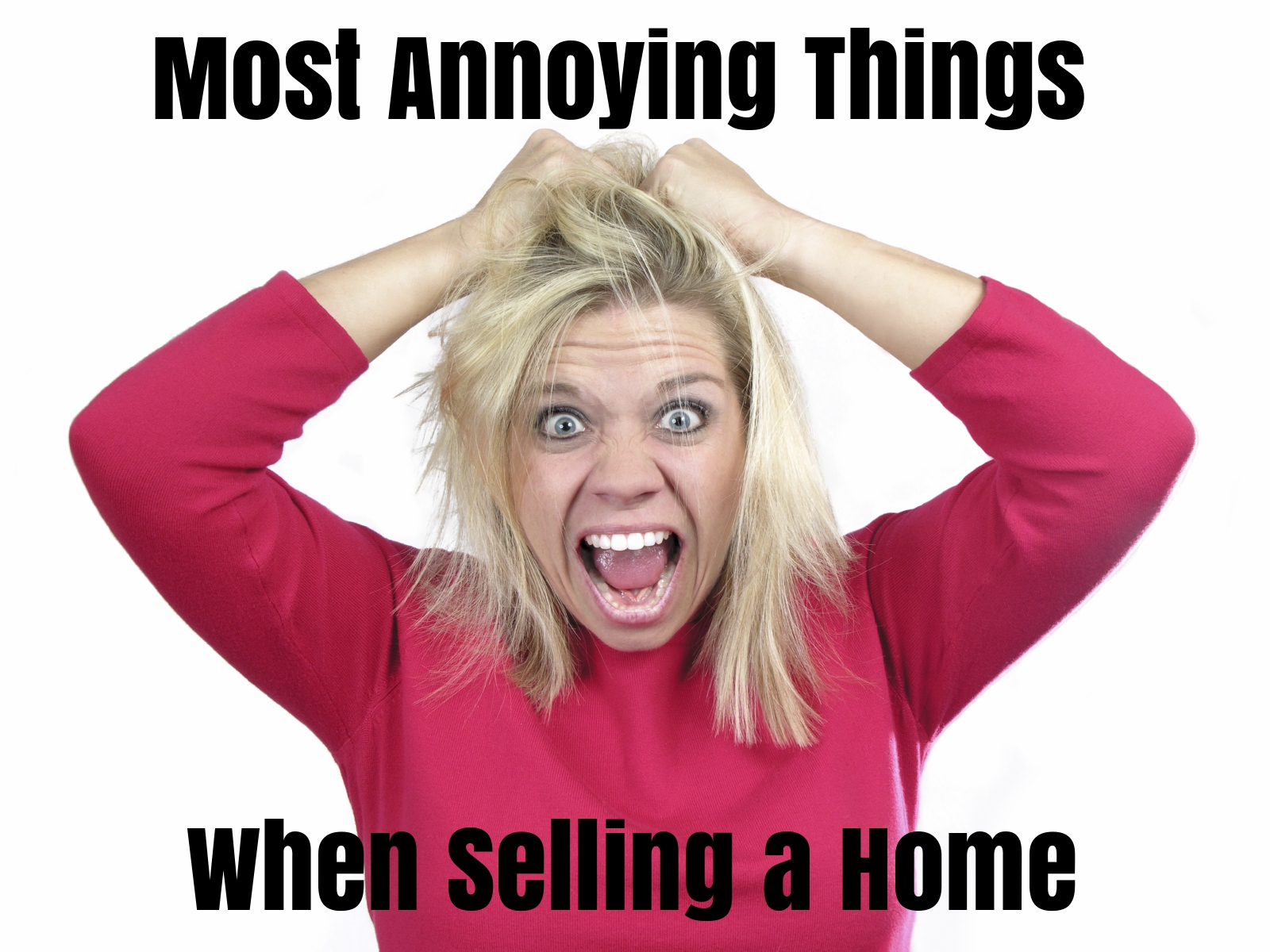 From doing repairs, painting, packing, and trying to find another place to live, selling a home can get stressful. What makes things worse? Well, sometimes people can make the whole process a little more annoying….
Last Minute Appointments
I think most people would like a little time to work with in order to show their home to sell.

Has this ever happened to you?
"I have a buyer who is leaving town in 20 minutes, can they stop by to see your home?"
"I'm sorry but we were in the neighborhood looking at other properties and saw yours, can we come in?"
"Um we're actually in your driveway."

Although this can be annoying, this last minute buyer could be the very one to put your home under contract. Also, sometimes these situations work out if the buyer's agent finds out that the seller is out for the afternoon anyway. As a seller in this situation, try to be flexible and count backwards from 10 (slowly).


No-Shows
One of the best ways to annoy a seller is for the buyer to skip the initial appointment to see the home. Think about it. The seller wants to sell and most of the time they will spend some extra time just before the showing to vacuum, light some candles, do some last minute dusting, or even bake cookies. In addition to that, selling a home can be stressful and emotional, making anticipation levels increase for every buyer that comes through the door.

Yes, emergencies come up from time to time and it's a really good idea for the listing agent and the buyer's agent to talk about any cancellations, especially if the buyer wants to reschedule. Also, if you have to cancel try to do so within hours (not minutes) before the showing.
Leaving the Lights On and Open
Sellers often leave all the lights on just before a showing in order for the home to look more bright and airy. What's not cool is to leave the home that way, especially if you didn't lock up afterward. Of course, the burden is on the buyer's agent to take of this but how annoying would that be? Many sellers take the time of a showing to take care of errands, go eat, or spend all afternoon at the park. They could be gone for hours or even gone into the night.

No homeowner would like to pull up to their home after being gone all day to this situation. As the old adage goes, treat others as you would want to be treated.


Buyers Treating Your Home Like Their Own
Yeah, this is pretty annoying but thankfully it doesn't happen that often and the buyer's agent should take the reigns on this issue if it does happen. When I'm working with a buyer I tell them to feel free to open closet doors and look into "fixed cabinets", basically to inspect what would come with the property.

On the other hand, this doesn't mean that the buyers should crank up the heat, leave doors unlocked, or let their kids run a muck. Sometimes I find myself walking behind the buyers returning things back to normal but fortunately most buyers are respectful of your things.




Nit-Picky Complaints
We all have our own styles and designs but when a buyer will not purchase the home due to dark green walls in the living room or a stain on the carpet (for example), that can be very annoying to sellers, especially if the sellers have priced their home accordingly.

I remember cringing one day while showing a home while the seller was home. The buyer wife was "very" vocal and didn't hold back exclaiming how everything was so ugly in earshot of the seller. It's normal to have your opinion but wise to keep it to yourself until after you leave the property, especially if you're considering making an offer.


Damage
Have you ever taken your car to the mechanic and found that while they fixed the problem, something else was "all of a sudden" wrong? Some buyers get very adventurous and want to go into the attic, where there are a number of things that could go wrong, including damage to the sellers' property.

Buyers should open doors and turn switches on/off but should leave the rest of it to the home inspector.


Buyer Losing Their Financing
Although this is extremely annoying to the seller, much of this stress can be alleviated before you go under contract. If the buyer is pre-approved (not pre-qualified) from a reputable lender, the listing agent should call the mortgage lender in order to give the seller a "warm and fuzzy" feeling about the financial status of the buyers. Weird things do come up from time to time but taking extra steps in the beginning could eliminate stresses down the road.


Buyers Wanting Everything and the Kitchen Sink
We've all heard that a successful negotiation is when all of the parties involved get something out of the deal. It's very annoying to a seller when they have already accepted a lower than favorable offer then the buyer wants to pick apart the home inspection, wanting the seller to fix "everything".


Multiple Visits Before Closing
So, you're finally under contract but now the buyer wants to come back once a week to measure for curtains, match paint colors, or just to look. Don't forget, during this time the seller is dealing with inspections, repairs, and oh yeah, trying to pack.

It's understandable that the buyer is excited about moving into their new home but they should be respectful of the process. It is common for the buyer to accompany the home inspector during their visit so that would be a great time to do any planning and measuring.


Removing Your Pets
Depending on what kind of pets that you have, this could be annoying for some more than others. However, getting your pets out of the house is a must. You have to do it because there are so many things that could go wrong. I can't tell you how many times that I showed a house to a buyer and had close calls with a not-so-friendly dog.

You also deal with the potential issue of a docile cat or dog running out of the door that you left open for just a second.




Pushing the Closing Date
The closing date is one of the most important factors in a contract so a buyer wanting to change that date for whatever reason could be very annoying to the seller. There are a lot of cogs in the wheel with two different parties trying to pack, do repairs, meet deadlines, and trying to time closing for their best interest. If the buyer and seller sign off on the initial closing date, then everyone should stick to it.
_____________________________________________________
About the author: The above Real Estate information on Most Annoying Things When Selling a Home was provided by Jeff Nelson of Bellator Real Estate & Development. He can be reached via email at [email protected] or by phone at 251-654-2523. Jeff has helped people move in and out of properties for nearly 12 years.

Thinking of selling your home? I have a passion for Real Estate and love to share my marketing expertise!
I service Real Estate sales in Baldwin County including the cities of Spanish Fort, Daphne, Fairhope, Foley, Gulf Shores, and Orange Beach.
The post Most Annoying Things When Selling a Home appeared first on Condos and Homes for sale in Gulf Shores and Orange Beach, AL..