Clogging is an expressive style of American Dance with origins in the folk dances of the British Isles, Africa, and pre-Columbian America. Settlers in the American South took elements of these styles to form a unique American dance style, Appalachian Clog Dancing.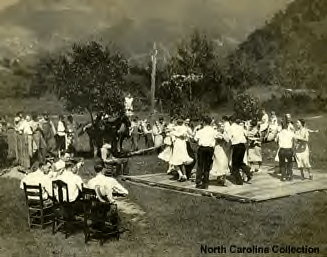 Though the eighteenth-century Scottish and Irish settlers brought with them the clog, a step dance characterized by a very erect upper body, the additional influences of the traditional dance of Native Americans with its toe-heel, toe-heel movement and African American buck dancing, in which the arms hang loosely at the dancer's sides, made for a distinctly American style. The basic clogging and buckdancing step consists of a double toe shuffle, where the dancer brushes forward the toe and then the heel of the free foot, shifts his or her weight to that foot, then rocks onto the other foot, before stepping back onto the foot that had originally been free. The leg is generally raised a little more than six inches off the ground in clogging, while the feet stay close to the ground in traditional buckdancing.
Team clogging, coupled dancers executing individual step dances together in group configurations, is a relatively new composite dance form that began in the 1920s in western North Carolina. In was initiated when The Smokey Mountain Dancers first performed at the Bascom Lamar Lunsford Festival in 1927 in Asheville. By 1938, team clogging had its own competition at the Lunsford Festival, and it was won by the well known Soco Gap Dancers from the Maggie Valley area.
They performed freestyle buck dance steps continuously while doing mountain style square dance figures called by one of the dancers. In freestyle (or traditional) clogging, the dancers perform spontaneous footwork, which allows them to improvise while moving about the dance floor in time to live music provided usually by string bands. Team clogging won more widespread respect and recognition when the Soco Gap Team performed at the White House in 1939 for an audience including the Queen of England. Queen Elizabeth was said to have remarked "that's just like our clogging."
sources: www.doubletoe.com/About.htm
http://tennesseeencyclopedia.net/imagegallery.php?EntryID=D002
http://canecreekcloggers.org/backintime.html
appalachian+history appalachian+culture history+of+appalachia appalachia
The post Appalachian clog dancing appeared first on Appalachian History.