Choosing a career for only getting paid is easy as you have many options in the market today. But choosing a career in an organization which has a great reputation, huge responsibility is something most needed to fuel your perfect job aspirations. You need to ensure that you do extensive research you need to be aware of the pros and cons regarding the position. One such interesting job profile is secretarial job. In this post you will find some interesting advantages and disadvantages of being a Secretary.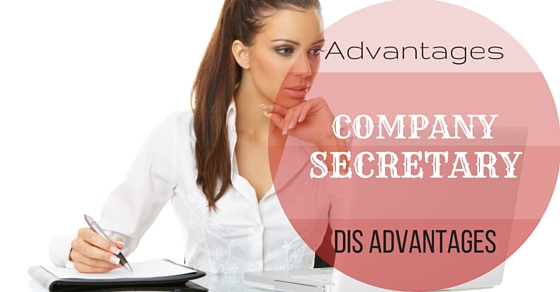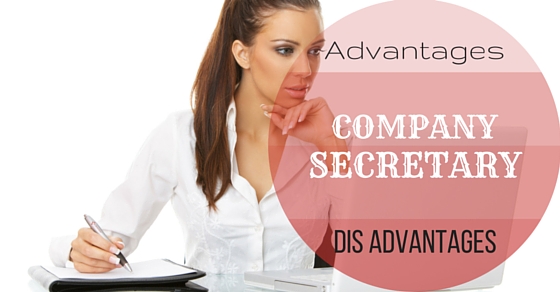 Who is a Secretary?
The Job Role of secretary is to take care of the administrative functions and whole lot of documentation work for the organization. They also take in charge of maintenance of all electronic documents, all business related office procedures as well as contract agreements. The demand for this job role is everlasting as it takes care of all the formal contracts and new agreements or scheduling various meetings, and all administrative formalities of an organization. There are various sub categories of secretarial work like educational, medical, cultural and legal etc. Working hours of this job role is a bonus for the job seekers.
Advantages of Company Secretary:
1. No stress involved: When it comes to secretarial job, there is no stress of deadlines or meeting requirements. Even though this job role has important administrative work to be done, it has nothing to be done within the given time limit. Facing a lot of stress in a job has become common in work life due to which we end up facing health problems or job dissatisfaction. One can easily trust about holding a secretary role as it does not have any kind of stress rather than managing their day to day office works assuring that the things are going smoothly. This is one big advantage of holding a secretary role of being stressed free most of the time.
2. Flexible working hours: When coming to working hours, secretary job is a good option as it fits to a traditional working hours and also has flexible work timings. Unreliable working hours is a huge concern for many of the job seekers which is a pain area for all the employees as everyone wants to achieve the work-life balance. And it is huge concern for people who need more time for personal life but at the same time want to thrive in their professional like also. Secretary role is something which is very reliable in work timings and no overtime is required unless and until it is needed.
3. Good responsibility is given: Any job seeker would be expecting a responsible job which has good reputation in your environment. As secretarial role is something which takes care of overall functioning of the environment. It has lots of opportunities to take the ownership of the position and perform tasks that help in smooth functioning of the organization. You will be in a position to decide the schedules of the higher officials, new agreements or contracts signed in your office or even to regulate new procedures of the office. Hence, for people who love to take in charge of the environment can consider applying for secretarial role in their career.
4. No longer only paper work: There is a wrong assumption that secretarial job involves lots of paper work and documentation which involves huge hours of typing papers and long documents. But reality is, now with the pace of technology, secretarial job has improved to a stage where it only deals with hardware and software data which is been stored as electronic documents. Working environment of secretarial role has improved a lot and they are connected by local area networks giving them access to all the relevant organizational documents. Work stations have been operated with recent technological advancements where all the paper work are fed in the computers as data and operated electronically.
5. Greater job satisfaction: Job satisfaction is very important for any kind of job. When it comes to secretarial job you need to have a good decision making skill which is very essential. And this job role will have more authoritative position that gives you space and opportunities to implement your ideas and put your opinions across the higher management. This job comes with the perk of meeting and interacting with the higher management quite early in your career. Hence it gives a good job satisfaction and recognition in the work environment.
6. Better interactions with higher authorities: Interacting with the higher officials is one of the advantages of being a secretary. This in turn will increase the respect among the other colleagues and adds value to your reputation. You can learn ample about the industry while interacting with the management which can help you to grow with the company. There are various levels of secretarial jobs for example, executive secretaries have a major role to play with the chief operating officers and have lots of added responsibilities. And hence, mobility with the higher officials is an added advantage to the job role.
7. No age barrier: There is a wrong idea or a notion that people who have crossed their 50's are not fit to work in a competitive environment and lose their edge in the market. But it is certainly not in the case of a secretary position. A person with a very good job experience and good decision making skill, attitude, and a positive team player still has a good opportunity for becoming a secretary. According to a recent survey, conducted by bureau of labor statistics retired people joining a job as secretary has been increased to good level, considering previous years. Hence, this job role is apt for all age categories.
Disadvantages of Company Secretary:
There are few disadvantages which have been put forward for not coming forward for a secretary job. Few among them are salary, not good image, women's work, no scope of improvement etc. It has been explained in detail below.
1. Pay scale is not up to the mark: The most common disadvantage that you can hear from everyone about the secretary job is the pay scale. Even though there are lot of hikes or moving to higher positions it does not have a very good salary package compared to other jobs. There is a constant improvement in the pay scale but not as compared to other desk jobs. You need to prove yourself and create a niche so that your efforts are recognized and you create that importance in the organization. This is considered as one major disadvantage of choosing a secretary job.
2. Belongs only to women: As it is a 9 – 5 routine job or a traditional desk job it is considered to be only for women. There is also a notion that it is very routine kind of a job and there is no variety in the tasks that one performs and hence the job becomes boring at one point of time. Hence, this job has been accepted that it belongs only to women employees which restrict male job seekers to avoid this job. And with the routine that is set for most of the time, it does give you a bored feeling to it.
3. Image of the job role: Secretary Job exists for good period of time and it is been dramatized as female employees are misused or mishandled during the job as it requires to stay 24/7 with the higher officials. You might end up with lot of travelling with the senior officials to various places which indeed adds on to the image problem that many face in this line of work. This poor image has made job seekers restricting from applying to this job role.
4. No career growth: Career growth is a very important aspect considered for all kinds of job. And people have an assumption that this job has a routine work of only dealing with paper work and documentation process and does not have any scope of improvement in career aspect. There is nowhere to go from being a secretary and hence nothing to look forward to in terms of promotion.
5. Lots of paper work: People always compare secretary job role with a stenograph role which involves only typing huge number of documents whole day and has no scope of development as it has only documentation work. And it also has a notion that this job role involves only paper work and typing newsletters for the organization. Because of the typing job many have wrong notions about the job. This has stopped many people from accepting a secretary job role.
6. No scope as technology has taken over it: With recent advent in technology, many of the job roles have been taken over by technological inventions. And certainly many of the process have been automated to ensure that there is no manual error. For example, scheduling a meeting can also been automated using many software, data can be stored in software application and licensed agreements are fed in system directly which totally shrinks the job role of secretary. The importance of the secretary has been reduced to just feeding the data in the system and let the system take over from there.
Every job role has lots of advancements and technological interventions. Neither advancement or out dated skill set cannot shrink a job role completely. It is in the hands of job seeker to keep in pace with technological advancement and grow with it. There might be few changes in the role and this cannot remove the job of secretary completely. All job has its own advantages as well as disadvantages, it is the job seeker who has to develop their skill set in the job role in-spite of the difficulties. There will always be demand for the secretary role along with the technological growth.
The post 13 Advantages and Disadvantages of a Secretary appeared first on WiseStep.