Human Resource is a huge market as every year you have a fresh batch of professionals who are ready to dive into the sea of corporate companies. There are big fishes that are looking out for change because they are bored of the company or their values are not what they used to be or a jump in their salary or onsite positions within the company or anything else that is their current need. Reaching out to wide range of audience is now a must as you can find deserving candidates on other sites other than the job Portals. You can now see a trend of using Social Networking Sites like Facebook, Twitter, LinkedIn and many more are the hot spots for the recruiters to come fishing. Posting your job on various portals and social networking sites will give you a better option rather than just sticking to your own company website.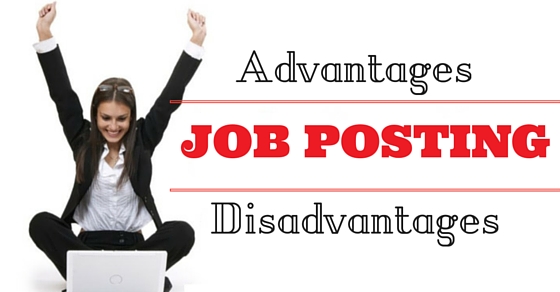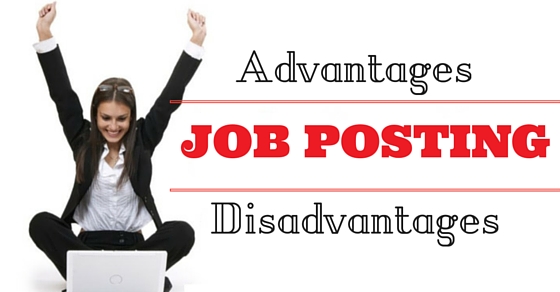 Advantages of Job Posting:
Advertisement is the key to let people know what vacancies you have and hence, it is mandatory that you should post your requirements of the job on various sites to reach out to millions of Job Seekers. You can still see many advertisements on the newspapers but internet has taken over the chunk of attention that the job seekers give to the online world. Since you can access internet through your tablets and phone it has become a huge market for the job seekers as well as job providers to find the right candidate for their job. Let us now look at some of the advantages of Job Posting.
1. Aim towards getting wider audience: Posting your job requirements on Job Portals or social networking sites will give you a wider audience rather than just posting the requirement on your own company website. You can receive more candidates if you job is out there on the internet as millions of job seekers will be able view what your company needs in terms of Human Resources. A wider audience will lead to higher probability of filling up the vacancy soon, giving you an edge over the others. Many employees have joined their dream jobs through the job portals or the social networking sites.
2. Find the right candidate for the right Job: Are you always receiving junk resumes that are not applicable to your requirements and slowly the process of recruiting is becoming frustrating? You can change all that by being a part of job portals where you have access to post your requirement and also ask the applicant to answer questions based on the vacancy. With the online access to post the requirements comes the access to their database that can help in filtering and downloading the right candidates for your job posting. This process is less frustrating and you do get connected with the right job seekers which help you to straighten out your process of hiring.
3. Accessible 24 hours, anywhere and everywhere: Internet is your best friend as it is there for you 24 hours a day. Be it day or night you can access portals anytime in the day to look after your requirements and ensuring a closure on your job posting. This is a blessing in disguise for freelancers who Work From Home or any place, giving them access anywhere and everywhere. Even if you are a corporate employee with online portal access, you still continue with your job (if you want to) post your office timings without spending a single extra minute in the office. World Wide Web helps you to work from the comfort of your home or coffee shop or holiday home or any other place where you are!
4. Easy to apply in just three steps: Online job postings are easy to apply and hassle free for a job seeker. All a person has to do is login with his or her credentials, view the job requirements and click on apply if they are interested. It is a three step process without the need to enter the details based on the company form and then upload the CV and then wait for the company to respond. Hence, a recruiter can experience the volume of applicants in a day via online portals.
5. Not an expensive affair to opt for: There are many online Job portals where you can sign up personally or through your company to get access for posting your job requirements. Some portals even offer this service as free but they will not put any emphasis on free posting as they do for paid ones. It is affordable compared to any job agencies that a company ties up with and hence is a common choice that many companies are taking up.
6. Save time on connecting with the candidates: Once you have taken the membership on any of the job portals then not only can you post your requirements but also have access to their database which is the home to millions of job Seekers. You will not have to wait till someone applies for the job; in fact you browse and extract the details of the candidate that you feel is right for the job. The portals have their email and phone numbers through which you can get in touch with them immediately without wasting any of your time. You might get your candidate within the day that you posted your job and close the vacancies.
7. Filtration of candidates made easy with online portals: Once you have posted your job on the online portal you can just sit back and relax for the applicants to come, view and apply for the job. With the huge list of candidates applying, there is no worry of going through each one of them. The filters that are available on the portals help you to filter out the right candidate before you click and view the resume. The portals have made this job easier, efficient and less time consuming helping the recruiters to find their candidates in a nick of time.
8. Tracking made simpler with online technology: The job posting sites are not just for posting and closing the job vacancies. It is a one stop shop where you can track the progress of your application. Once a job seeker has applied for the job, he or she can track the status via the job portal. Similarly the job providers on the portal can also keep their applicants up-to-date with the current status without the hassle of calling them or receiving their regular calls. This process of tracking has helped both the sides – job seekers as well as job providers, to remain updated on the status without the need to send hundreds of follow up mails.
9. Be proactive: As a hiring person you can proactively search on the candidate list based on the requirements that would be coming to your desk in future. This way you would have a list of candidates that could be contacted on the word GO, giving you higher probability to close the vacancy faster. There is no need to post a job to go through the database. You can save the candidate profile and create your own database.
Disadvantages of Job Postings:
Everything in the world comes with pros and cons. So, before we go ahead with the job postings based on the advantages that are listed above it is also important to understand the cons that come with this process. You need to know the system in and out before you decide to take the plunge. Your decisions need to be backed with the negative as well as positive aspects to know what you are going into. Let us now look at some of the disadvantages that the job postings come with.
1. Receive unwanted applications: Once you post your job requirements on any of the portals that you have access to, the job seekers will get attracted towards it like bees as it will be public posting. You will have no control on who is applying for post and hence there are high chances that the applicants might not be fit at all for the vacancy. This way you might have to filter huge number of unwanted resumes which could be a pain area in the process of recruiting. But there are options of filtering the candidates within the portal which might give you some relief from the pain.
2. Online Job posting doesn't ensure filling up of vacancies: There is no 100 % guarantee that once you have posted your job online, then your requirements will be fulfilled by receiving the resume of the right candidate. No online portal will give you that assurance of an instant hit. So, you might end up with the right candidate through the portal or with nothing at all. It all depends on how the requirement is posted on the portal and what kind of applicants are applying for it.
3. People from all over the world can apply: There is no way you can put a filter where your job posting will be viewed by job seekers from a particular country or area. Such location requirements will have to be posted in the job requirement section which many job seekers tend to ignore. Hence, you can get large volumes of candidates who could fit in terms of the technical needs but might not be in terms of the location needs. Job postings are viewed by everyone on the portal and it is not location specific.
4. Is your company website attractive enough? With your job posting you need to ensure that the company also has a website that will attract the job seekers to apply for your vacancies. If your website is poorly designed then there is a probability that even the right candidates might go against their decision of applying for the post. Everyone wants to work in a company that can present itself. As it is important for the employees to look good, it is equally important for the company's website to look good as it represents the digital face of the company.
5. Can be termed as informal way of interviewing: Online recruitment is all about the recruiters getting in touch with the candidates via emails and telephonic interview calls. It is just a casual call that happens to understand what the candidate has understood from the requirement point of view and what the recruiter has understood from the skill point of view. It is like the first step to start the process of formal interview with the company during which the candidate can also be rejected.
6. Probability of "by chance" view is reduced: If you see an advertisement of a job posting in a newspaper then you might end up in applying for the job by chance. But that is not the case with the internet world. You are going to filter the job requirements based on the skill set or years of experience or expertise and might miss out on opportunities that were applicable to you but were not shown based on the filters that you selected. A disadvantage that comes with the technology is that, it reduces the chances of applying and getting your desired job accidently.
Internet is a good place to widen a recruiter's search for candidates that could be fit based on the requirements that a recruiter has. By posting your job requirements online, free or paid, you can get a wider exposure within the job seekers world which will also lead to creating a huge database for yourself. Every process has its pros and cons that come with it as a gift. For example, a wider range to search and apply can lead to huge volumes of unwanted candidates which can in turn waste your time in filtering out the right candidates. You need to take a call based on your needs and work on it.
The post Top 15 Advantages & Disadvantages of Job Posting appeared first on WiseStep.