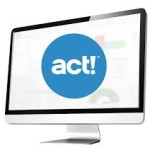 Whether your business is large or small you know the amount of time it takes to keep organized, track customers, follow-up with them, and market your products to them. It can be overwhelming to keep track of all the details and have everyone in your organization on the same page. This is where customer relationship management (CRM) Software comes in.
Act! CRM offer many benefits including contact organization, email capabilities, notes for each customer, calendar and reminder settings, task lists, a sales pipeline and reports. Act! is a Crm Software application that is used to help individuals, small businesses, and sales teams organize prospect and customer details in one place, send emails, market products and services more effectively, and drive sales results. Act! can be used in the office and on the road."
In addition to its already great features, Act! v18 now offers:
Free 500 Contact Act E-Marketing account
New e-marketing capabilities for team use. As an administrator, you have greater control over who can send e-marketing messages, as well as call list filters and Act! e-marketing permissions for send and smart tasks
Compatibility with Windows 10
Compatibility with Office 2016
The Act! v18.1 update also includes:
Full Google Chrome support
Web Act! API functionality to easily connect to Zapier "zaps" allowing you to enter data automatically from sources including Paypal, Wufoo and Eventbrite.
A new Favorites field and Lookup to easily find your most important contacts
Activity trackers to determine how long an activity has been scheduled
To purchase discount Act! software, contact the Act! consultants at Tech Benders. We will help you determine which Act version is right for you and your business. We can assist you in meeting your business needs, teach you how to use Act! effectively, and be there when you have trouble or questions.
The post Benefits of Act! v18 appeared first on ACT Help.