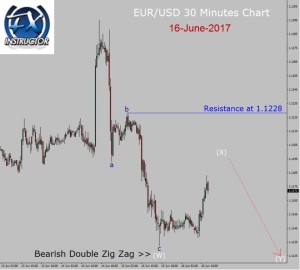 The trend is bearish in EUR/USD currency pair, 30 minutes time frame. As I have suggested few hours ago during my daily Live Trading Room session, the price of EUR/USD is going to rise up on a short-term basis to print a corrective bullish Wave (X) leg and traders should look for a buy trade. So, all those Forex traders who have followed my Elliott Wave analysis have made the right decision as the price has ascended. Strong key resistance level is present at 1.1228 price level.
In my judgment, price action in EUR/USD currency pair is now going drop as bullish Wave (X) pattern looks complete or going to complete soon. So, expect market to resume the down trend and decline towards 1.1125 price level to print bearish Wave (Y) leg.
Currently, Wave (Y) leg did not start. So, first wait outside of the market and allow the price to print few bearish candlesticks and then look for a possible sell trading chance to join the down trend to ride and trade bearish wave (Y). However; if the price of EUR/USD breaks above 1.1228 vital resistance level then down trend is going to end. From this time forward, I may seize the opportunity to stay out of market and re-assess the EUR/USD currency pair market movement in thirty minutes chart.