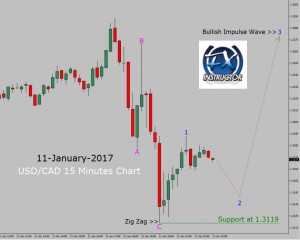 Trend is Bullish in USD/CAD currency pair in fifteen minutes time frame. Short term support is present at 1.3119 price area. Based on Elliott wave analysis, I expect a bullish leg Wave 3 in USD/CAD currency pair.
Market is most likely going to first drop as Wave 2 and then rise back up towards 1.3275 price level in next coming trading hours. So, a good idea is to look for a possible buy trade setup as long as price stays above 1.3119 support level.
However; if market falls below 1.3119 key support level then bullish Elliott wave count will become in-valid. In such market scenario, I would prefer to stay out of the market and re-analyze the price action of USD/CAD currency pair in 15 minutes time frame.