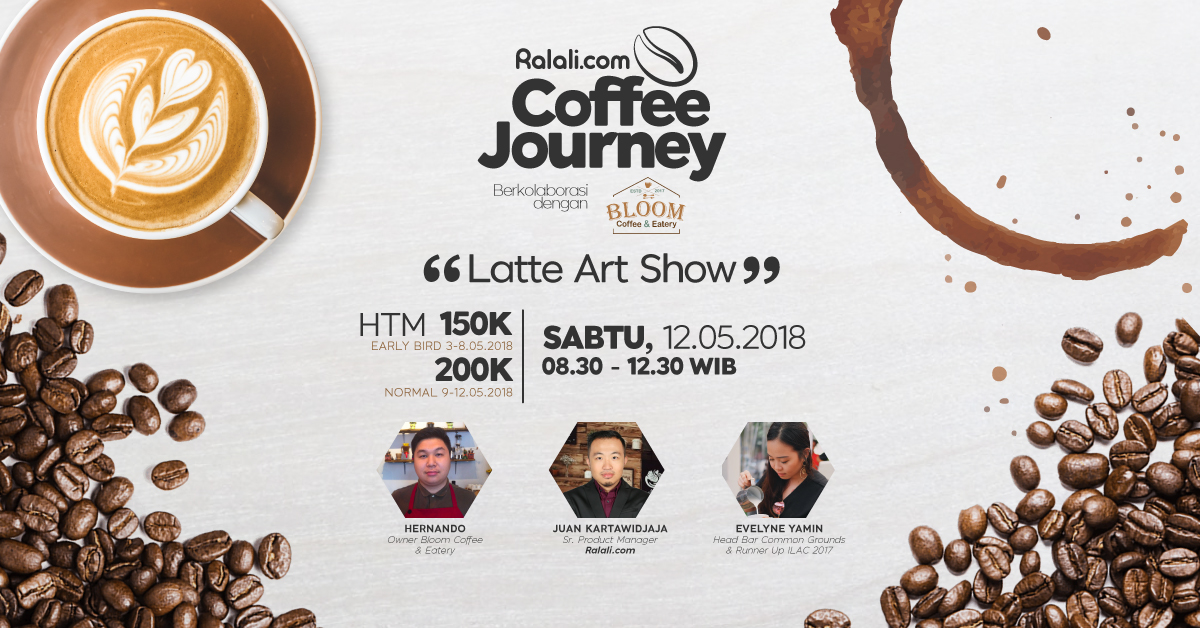 Hai Sahabat dan Mitra Ralali,
Ingin tahu bagaimana membangun sebuah bisnis Coffee Shop dan bagaimana proses pembuatan latte art untuk bisnis coffee shop Anda?
Dalam membantu Anda memulai dan menjalankan bisnis coffee shop, Ralali.com kembali mengadakan event Coffee Journey di Jakarta. Coffee Journey kali ini bekerjasama dengan Bloom Coffee & Eatery dengan tema "Latte Art Show"
Detail Acara
Nama Acara : Coffee Journey Ralali.com x Bloom Coffee & Eatery
Hari dan Tanggal : Sabtu, 12 Mei 2018
Pukul : 08.30 – 12.30 WIB
Tempat : Bloom Coffee – Ruko Swadaya City Square Blok 1 No 8, Wijaya Kusuma, Grogol petamburan, Jakarta
Registrasi
Early Bird : Rp. 150.000 (4-8 Mei 2018)
Normal Price : Rp. 200.000 (9-12 Mei 2018)
Link Pendaftaran : http://rla.li/CJ06
Pembicara
– Hernando (Owner Bloom Coffee & Eatery)
– Evelyne Yamin (Head Bar Common Grounds & Runner Up ILAC 2017)
– Juan Adiputra Kartawidjaja (Sr. Product Manager Ralali.com)
Keuntungan dan Materi yang Akan Anda Dapatkan
1. Mengetahui bagaimana membangun bisnis coffee shop
2. Mengetahui bagaimana proses pembuatan latte art
3. Mengetahui perkembangan bisnis kopi dan pengaruh tekhnologi terhadap bisnis coffee shop di Indonesia
4. Voucher belanja Rp. 100.000 untuk belanja kebutuhan bisnis di Ralali.com
5. Sertifikat penghargaan dan merchandise menarik dari Ralali.com
6. Free coffee & snack dari Bloom Coffee & Eatery
Siapa yang wajib mengikut acara ini?
– Calon pebisnis coffee shop
– Pebisnis Indonesia yang bergerak dalam bidang HoReCa (Hotel, Restaurant dan Cafe)
– Penikmat kopi yang berminat untuk memulai bisnis
– Anda yang sedang mencari peluang bisnis
"Everyone has their own Journey, start your journey with Ralali's Coffee Journey"
Segera daftarkan diri Anda dalam acara ini, peserta terbatas untuk 30 Peserta saja.
Dapatkan marchandise exclusive untuk 10 Pendaftar Pertama
Daftar di sini : http://rla.li/CJ06
Contact Person :
0812-9049-8919
Hevi
The post Coffee Journey – Ralali.com X Bloom Coffee & Eatery | Latte Art Show appeared first on Ralali.com.
This post first appeared on Ralali News, please read the originial post: here