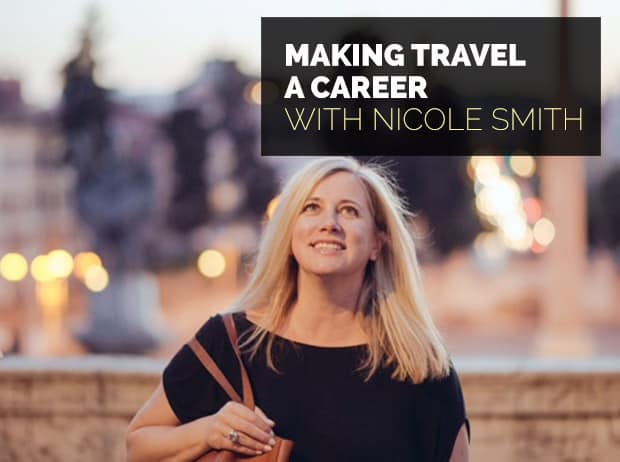 Nicole Smith is the founder of Flytographer, a Canadian-based startup that connects travellers with a community of hundreds of local photographers in 200 destinations around the world for fun, candid vacation photo shoots that capture the magic of travel. A former high-tech marketing manager, Nicole's idea for Flytographer came after a trip to Paris to reunite with her best friend, Erika. Disappointed with awkward selfies and the blurry photos strangers had snapped, the duo asked a local friend to take some candid shots of them exploring the city together. The photos take on her iPhone were the best souvenir possible: priceless memories. On returning home, Nicole saw an opportunity and launched Flytographer in 2013. Emma Bullen spoke to her about her career, what she looks for in a photographer, and what's it's like to work at Flytographer.
How did you get to where you are today?

I studied international business and marketing at business school and then spent two years working and studying languages abroad after I graduated. That was an incredible education as I learned Spanish in Mexico City and learned all about Korean Culture living in Seoul for over a year. As for my formal career, I have worked as a product manager for a tech startup in Seattle then spent the next 13 years in various marketing and consulting roles at Microsoft.
What do you enjoy most about your role as CEO of Flytographer?
It's an incredible gift to be an entrepreneur. To take an idea and turn it into something that customers value. To design a culture with values that matter. To foster a global community of creatives. But I think what I enjoy most is (every day) seeing the memories we are preserving all over the globe, and going to bed at night knowing we are building something that is making a difference in people's lives.
How did your background in marketing prepare you for your current role?
I think my background in marketing and international business helped me in many ways. Focussing on understanding the problem we were solving, and who we were solving it for. Developing personas and brand building. Creating a digital strategy for new customer acquisition and repeat customer nurturing. Using the voice of the customer as a powerful social proof tool.
Culture comes first and is the foundation of your startup… it's its heartbeat.
How would you describe your company's culture?
Culture comes first and is the foundation of your startup… it's its heartbeat. I've been very mindful in building a team that is passionate, driven, kind, and has a shared set of values. At Flytographer we often use our values as a compass in decision making. When we run into issues, we ask ourselves "does this align with our values?". It's so great to have that reference point, especially when you are charting new territory.
We also try to have a lot of fun and celebrate the wins, (big and small) as well as create a culture of appreciation and gratitude.
We create little traditions to help foster a strong culture as well. I am going to share two examples:
"Prosecco Friday"

, where gather in a circle with champagne flutes full of prosecco or sparkling water and share a win or something we are grateful about that week. A win can be something like: "my customer in Dubai who proposed last week sent me a heartwarming message" or "Danica and I collaborated on this project last week and she really helped me out". My team looks forward to this every week and everyone lights up, and often someone tears up! Another good thing is it builds trusts within the team. It's one of the best investments we've made. All for $16, or a bottle of prosecco. Although actually, it's now two bottles as we've grown!

"Surprise You're Awesome" lunches

. Every other month we host a surprise lunch for someone deserving on the team. We usually all jump out of a closet and yell " Surprise, You're Awesome" and fire confetti guns over their shocked faces. The whole team writes in a gigantic card what they "appreciate about working with that person". If you show your team you value them, and treat your team like gold, they will treat your customers (and photographers) like gold. It not only feels good, but it's good for the bottom line.
You have over 400 photographers in 200 destinations around the world. Where do you find your photographers? What does your onboarding process look like?

We have a full-time recruiter who interviews everyone, and we have processes in place to ensure good results once new creatives are onboarded. We have over 5000 applications in our database from people who've found us, but we also sometimes get referrals from existing Flytographers, customers, partners and we also find people online through a variety of strategies.
Focus obsessively on creating an extraordinary customer experience. Build things that Solve Actual Problems; that people are willing to pay money for.
What do you look for in a photographer?
Our community is very carefully curated for both talent and personality. Everyone you shoot with is a professional photographer (often a wedding photographer), and we look for people who have a fresh, natural-light-infused, modern style. We also look for people who are passionate about travel, fun, easy to talk to, and whom we'd personally want to grab a beer with and chat more.

How important is a photography portfolio?
Incredibly important. We won't consider a candidate without this or a business website.
What common portfolio mistakes do you see?
When people apply, and all they have are landscape photos, it's hard for us to get a sense of the kind of results they could deliver when working with people.
What did you wish you saw more of in photography portfolios?
A mix of people. Can they also capture kids, solo travellers, and large groups? If we only see romantic couple photos it makes us consider whether they would be able to successfully capture our customers on other types of shoots. Also, more wide-angle shots that tell the story of the city, not just close-up portraits. The city is the "third character" in all of our shoots.
What's the best career advice you've ever received?
Focus obsessively on creating an extraordinary customer experience. Build things that solve actual problems; that people are willing to pay money for.
What's coming up for Flytographer?
We are rolling out a new booking system this summer that will allow our business to scale aggressively, as well as offer a more personalized customer experience. We are launching a podcast series "The Magic of Travel" in late June. We are also adding "one-click" photo books this fall!