Google Foto's is een foto-app waar je serieus mee uit de voeten kunt. Voor normale foto's heb je onbeperkte opslag tot 16 MP (als je een Pixel-smartphone hebt is het onbeperkt of je nu 4K-foto's of video uploadt) en het is ook een hele handige app om binnen al je foto's te zoeken door de AI die er op los wordt gelaten. Google Foto's heeft ook een prima editor die het makkelijk maakt om een speciale look te geven aan je foto's. Filters, in essentie.
Witbalans

Op zich kan dat met alle foto bewerkings-software, maar Google wil het makkelijker maken om de foto's die je uploadt echt goed te krijgen. Daarom gaan ze vanaf nu automatisch je witbalans rechttrekken als je een foto gaat bewerken. Dat is fijn, want een goede witbalans kan foto's direct verbeteren, ook als je verder geen filter gebruikt. Je kunt, als je niet tevreden bent met Google's inschatting, natuurlijk de witbalans ook na de aanpassing bijsturen of zelfs ongedaan maken. De update voor Google Foto's wordt deze week uitgerold voor Android en het web, met iOS in de nabije toekomst.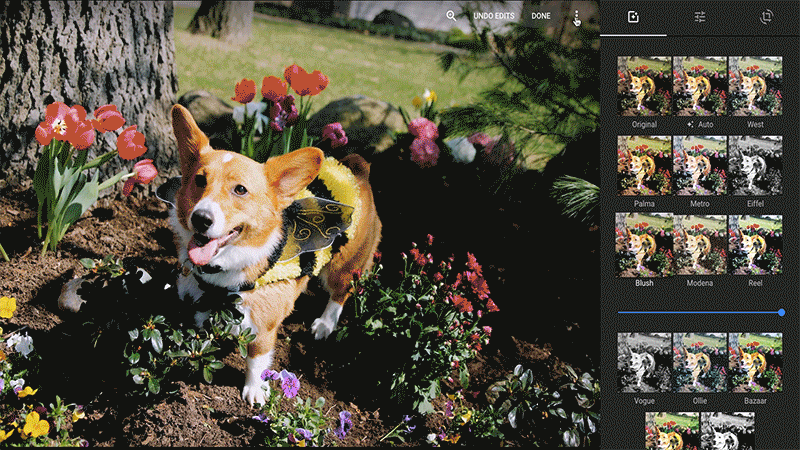 Om dit te vieren dropte Google in een blog nog even een paar tips voor de fotografen onder ons die Google Photo's een kans willen geven. Dingen zoals het aanpassen van de sterkte van een filter, het kopiëren van filters naar andere foto's en het specifiek naar boven halen van kleuren en tinten om je foto's een specifieke tint te laten accentueren komen allemaal langs. Even kijken dus, als je aan de slag wilt met Google's fotosoftware.
[Afbeeldingen © Google]