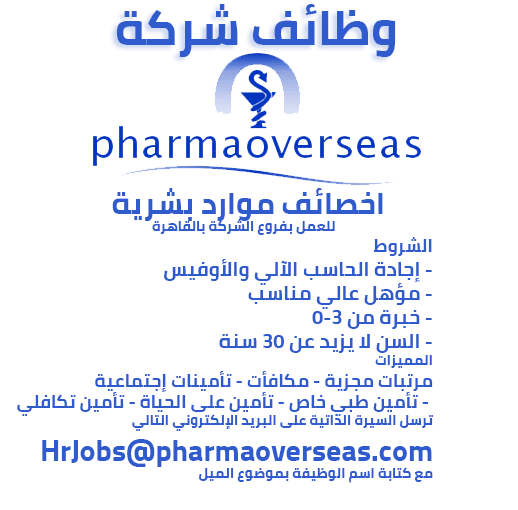 وظائف خالية بشركة فاررما اوفر سيز

مطلوب لشركة فاررما اوفر سيز اخصائي موارد بشرية

Human Resources Generalist Jobs In Pharmaoverseas

Pharmaoverseas requires Human Resources Generalist

للشروط وطرق الاتصال والتفاصيل
Job Summary
Job Title:
Human Resources
Generalist
Employer: Pharmaoverseas
Career Level: Student
Experience Needed: Requirements
Job Type : Full Time
Salary: Negotiable
Vacancies: Opportunities
* جميع الترجمات معتمدة على جوجل
الوصف الوظيفي لوظيفة اخصائي موارد بشرية | Human Resources Generalist Job Description

الشروط | Job Requirements
- إجادة الحاسب الآلي والأوفيس
- مؤهل عالي مناسب
- خبرة من 0-3
- السن لا يزيد عن 30 سنة
مهام الوظيفة | Job Duties
مهام وظائف اخصائي موارد بشرية في مصر | job duties For Human Resources Generalist Jobs In Egypt

القيام بجميع الاعمال االمتعلقة بادارة الموارد البشرية في نطاق الفرع
الاختيار و التعيين
الاجور والمرتبات الشهرية على برنامج ساب SAP
الاضافي
صرف الحوافز والمكافات
حلقة الوصل بين الادارة المركزية والعاملين بالفرع
حفظ ملفات العاملين
مرتبات مجزية - مكافأت - تأمينات إجتماعية - تأمين طبي خاص - تأمين على الحياة - تأمين تكافلي
الاتصال | Connection
الموقع الخاص بالشركة CO. Site | الموقع الخاص بالشركة
صفحة الفيس بوك الخاصة بالشركة FB Page
مقر شركة فاررما اوفر سيز : مسطرد - القاهرة
المزيد من وظائف فاررما اوفر سيز
اخصائي موارد بشرية - فارما اوفر سيز | HR Specialist - Pharmaoverseas
اخصائي موارد بشرية HR Specialist لشركة فارما اوفر سيز
محاسب لشركة فارما اوفر سيز حديث التخرج | Accountan pharmaoverseas
محاسب - فارما اوفر سيز | Accountant - PharmaOverseas
مشرف امن وافراد امن - فارما اوفر سيز
عن شركة فاررما اوفر سيز :
"Pharmaoverseas was founded as a distribution company in 1995 by Dr. Ahmad Gazzarine, the Company started with one branch in Alexandria then it has been expanded to cover all Governorates of Egypt. In July 2004, SERPYMEX the second largest distribution company in France acquired 20 % of Pharmaoverseas. In 2011, it was announced as a closed shareholders company. Pharmaoverseas has more than 40 branches include 4 main stores covering all territories of Egypt with more than 81,000 m2 warehousing areas. Good Storage Practice "GSP" is applied in all warehouses. Various KPIs are in place to monitor personnel efficiency as well as services rendered to customers to maintain quality standards. Code of Conduct is the guide in every day to day activities. It fulfills the obligations towards Pharmaoverseas suppliers, governmental bodies, society, and customers."
للتقديم لوظيفة اخصائي موارد بشرية بشركة فاررما اوفر سيز يرجى ارسال السيرة الذاتية على البريد الالكتروني التالي
To apply for Human Resources Generalist job vacancy in Pharmaoverseas please send your CV to E-Mail
[email protected]
mentioning the job title in the subject line