Driving is an integral activity in our day-to-day lives, but one requires expertise to maintain law, order and safety on the road despite the vehicles we drive, be it a cycle even! Did you know that more than 1.2 million people die in road accidents, everyday?
Importance of road safety
As parents, there is a great temptation to wrap young children up in cotton wool, take them away from all the risks, drive them to school, never let them go out in the dark, etc. However, it's not practical and it does not give children the opportunity to develop their own risk assessment skills, or become more independent as they grow older; plus it's important they are allowed to walk to get exercise and fresh air and not be driven everywhere!
So we need to help develop the tools they'll need to keep as safe as possible – give them the facts, show them the potential dangers and risks, explain ways of keeping safe, look at choices and consequences and build their understanding and skills.
Helping your child build these skills
Make sure you set a good example:

where you walk on the pavement
where and how you cross the road
how you drive and treat other road users
wearing your seatbelt for every trip.

Talk with them about:

different types of vehicles
the speed of traffic compared to us humans
how the faster vehicles travel, the harder it is for them to stop quickly
that in a crash pedestrians come off worse and can be badly injured or even die
the importance of knowing the rules of the road and not to mess about near traffic – and never play near roads
wearing a high visibility safety reflector at night, when walking or cycling. These help young children to be seen more clearly by car drivers and other road users.

When out and about think about, talk about and show them:

Safer crossing places:

Zebra
Pelican (Toucan and Puffin – light controlled)
Traffic Islands
Footbridges or Subways

Where to cross if there isn't any of the above:

away from parked cars
where they can see clearly and be seen
where there is a School Crossing Patroller, or Police Officer

Practice the Green Cross Code every time you cross:

find a safe place
stop at the kerb
look both ways for traffic
listen all around for traffic
if traffic is coming, let it pass
if it's clear or there is a safe gap in the traffic with plenty of time to cross, then walk straight across – don't run!
Keep looking and listening and thinking as you cross.

In the car make sure that:

all passengers wear a seatbelt or restraint.
that they get in and out of vehicles on the safer side (furthest away from the traffic)
that they don't distract the driver by being noisy or throwing things around or messing about. Explain that drivers need to concentrate on the road.
keep looking and listening and thinking as you cross.

Cycling: As your child gets older they'll probably want to go out and about on their bicycle. Make sure:

they are properly trained before going on the road
know the rules of the road and recognise road signs
that their bikes fit their size and age and work safely
– check tyres, lights, chain, brakes and steering
that they wear a snugly fitted cycle helmet
that they may want to have knee and elbow pads for extra protection
that they use cycle routes wherever possible.
Hitting the Road on your next trip? Whether you're heading to Grandma's with the kids or hitting Route 66 for a cross-country jaunt, don't leave home without our tried and tested driving tips. Read on to learn more about avoiding traffic, saving money, and staying safe (and staying awake!) on your next road trip.
1. Before beginning a long drive, always get enough sleep and eat something before you go. Highly caffeinated beverages are not necessarily the best way to stay awake while driving. While initially you will feel more alert, the effects can recede with time, and your attention may wander although you remain awake.
2. Pull over and take breaks every couple of hours, even if you don't feel sleepy. Grab a snack, get some fresh air, and stretch your legs by walking around. If you need to, take a quick nap.
3. If you can, share the driving responsibilities with someone else. This will allow you to keep an eye on each other while driving and also enable you to nap without losing time. If you're driving alone, turn on the radio or put on some music, and keep your window cracked open. You may also want to refrain from using your cruise control if you're driving alone at night — having to concentrate on maintaining your speed can help you stay awake.
4. If you do have to pull over, move your vehicle off the road. Never park on the shoulder or in the breakdown lane for any reason except an emergency.
5. Know the laws along your route concerning cell phone use while driving. While it may be legal in one place, it may be illegal in another, and ignorance is not typically an acceptable excuse for a violation. However, even if it's legal to talk on a cell phone where you're going, it's usually safest to use a hands-free device.
6. If you don't know this one, shame on you. Never drink any alcohol before your trip. While you may not become intoxicated from one beer, you will become sleepy.
7. Keep an eye on the skies, and if you can, plan a route around inclement weather. A minor detour could actually wind up saving you major time.
8. Search the Web for traffic update sites and listen to radio traffic alerts, especially when approaching major cities. If you don't have a smartphone, all-news stations on the AM dial are often your best bet.
9. Not even a GPS unit is infallible, so we recommend bringing a detailed map or road atlas as a backup just in case. A mapping app on your smartphone is another must-have for long road trips.
10. If you are driving a rental vehicle, familiarize yourself with the car and all of its equipment (horn, brakes, hazard lights).
11. Lock all of your valuables (especially items that are clearly gifts) in the trunk or glove compartment and stow all luggage in the trunk.
12. Familiarize yourself with local traffic laws, which vary from state to state and especially overseas.
13. Before setting off on a long car trip, be sure your vehicle is in prime condition — that tires are properly inflated, all fluids are at their proper levels and you have a full tank of gas. (For particularly long road trips, you may want to have your mechanic do a more thorough check.)
14. Keep costs down by conserving gas as you drive. Minimize sudden starts and stops, empty your car of all unnecessary weight, and slow down — it takes much less fuel to drive 55 miles an hour than it does to drive 70.
15. Don't wait until your gas gauge is sitting on E to refuel. On an unfamiliar road, you never know when the next gas station will appear. As soon as you hit a quarter of a tank, start looking for a place to fill up.
16. When traveling with kids, be sure to stop often — not just for snacks and potty breaks, but also for fun. See a cool playground along the way? Pull over and throw a Frisbee around. You'll also want to pack toys, books and music for the car — not to mention your motion sickness remedy of choice.
17. Feeling munchy? Stock up on snacks and drinks at grocery stores rather than gas stations or convenience stores — you'll get a wider and healthier selection, as well as better prices.
18. On longer trips, keep napkins, plasticware and a small cooler handy for meals on the go. You'll also want some spare change for tolls, as well as a first-aid kit, flashlight, pillow and blanket. Keep a set of jumper cables, a spare tire or donut, and extra fluids for the car (such as windshield wiper fluid) in your trunk.
19. This last tip should go without saying, but it's important enough that we'll say it anyway: Make sure everyone in the car buckles his or her seatbelt. Not only will it keep you safe, but in many places it's also the law.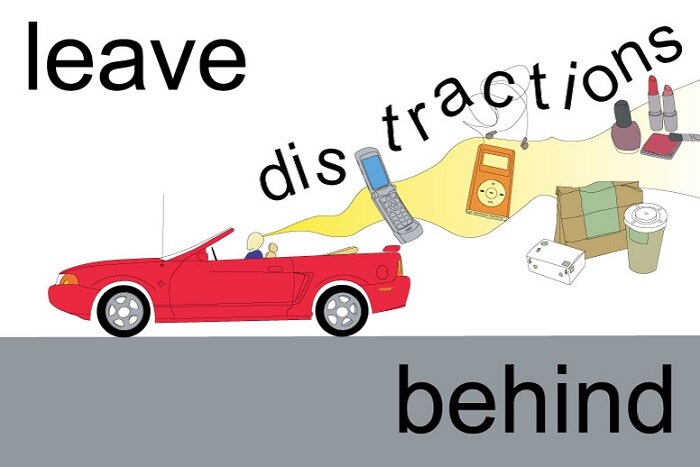 The post Road Safety & Driving appeared first on The QuickSearch Blog.