10 Tips Your Business Needs to Know for Profit Growth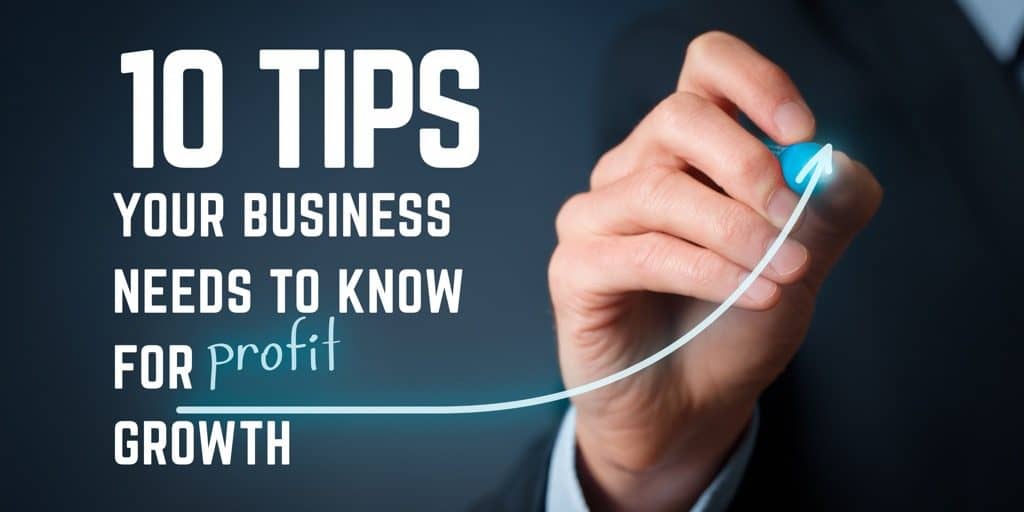 10 Tips Your Business Needs to Know for Profit Growth
Are you trying to increase the profit of your business? Follow these tips for profit growth in ways you never even considered possible.
Looking for a quick and painless way to jumpstart your business profit margins?
Whether you are the owner of a small or a large business, or even on a marketing team for a company looking to expand its profit margins, it can be tough to increase revenue or find funding.
The good news is that what you think may be impossible when it comes to profit growth actually is possible. By taking mindful steps, you'll be able to increase company profit easily and with little to no cost.
Read on to learn about the top ten tips for maximizing profit of your business.
1. Know What Your Customer Wants
You have to know what market is out there for the product you are designing. You also have to get your evidence.
Distribute surveys and get clear, descriptive answers from consumers about what they really want.
Take it digital. Send out survey links via email or text to your network. Target the consumers you'll want to target with your product.
Keep the surveys short and provide an incentive. For example, consider entering all survey responders in a raffle for a gift card, or give survey takers exclusive discounts or accessories to your product.
2. Prove Your Product
A lot of business owners assume that identifying what their customers want and delivering it is enough to maximize profit. But this is falling short of the goal.
Once you've come up with the product people are hungry for, you've got to prove it. Consumers everywhere are becoming more and more selective, meaning that they pay close attention to reviews and ratings.
As the online shopping scene expands, reviews will become even more critical to business success.
Make sure your customers have access to testimonials and reviews of your product on your website and other social media accounts. Obtain credible, authentic testimonials that clearly present all facets of your product.
Viewers should come away with clear knowledge about the value of your product–and conviction in purchasing it.
3. Keep the Conversation Going
You have your data on what your customers want–hooray!
But don't just stop the surveys once you have an idea of what to create. Keep going once you've delivered the product and have a customer base. Check in with your customers to see if they are happy with the result and if their needs are being met.
This will establish the credibility of your business and demonstrate your personal investment in each customer–a high contributor to increasing your business profit growth.
4. Find Ways to Reduce Costs and Waste
Believe it or not, this is one of the best ways to increase profit growth. Be acutely aware of all costs your business encounters and think about how to reduce these across the board.
Start by digitizing your business to cut down on printing, administrative, and paper costs. Identify what is strictly necessary and what is not and eliminate any "waste."
Cutting costs is the fastest way to increase profit, and preferable over increasing price.
5. Always Think of the Future
Once again, this is key to any business model, but it's essential when it comes to increasing profit growth.
It's important to have an eye on the here and now to ensure that your existing customers are happy and your product is delivering. But it's also crucial to think longterm, about future customers, profit goals, and the economy itself.
Set clear, manageable goals for profit growth on an established timeline and checklist. Make sure that any decision you make for current profit margins has the future in mind.
6. Make the Most of Your Current Customer Base
When it comes to profit margins discussions, it can be easy to get caught up in future customers and how to get more of them.
Don't forget about your existing customer base. Nurture these existing relationships and mine them for more. What accessories or additional products can you offer to make these existing customers even happier?
Surveys can help you answer this question. But also put yourself in your current customers' shoes.
7. Harness the Power of SEO
You've probably heard about SEO a thousand times by now as a business owner, but it comes up for a reason.
SEO is a virtually free solution to your marketing needs that can eliminate many advertising costs and enable your business to come up organically in searches. The higher your website is ranked on Google, the more traffic you'll experience, and the greater your customer base.
8. Stay On Top of Fees
Credit card transaction fees can be the detriment of small businesses, particularly card not present transactions.
These are a necessary evil of business operations in a digital age. You can still stay on top of these by hiring a processor to go through statements, choose companies that reduce transaction fees and provide discounts, and make sure you are avoiding hidden surcharges.
9. Take Advantage of Tech
It's absolutely essential to make use of existing technology to increase profit growth.
Use cloud providers in order to eliminate unnecessary costs for IT teams or services. Outsource administrative tasks to digital platforms.
10. Make Your Marketing Exclusively Digital
This is a no-brainer when it comes to profit growth, but it should be in every business owner's manual.
The majority of successful marketing happens online, plain and simple. Move your marketing to an exclusively digital platform in order to increase lead conversion, reduce costs, and prove your product.
Increasing Business Profit Growth
No matter what business you manage or work for, it is possible to expand your profit margins dramatically by taking the right approach to marketing, costs, and customer connection.
Cut costs and maximize your marketing by utilizing digital platforms whenever possible. At the end of the day, the most important factor of any profit is your connection to your customer–know what your customers want and bring this to them. Keep the conversation going so that you can ensure your business is all about your customer's needs.
Are you thinking about starting your own small business but aren't sure how to go about it? Already taking charge of a start-up but still need help locating financial resources and maximizing profit growth? I can help.
Reach out today to learn more about my advisory and consulting services for small businesses and startups. You can launch the business you've been dreaming about now!
The post 10 Tips Your Business Needs to Know for Profit Growth appeared first on Aaron Vick.