exocad DentalCAD 6547

Diese neueste Version ist ein wichtiges Update mit einer Menge nützlicher neuer Funktionen und wichtigen Verbesserungen!
This new version is a major update, with a slew of useful new features and many other significant enhancements.
Nachfolgend zählen wir die wichtigsten Neuerungen auf :
These are the Highlights:
Viele neue Hotkeys / Tastaturkürzel sind verfügbar (Liste folgt)
Many new hotkeys / keyboard shortcuts are available (List follows)
Das Tool zur Entfernungsvisualisierung verfügt über einen neuen Modus zum Anzeigen von Kontaktpunkten.
Distance visualization tool has a new mode for showing contact Points.
Das "Frei Formen" hat einen einzigen Button, um alle möglichen Anpassungen gleichzeitig auszuführen ("Alle Schnittpunkte schneiden").
Free-forming has a single button to perform all possible adaptations at once ("Cut all intersections")
Freiformende approximale Nachbaradaptation ist jetzt möglich mit "DISC Cutters" und kann auch "Nachbarkollisionen ausblocken" . (BETA)
Free-forming approximal neighbor adaptation is now possible using "DISC Cutters" and can also "Block Out Neighbor Collisions" (BETA)
Frei Formen ermöglicht das Hinzufügen von Texten zu fast jedem Design (z.B.Patienten-Namen).
Free-forming allows to add text attachments on almost any design.

Verbesserte Verwendbarkeit der Präparationsgrenzen-Erkennung.
Improved usability of preparation margin detection Points.
Schnittansicht jetzt verfügbar im Menü Extras als endgültige Version.
Cut view now available in the Tools menu as final Version.

Vereinfachtes Nesting in der CAD ("Production Blank") für CAM-Export für mehrschichtiges leeres Rendern mit TruSmile-Unterstützung.
Simplified nesting in CAD ("Production Blank") for CAM export for multi-layered blank rendering with TruSmile Support.
Der virtuelle Artikulator ermöglicht eine flexible Auswahl mit dem Pinsel oder Klicken auf die Zahnoberfläche, um Teile während der Artikulator- bewegungssimulation in die Kollisionserkennung ein- / auszubeziehen.
Virtual Articulator allows flexible selection by brush or click on the tooth surface to include/exclude parts in collision detection during articulator movement Simulation.
Der Model Creator kann nun virtuelle Gingivamasken erstellen.
Model Creator can now create virtual gingiva masks.
Der Model Creator ermöglicht das Einstellen individueller Einschubrichtungen für Stümpfe.
Model Creator allows to set individual insertion directions for dies.
Erweiterte Kontextmenüoptionen für benutzerdefinierte Ansichten und in der Gruppenauswahl (Gruppen anzeigen / ausblenden, z. Festlegen der Ansicht anhand der vorhandenen Einschubrichtung oder Spiegeln der aktuellen benutzerdefinierten Ansicht.
Advanced context menu options for custom views and in the Group Selector (Show/Hide Groups), e.g. setting the view by the existing insertion direction or mirroring the current custom view.
Stark verbesserte Kompatibilität für strukturierte bzw. farbige Scandaten.
Greatly improved compatibility for textured/colored scan data.
Allgemeine Verbesserungen bei Leistung, Benutzerfreundlichkeit und Stabilität.
General performance, usability, and stability improvements.
Dentalshare mit Workflow-Integration steht zum Testen zur Verfügung.
Dentalshare with workflow integration is available for testing.
Das exocad webview ermöglicht das Exportieren von 3D-Szenen aus der DentalCAD, die in einem Webbrowser oder auf mobilen Geräten ** angezeigt werden können und einfach über dentalshare geteilt werden können.
The exocad webview allows exporting 3D scenes from DentalCAD that can be viewed in a web browser or on mobile devices**, and can be easily shared via dentalshare.

Und sehr viel mehr / And much more
Auch wir von Dentalligent.de testen noch, welche weiteren Funktionen hinzugekommen oder verbessert worden sind und werden diese bei unseren neuen
Film-Produktionen einbeziehen und Euch über unsere News auf dem Laufenden halten!
We at Dentalligent.de are also testing which other functions have been added or improved and will be added to our new ones
Include film productions and keep you informed about our News!
Hier entsteht auch die deutsche Liste der Tastenkürzel (Hotkeys) :


Here the list of

hotkeys :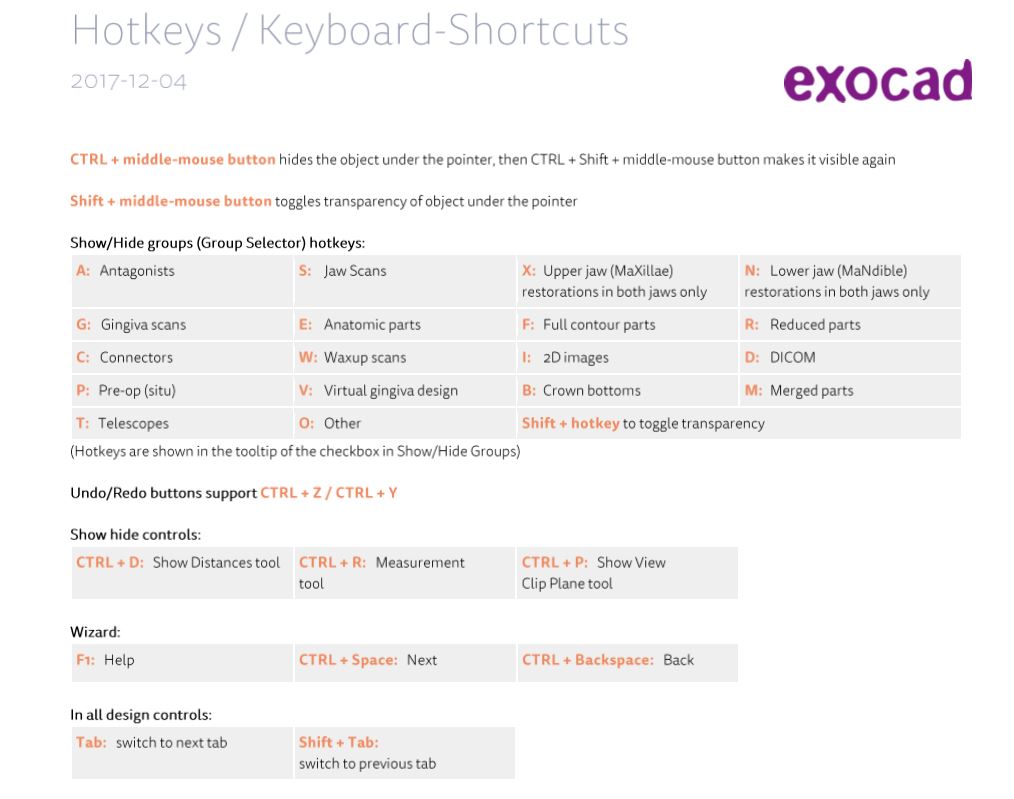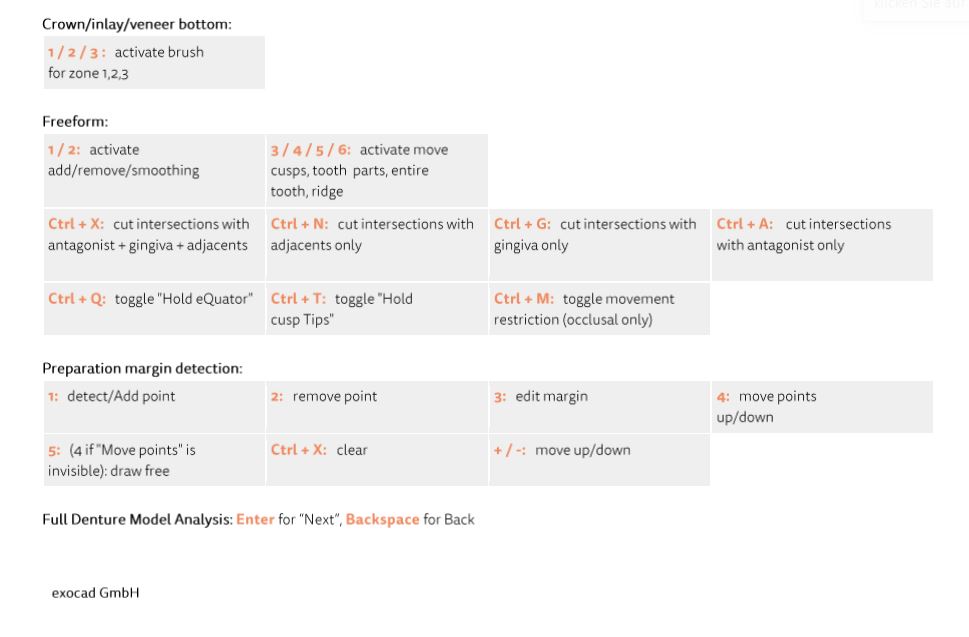 Lange erwartet und endlich da
Befehle im Freiformen :

Auf-Abtragen / Glätten

mit den Tasten 1 oder 2 zwischen diesen Befehlen wechseln.
Mit der Taste 2 gelange ich also vom Auf-Abtragen zum Glätten und mit der Taste 1 wieder zurück zum Auf-Abtragen.
Auch aus den anderen Bereichen des Freiformens (Anatomisch – Anpassen – Geschiebe) gelangt man mit den Tasten 1 wieder zurück zum Auf-Abtragen und mit 2 zum Glätten.