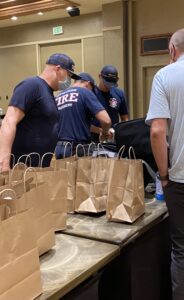 Westall Real Estate Shows Gratitude for Firefighters and First Responders
To express our appreciation for firefighters fighting on the front lines of the Caldor Fire and to thank them for saving
Lake
Tahoe
homes, Dave Westall and his team provided 100 lunches from Tahoe Fuller's sandwich shop last week. Hearing about the heroic efforts of all first responders and firefighters, we wanted to do something to lift their spirits during their breaks and fuel their souls with some hearty, healthy food and support from our local community. It was important to us to honor the sacrifices they have all been making to protect Tahoe families, homes, and our wildlife.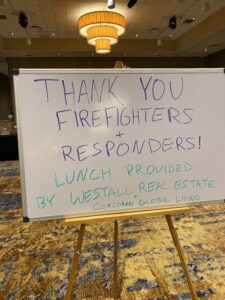 For a little cheer to enjoy after the fire is put out, we partnered with Riva Grill who provided first responders with gift tokens for a frosty Wet Woody or other drink of choice at any of the Tahoe Restaurant Collection's iconic establishments including North Lake Tahoe's Gar Woods and Caliente, Truckee's Bar of America, Riva Grill in South
Lake Tahoe
, or their latest new opening of Sparks Water Bar in Reno, NV.
We were very grateful for our other Tahoe City friends, Mike and Meghan Polite, the sibling duo owners of Tahoe Fuller's who were able to execute this within a few days of our request. Not only are they some of the tastiest sandwiches in North Lake Tahoe they also have of the best sweet treats like gooey chocolate chip brownies, PB&J chocolate cups, and unforgettable lemon bars.
We'd also like to give a huge shout out to Harrah's Lake Tahoe Hotel & Casino and the El Dorado County Sheriff's Office who made it possible for us to set up our event and help spread the word.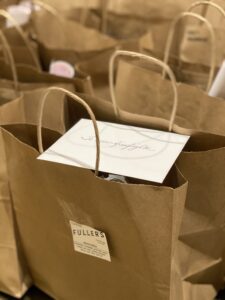 Resources and Information for Lake Tahoe Wildfires
SUPPORT & DONATIONS
If you are seeking ways to provide relief and support to impacted families, donations may be made to the following:
American Humane
Caldor Fire Fund
Lake Valley Firefighter's Community Relief Fund
Northern California Fire Relief
Evacuation Teams of Amador
American Red Cross
LATEST FIRE INFORMATION
Multiple links to the latest fire information
CALFIRE Email Updates
Map of Caldor Fire
EVACUATION ORDERS, WARNINGS & SHELTERS
Evacuation orders and warnings for El Dorado County, Amador County, Alpine County, Douglas County, Nevada
Evacuation Centers
El Dorado County Assistance Center
EMERGENCY ALERTS
Emergency alerts from Placer County, El Dorado County, Douglas County, Washoe County, Amador County and Alpine County.
INCIDENT BRIEFINGS
Watch CALFIRE's incident briefings held nightly at 5pm via Facebook Live and Zoom (Password: 868884).
FIRE CAMERAS
Watch livestreaming video from fire cameras in the Greater Tahoe region.
ROAD CLOSURES
Stay aware of road closures in California and Nevada.
AIR QUALITY
Look up the air quality index at a specific location using this online tool.
See Tahoe's smoke forecast using this interactive map.
NATIONAL FOREST & STATE PARK CLOSURES
All National Forests in California are now closed, in addition to the Lake Tahoe Basin Management Unit.
All Nevada State Parks and California State Parks in Tahoe are closed.
*Thank you to our friends at League to Save Lake Tahoe who provided the information and resources listed above.

Looking to fireproof your home? Check out our How to Prepare for a Wildfire Blog.
The post Westall Real Estate Shows Gratitude for Firefighters and First Responders appeared first on Lake Tahoe Real Estate.