This is the ultimate guide to making KILLER Sales Presentations.
So if you want more sales, you're going to love the actionable tips, strategies and examples in this infographic and guide. Use them to prepare, structure and deliver solid sales presentations that bring you more business, step-by-step.
Let's dive right in…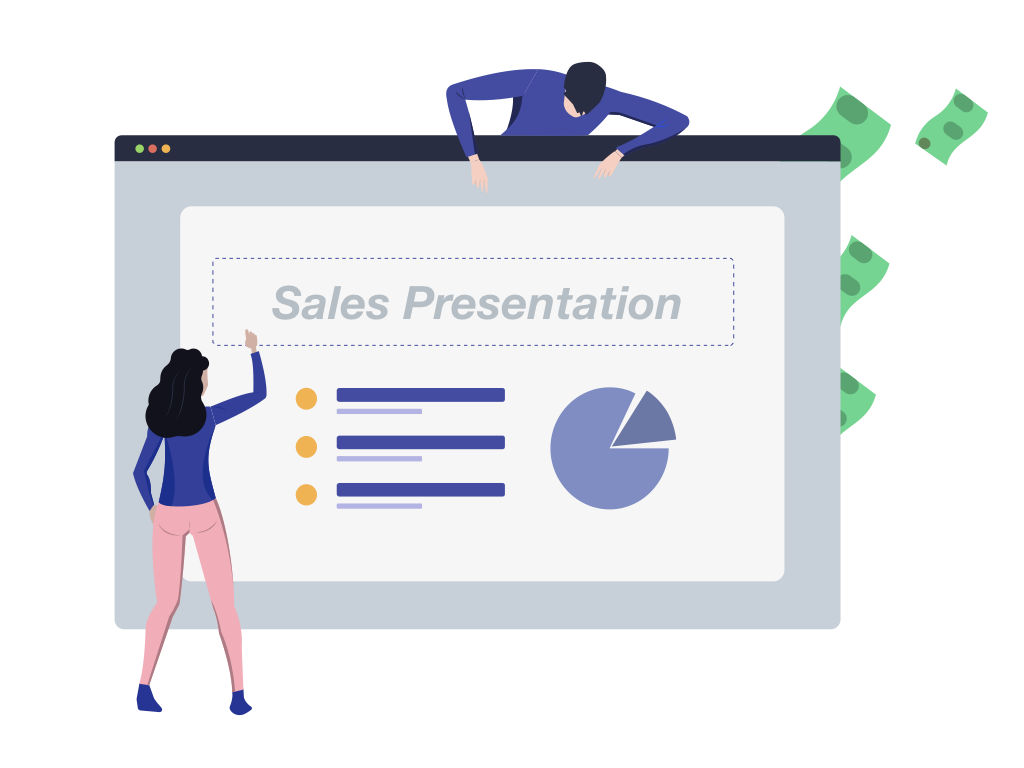 The Definitive Guide to Killer Sales Presentations
Here are the different sections that will be covered in the article:

Part 0. The #1 Thing You Must Remember. If there's one thing you should takeaway from this article, it's this one. This is the mindset behind selling. Start here, it'll only take you 20 seconds to read (Yes, I counted).
Part 1. The Anatomy of a Perfect Sales Presentation. In this infographic, you'll learn the 7 ingredients you need to plan and structure the perfect sales presentation, from start to finish..
Part 2. How to Design High Impact Presentations. When you have no time, no budget and no special design talent.
Part 3. In-Deep Strategies. These are meeting-room tested techniques, action steps and (real world) examples you can swipe in your own presentations. I recommend you to start with the infographic, and then move on to this part.

Part 4. Q&A. How long should your sales deck be? How do you structure/prepare/design/end a presentation? Here are the most common questions business professionals are asking themselves, answered.
The #1 Thing You Must Remember
Hear me out:
This is the best sales advice you'll hear today.
Nobody cares about you.
Your prospects don't care about you.
They care about themselves. And they care about what you can do for them in order to solve their problems.
So here's your takeaway:
A sales presentation is a persuasive demonstration to prospective buyers in order to make a sale.
And the key to making persuasive sales presentations is to demonstrate that your offering, either a product or a service, will help your prospects get more of what they want.
(I'll have powerful techniques showing you how to do exactly that later in this post…)
PART 1


The Anatomy of A Perfect Sales Presentation
This infographic will walk you through the 7 components of successful sales presentations. I advise you to read the infographic first, and then move on to the detailed strategies later in this guide.

Part 2
The Anatomy of A Perfect Sales Presentation
PART 2


How to Design Stunning Sales Presentations When You Have No Time, No Budget (And No Design Talent)
Easy-to-edit, designer-made templates allow non-designers to create beautiful, professional-looking presentations.
Top performers know that presentations can have a huge impact on their business. Because the truth is, when you start deliver top-tier business materials, you're able to:
Present clean slides that grab – and keep – people's attention (adios text-heavy, 90's clipart slides that put everyone to sleep).
Confidently expressing ideas, concepts and messages with visual elements. Because, yes, you know that those who use visual aids are 43% more persuasive than those who don't.
Wow your prospects, get them to walk away knowing you're the pros and eliminating other options.
Introducing Pre-Built Presentation Templates…
With pre-built templates, you get your hands on a massive stash of fully editable resources – slides, icons, graphics, timelines, maps and so on – to build result-getting presentations. At a fraction of the time it takes to others.
And the good news is, these PowerPoint templates cost as little as the price of a movie ticket.
So if you've been looking to create winning sales presentations (because you know that's what will set you apart from everyone else), then check out my two favorite templates below, and start saving time so you can focus on things that really matter to you.
Marketofy Template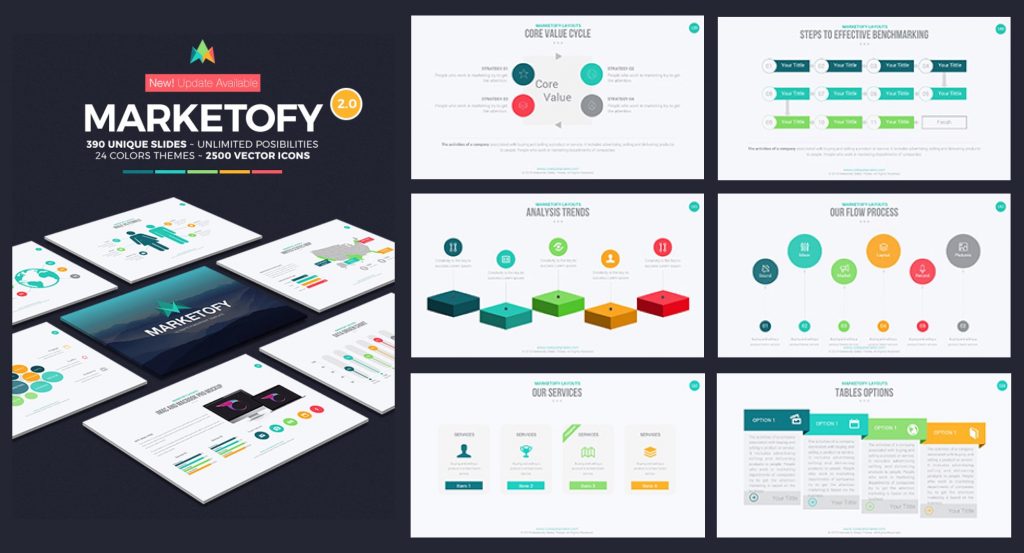 Marketofy presentation template is especially useful for:
Corporate presentations – for prospects, investors or stakeholders
Business proposals or briefs
Customer/data reports
Key Features
Lots of unique slides (390 for PowerPoint, 200 for Keynote and Google slides). Includes slides to present business objectives, company services, marketing strategy, product launch, process, maps, devices, apps, and much more
24 ready-made color themes (6 for the Keynote version)
Dark & light versions (light background slides or dark background slides)
Drag-and-drop photo placeholders (drag any visual from your folder, and it will take the exact shape of the placeholder)
Dozen of graphs and charts (to concisely present data-rich information)
2,500 icons
Massive X Template

With countless design options, practical slides and a recent bundle update, Massive X toke the business of presentation templates to a whole new level of professionalism and creativity.
Here's a quick video that'll give you an overview of their latest bundle:
Now, what I love about Massive X (beyond the hundreds of beautiful, professional slides they're offering) is their 100% editable illustrations: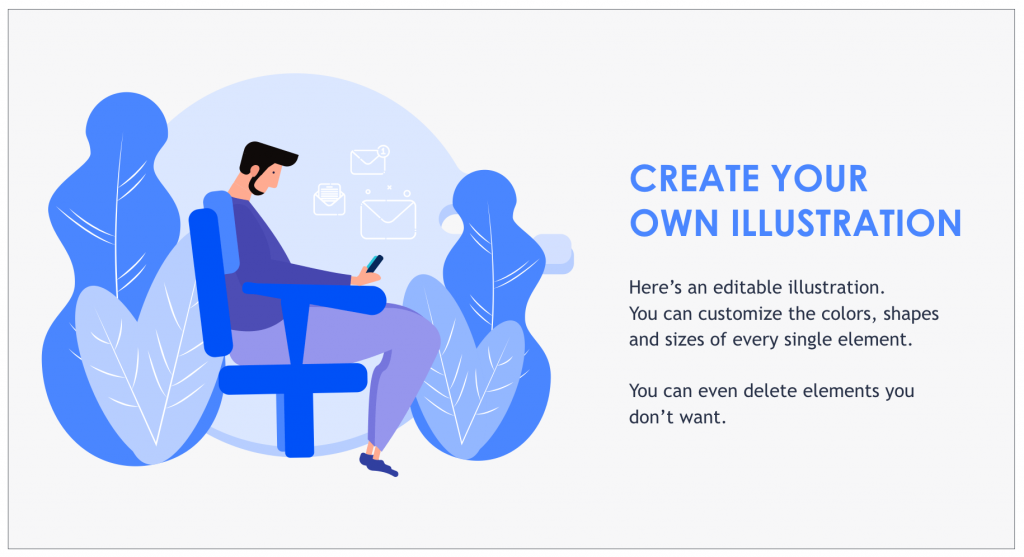 Massive X's illustrations are made out of multiple, individual elements that are then put together.
And you can edit the color, size and shape of every single one.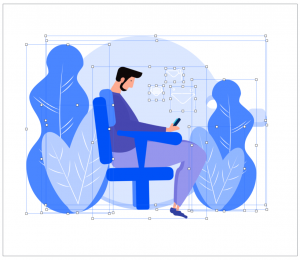 These are the exact graphics I've used to illustrate the different sections of this guide.
Use them to jazz up your sales deck slides and get your point across more effectively.

Key Features
290 unique PowerPoint slides
Animated slides
12,000 icons
15 color variations