Delaware Beach Homes
Reasons Waterfront Homes Hold Their Value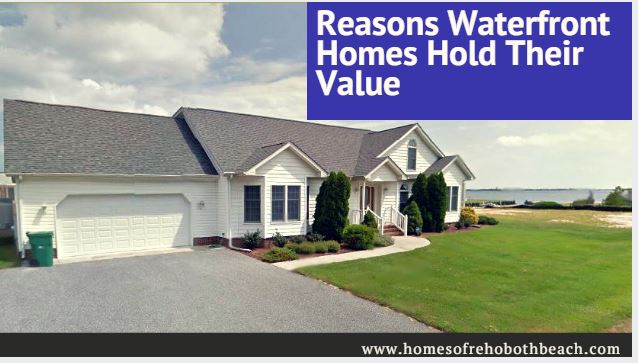 Owning a home on the water is a dream of many. Purchasing a dream home on the water is more than just fulfilling a lifelong desire or checking off a bucket list item, it is a great investment. Homes on the water tend to retain their value even in slow markets. We have compiled a list of reasons why waterfront homes hold their value.
1. Home Design
Homes built on the water are built with the intention of the homeowner enjoying every inch of the landscape. Windows are installed in nearly every room to take advantage of the scenery. Builders know that people looking to invest their hard earned dollars in a dream location are looking for a quality dream home and a large number of waterfront properties are built with buyers wanting dream properties in mind.
2. Availability
Water front properties are put up for sale less often than other homes. There are always waterfront homes on the market, but finding just the right one to suit your needs, preferences, and style may take a bit of searching. When you find a waterfront home you fall in love with you will want to scoop it up, as a property just like it will be lower in number.
3. They Make Great Family Homes
Wether purchasing a water front home for a primary residence or a vacation home, they are great locations for families. There are so many family activities to be enjoyed on the waterfront and memories to be made. Plus living on the water just automatically lifts the spirits and relaxes the soul.
4. Privacy
Of course, there are waterfront locations that are not far from other homes and are actually in bustling areas, but even these homes seem to block out all the rest of the world once you are on your back deck or in your home taking in views of the water. Whether you are looking for a home on a popular beach or one far from the action there is a waterfront property to suit your needs, one that you can't wait to return to after a long day at work.
5. Luxury
There is just something so dreamy about living right on the water. No matter the size of the home a waterfront home owner feels like they own a piece of paradise.
6. Convenience
Owning a boat is much more convenient when you can park it in your own backyard, for this reason, many boat owners look for waterfront homes.
Waterfront properties will always be a dream place to live and highly desired by many buyers. The cliche location, location, location really does ring true in the real estate market. So if you are wondering when the right time to buy that dream home on the water is, the answer is now.
For more information on great beach front homes in Rehoboth Beach please browse the website or contact us anytime.
Reasons Waterfront Homes Hold Their Value
Joe Bowski