Wireless Power Transmission (WPT), as we know, means transfer of energy or power from one medium to another without being connected through wires. Their ease-of-use and lower cost is what makes it popular among consumers. WPT devices are being increasingly becoming popular, especially in consumer electronics devices, industrial, automotive, defense, and healthcare sectors, thereby boosting the growth of WPT Market.

wireless-power-market
Drivers and Restraints
The growth of the global wireless Power Transmission Market is majorly driven by the following factors:
Growing preference and demand for wireless connectivity from consumers
Increasing need for charging battery-enabled devices
Ability of WPT technology to charge more than one device at a time
Increasing use of smartphones and wearable electronic devices
Moreover, the adoption of "go wireless" technique and huge demand for consumer electronics devices coupled with rising adoption of advanced technologies is driving the market in Asia-Pacific.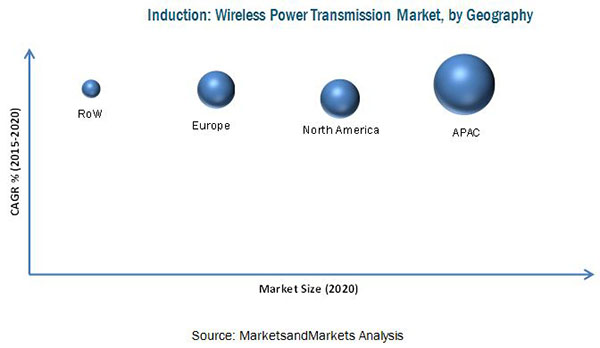 wireless-power-transmission
Although, the lack of common standards of charging poses major challenge in front of this market since it creates confusion for the component providers as well as customers, this problem is likely to diminish in the near future, thereby boosting the growth of this market further.
Market at a Glance
The global wireless power transmission market which was valued at USD 0.72 Billion in 2014, is expected to reach USD 13.11 Billion by the end of 2020, growing at a CAGR of 51.5% during the forecast period. In 2014, Asia-Pacific held the largest market share, and it is also expected to grow at the highest CAGR during the projected period, with China, India, Japan, and South Korea being the key markets for WPT as well as consumer electronics.
Among technology, the induction technology took up the largest market share, whereas the magnetic resonance technology is expected to be one of the upcoming technologies in this market. Based on application, the furniture transmitter application is projected to witness the highest growth rate over the forecast period.
Request for Sample @ http://www.marketsandmarkets.com/requestsample.asp?id=168050212
Research Scope
The global market for wireless power transmission has been analyzed and predicted on the basis of the following segmentation:
Technology: Induction, Magnetic Resonance
Implementation: Aftermarket, Integrated
Receiver Application: Smartphones, Tablets, Wearable Electronics, Notebooks, Industrial, Electric Vehicle Charging, Other Consumer Electronics
Transmitter Application: Standalone Chargers, Automotive, Electric Vehicle Charging, Furniture, Industrial
Region: Asia-Pacific, Europe, North America, RoW
Samsung Electronics Co Ltd. (South Korea), Qualcomm Inc. (U.S.), Texas Instruments Inc. (U.S.), TDK Corporation (Japan), WiTricity Corporation (U.S.), Integrated Device Technology, Inc. (U.S.), NuCurrent Inc. (U.S.), NXP Semiconductors N.V. (Netherlands), PowerbyProxi Ltd. (New Zealand), and Powermat Technologies Ltd (Israel) are some of the major players operating in the market for wireless power transmission.