Weddings are an important aspect of our lives. Every bride and groom has a vision of their dream Wedding. The wedding is when the entire family and all our friends come together as one unit and make our celebration more amazing and joyous.
To invite our family and friends, we need wedding invitations. With the technology of weddings, invitations have evolved a lot. The advent of technology has paved creativity in the world of wedding cards.
Various wedding invites are prevailing in the market, and one of the most important ones is the laser-cut wedding invitations.
Laser-cut wedding invitations have gained momentum in the past few years. The stylish design, easy customization, variety of choices, incredible color combinations, and great artistry have made laser-cut wedding invitations a preferred choice of the couple.
From a simple wedding invitation to a more intricate design, laser-cut invitations ensure your guest says wow at first glance. Evident in its name, the gorgeously designed laser-cut wedding invites are crafted with the help of a laser beam that will give the paper desired share and builds unparalleled patterns and details.
As an experienced and trusted partner in invitations, cards, and signages, we understand how important it is to finalize a suitable wedding invite.
Therefore, in this post, we have come up with a list of the best laser-cut wedding invitations that will wow your guests and intrigue them with your creativity.
Old Courthouse Cleveland Laser Cut Wedding Invite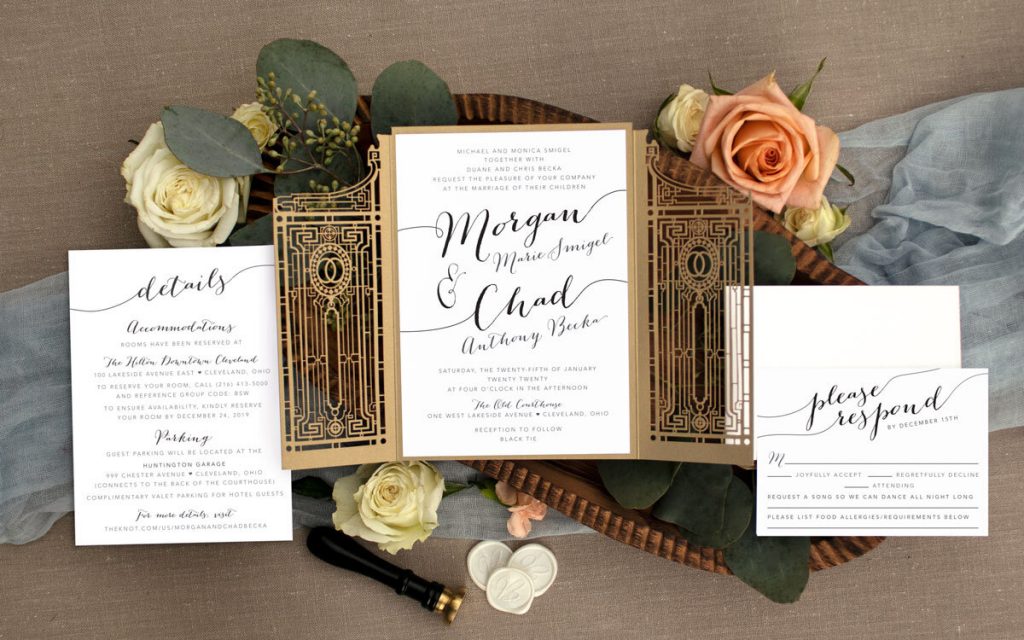 Cleveland, Ohio, has a renowned attraction, namely The Old Courthouse. This design of laser-cut wedding invitation is inspired by the beautifully elaborated doors inside this building.
The beautiful design of this card makes this piece super delicate. It will be mesmerizing if you choose shimmer gold cardstock for the laser-cut gatefold. This golden gate, if tied with the soft white satin ribbon or a wax seal with your initial, will enhance the charm of your wedding invitation.
Floral Pocket-Fold Laser Cut Wedding Card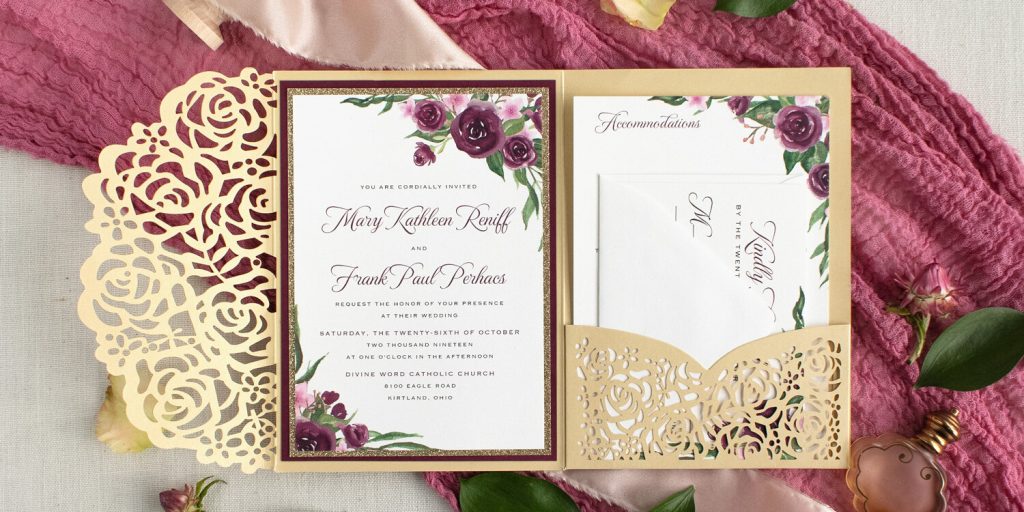 The sky is the limit when it comes to laser-cut wedding invitations. Another beautiful design is floral pocket fold cards. This type of card comes with a tri-fold laser cut which will give the guests the convenience to include those extra details you need to include with your invitation.
There are different kinds of floral designs that you can select. You can go for the rose patterns laser-cut wedding invitation. You can pair it with watercolor roses artwork which will increase the beauty of the card.
You can choose the light gold cardstock and pair it with the burgundy and gold glitter as a double backer behind the card. This will create a rich feature value and looks lovely.
Fall Tree Laser Cut Wedding Invitations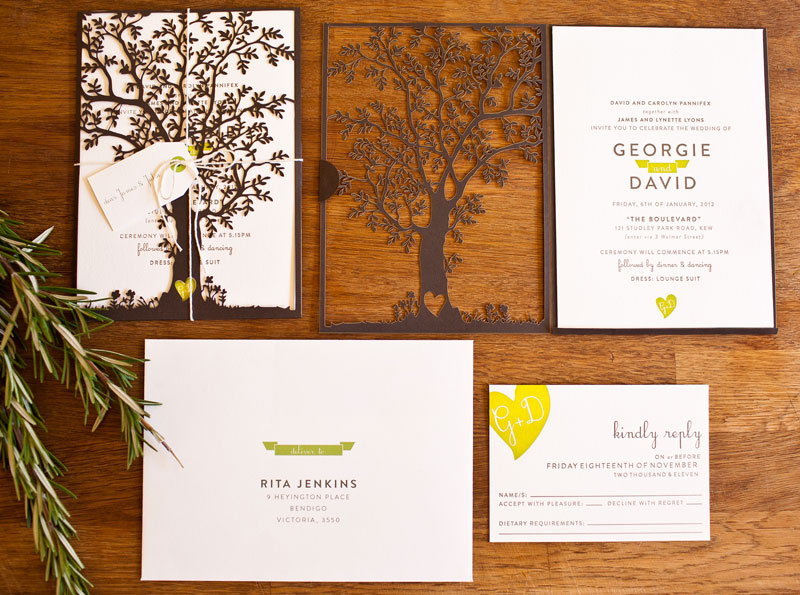 The wedding planners in the present time are keeping close eyes on the evolving trend, and we must say that they have accurately captured the trend of laser-cut wedding invitations.
If you are looking for laser-cut invites, you can go for fall tree design, which will give a perfect look to your guests.
You can go for the custom-designed laser-cut wedding card with a whimsical tree and the featured pocket sleeve. One of the best combinations could be the selection of green cardstock backers and walnut wood baker that will add a rustic and elegant look & feel to the invite.
The Majestic Skyline Laser Cut Wedding Invitations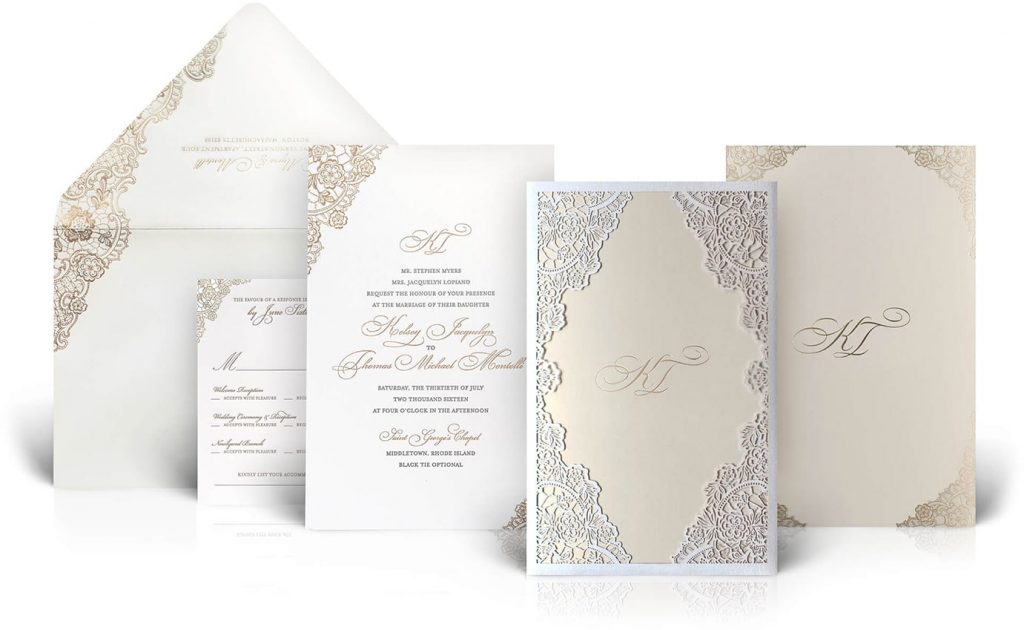 The laser-cut wedding invitation has multiple brilliant options. One of the most amazing ones is the Cleveland-inspired wedding card with the majestic skyline.
There could be a design inspired by the Cleveland skyline tagging along with the famous rock and roll hall of fame and trolly.
You can use the shimmering opal with the invitation mounted on the top.
Navy Blue Handmade Laser Cut Invitation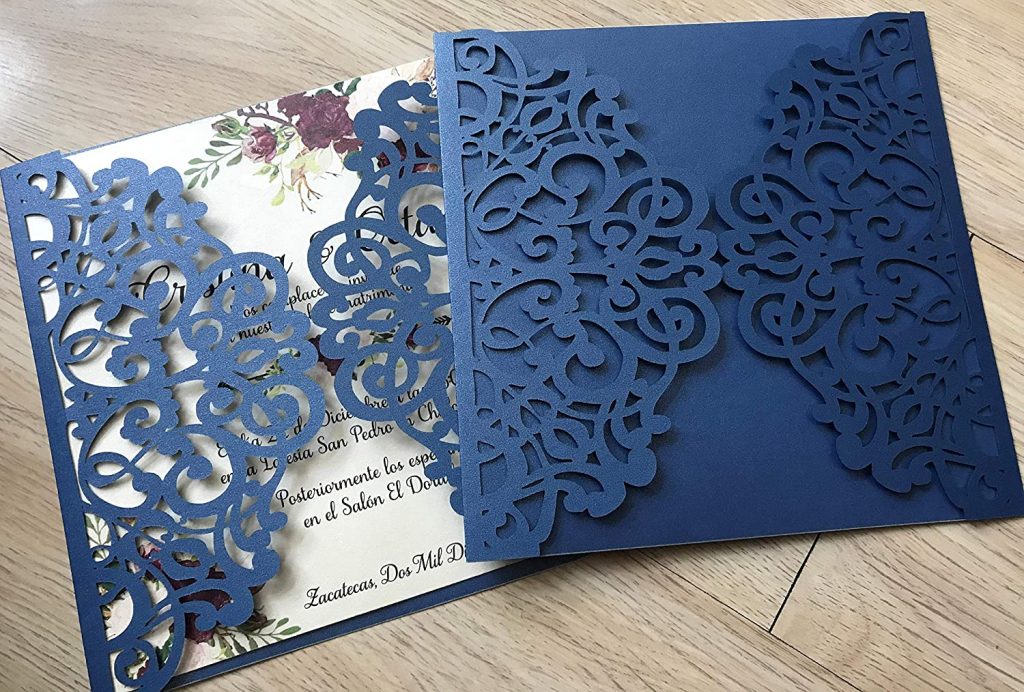 This kind of option in laser-cut invites is something new and out of the box, giving the vibes of something old, new, and unique.
The navy blue color will look classic and gives a distinct look to a complete package. The card has a delicate gatefold, which, when opened, gives the details of the wedding day imprinted on the simple card.
The perfect blend of the navy blue laser cut designs with the simplistic white stationery will accentuate the regality rather than the gaudiness.
You can choose the invitation envelope to be very shimmering.
Wooden Tree Style Laser Cut Card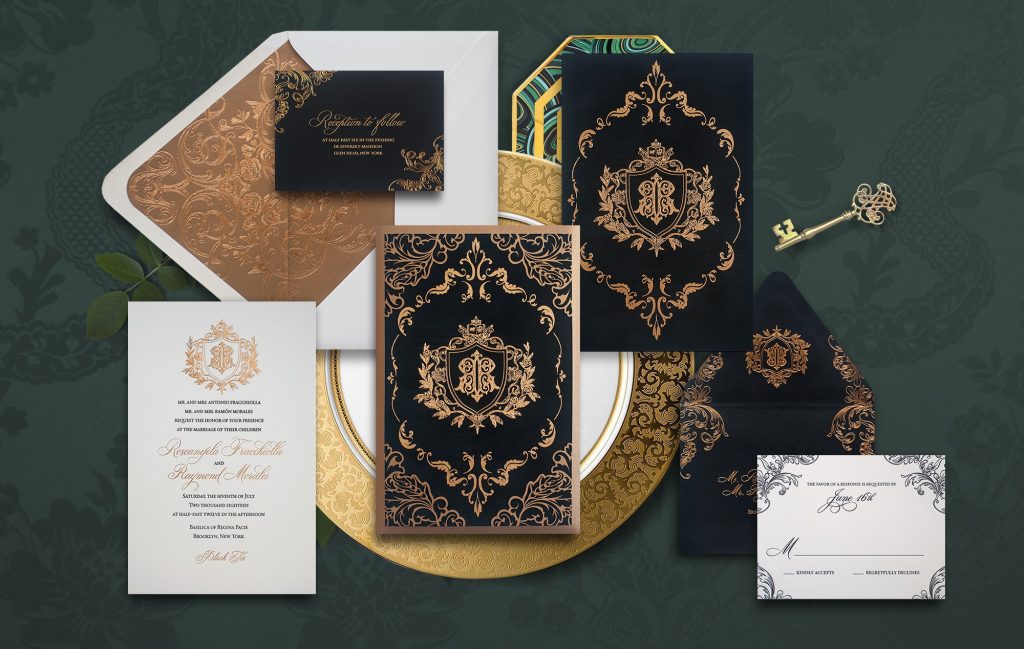 The laser-cut technology is not just limited to paper but also offers delightful entry into the wood. This kind of laser-cut wedding card will be the perfect choice through which you can delight your guests.
One of the best laser-cut tree designs can be made in the oak tree style, which symbolizes strength and knowledge. The details included in this wedding card are quite intricate. It would be impossible for you to get the elaborative engravings of leaves and bark on the paper you get on this wooden tree-styled laser-cut wedding invitation.
With the stunningly designed wooden design, you can attach creamy kraft paper with the details of the wedding embossed over it.
Make sure you hand-deliver these wooden wedding invite to make the impact more special.
Pearly White Shimmer Laser Cut Wedding Invitation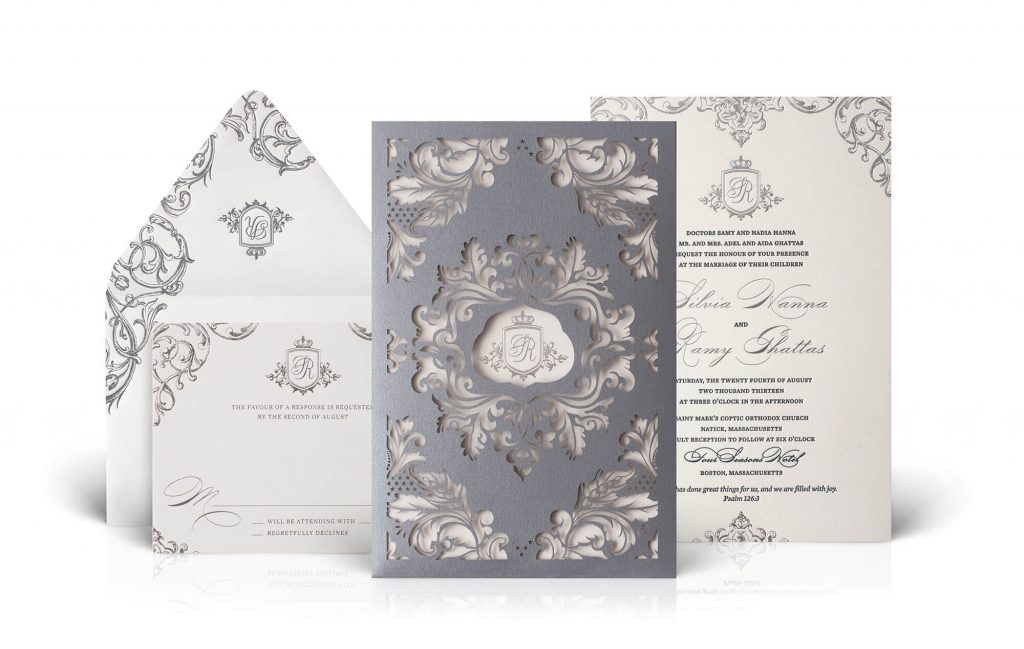 White comes with regality and elegance. And if you are looking for either one of them, then you should go for a shimmer laser cut card patterned with delicate lace and embellished with foil. These kinds of wedding cards are synonymous with regality.
Either you go for just the wedding invitation, or you can order a full suit with an RSVP card, reply envelope, save the date cards, etc. Beautiful typography or hand-done calligraphy will be perfect for this laser-cut wedding invitation.
Black Laser Cut Invite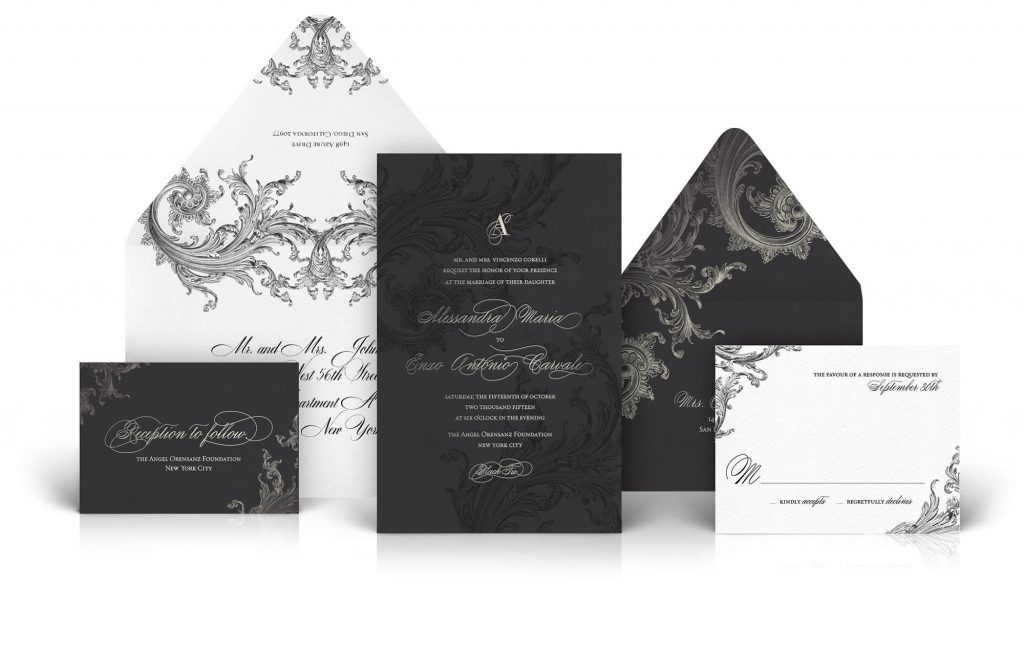 .0000.
Very unconventional yet classy, the black laser-cut wedding invite has its niche of lovers. If your wedding theme is gothic, this could be a perfect choice. Make sure to add a dash of dramatic flair, and these black laser wedding invites will stand out amongst their contemporaries.
You can print the card on the thick cardstock. It will improve its appeal overall. The white and shimmering card with details of the wedding will enhance the floral laser cut detailing of the upper fold stunningly.
Pearl Foil Laser Cut Wedding Invitation Suite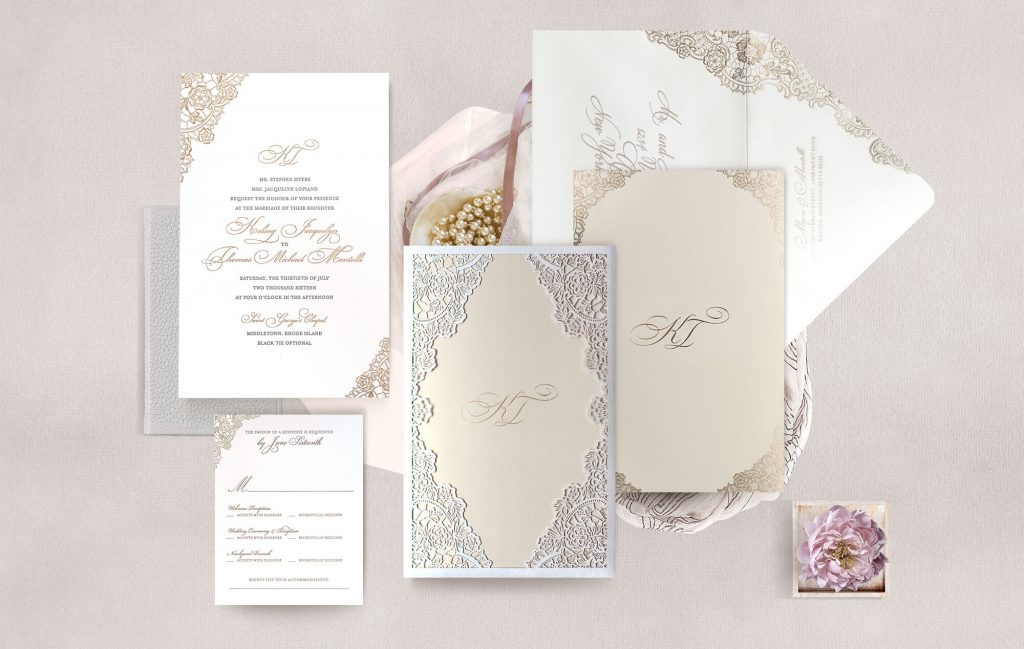 Do you want something glamorous and classy for your wedding invite? It could be challenging. We understand that. Therefore we have come up with this perfect solution of pearl foil invitation which simultaneously flaunts the glam and class.
You can go for the intricately designed rose pattern overlay through which one can peek into the monograph. Though there are many options for hues, you can go for them. There is no comparison of the simplistic elegance of the pearly color.
It would be best to have these cards fully assembled, monogram printed envelope, RSVP card, pocket, etc.
The List of Different Kinds of Laser Cut Wedding Invitations
Gold and navy blue foil stamped laser cut wedding invitation

Romantic ivory laser cut wedding invites with backer and belly band

Exquisite flower laser cut wedding invitations with matt champagne backers

Vintage dark grey gate-folded laser-cut wedding invitations

Romantic navy blue and pink floral laser cut wedding invitations

Blush shimmer laser cut envelope with vintage inside the invitation

Elegant Blush Pink Laser Cut Wedding Invitation With Gray Band

Elegant lavender laser cut wedding invitation with ribbon

Silver glittering laser cut wedding invitation with rose gold foil on vellum
The post Best Laser Cut Wedding Invitation Designs for The Trendy Couples and Their Stylish Wedding appeared first on 123WeddingCards.