Today's digitized world has made it easier than ever for global customers to find the products and services that meet their needs. And most of the potential customers like to search for that information online, in the languages they speak. The modern consumer is more demanding than ever before because they have a plethora of options at their fingertips and if your Ecommerce website isn't localized to appeal to those customers, you're blowing a big opportunity to build your business.
Localized Ecommerce website enables you to make genuine, authentic connections with consumers and "level up" into advantages like these:
Enhances the Brand Image
Poor translation can directly affect your brand image. There have been various instances of translation fails by top-notch companies that damaged their image incoherently. The biggest mistake is not to take the cultural aspect of the language in mind while doing the translations. Translations are sometimes not enough to rally the true meaning of a word or a sentence. Localization is therefore important to adapt the content or product to the needs of the audience such that it decreases the barrier for new potential customers. Localized products fit local market conditions better and lower cultural barriers by ensuring that your content has a local 'feel' by adapting nuances, idioms, speech patterns, and phrasing. This ultimately creates a better brand identity and image for your users.
2.Cultural sensitivity
Languages are complex and some words have different meanings in different regions and cultures. Being unaware of the target market's culture and failing to understand specific topics can be damaging to your business. Localization of a website or any digital content for that matter requires an understanding of local customs and culture. To avoid such blunders you need to hire a professional translation agency that understands the language and culture you are localizing your product for. Certified and native translators provide contextual translations and localization that can save you from offending foreign cultures and even from breaking any legal or censorship guidelines. Therefore remember that the key to a high-quality localization is also the key to your business going global.
3. Better User Experience
It takes a second or two for the customers to judge your Ecommerce website by assessing the layout, design, the language and the content. When new users visit your website, they directly connect it with your brand name . Poor translations, spelling errors, cultural insensitive content, faulty layout and design – everything is a part of the user experience. The decision to expand your Ecommerce operation into other markets should always be preceded by deep and thorough research. Localizing your website is an important business decision that will have a great impact on how well you achieve customer satisfaction. Professional translation services will enhance the user's experience by taking the following into consideration:
The Layout
The Space
Special Characters
Changing the locale and the language
Market specific issues (Calendars, Measurements, Holidays)
4. Better SEO ranking
A localized website is a powerful Search Engine Localization (SEO) factor, which will not only attract new organic traffic from the Localization target market of your choice, but will also boost your overall domain authority, and this, in turn, will further improve the ranking of your website. Applying the right SEO and bolstering your marketing efforts by adding new languages with right localization services can make a huge difference that will give you better traffic and search rankings.
5. Higher revenue and sales
Customers often prefer their native language and are more likely to convert if your site is in a language they're fluent in. Assuming all of your site's potential visitors are fluent in English or your native language can make you lose out on both traffic and conversions. As such, it's well worth creating localized versions of your site. Also, poor translations can cost you a whole lot more than just sales, i.e., production and marketing costs. Therefore quality localizations are a fundamental part of any international marketing journey to increase sales. Getting it wrong can hurt your brand, your customers and your revenue generation.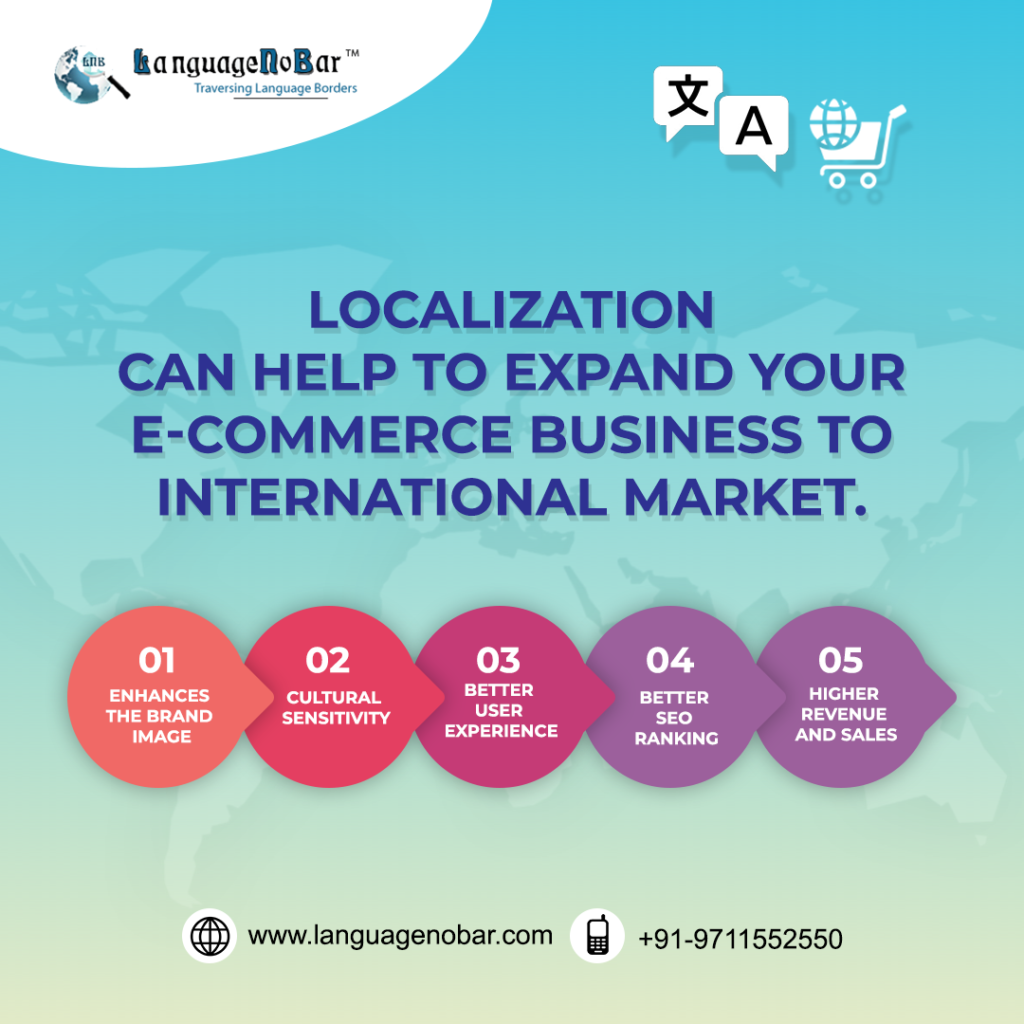 These days, your company must speak the local languages of your global customers. LanguageNoBar offers the highest quality localization and language translation services in 150 languages through native and certified translators and linguists.
Strengthen your marketing team's reach and success by offering the highest quality localized content on your Ecommerce website, in every market you serve!
Localization and Internationalization: Key to better market expansionIngenious translations happen when the translator grasps the profound meaning of source textBoost your translation competency to become an expert translator
The post 5 Reasons Why Localization Is Important For Your Ecommerce Website appeared first on LanguageNoBar.