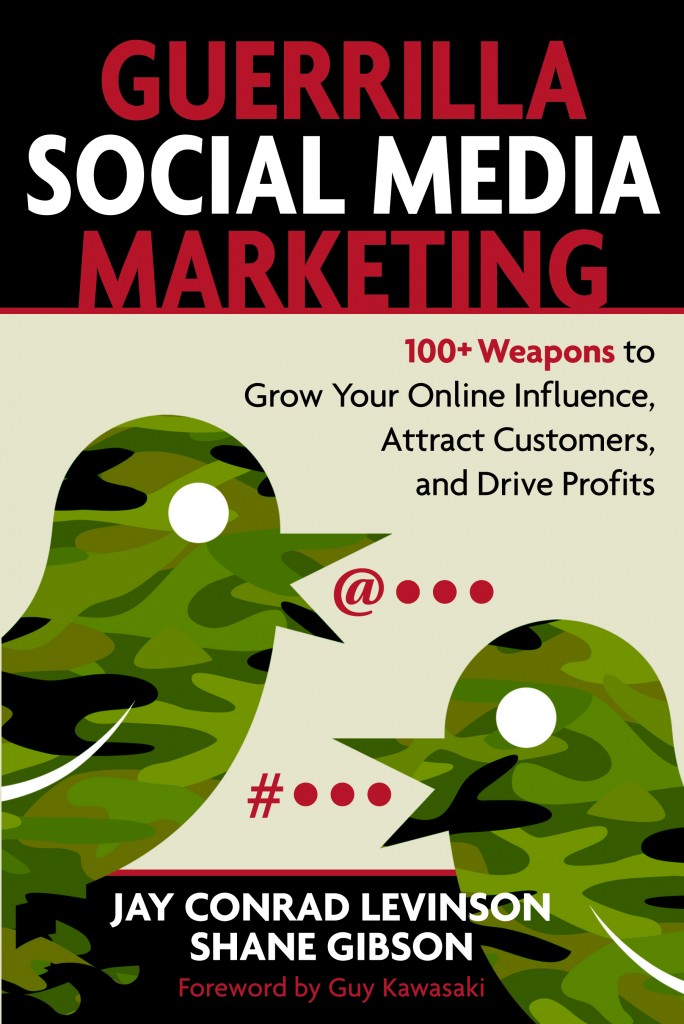 Since late 2009 Jay Conrad Levinson and I have been working on our new book Guerrilla Social Media Marketing. It's the latest in the Guerrilla Marketing series of books, the top selling marketing series of books of all time (20 million copies sold). I know Jay personally and when the opportunity came up to write the book I jumped at it. It wasn't until 1/2 way through the book did I realize the magnitude of the opportunity (and the work entailed in living up to the Guerrilla Marketing brand).
You can order it here or join the Facebook page here.
In the meantime I thought I would share the foreword written by Guy Kawasaki of Alltop.com:
How to Become a Social Media Guerrilla
I first met Jay Conrad Levinson, the father of guerrilla marketing, when I interviewed him in early 90s. I met Shane Gibson at an Olympic Hockey Tweetup in Vancouver, Canada. When Shane told me that he and Jay were working in this latest volume of the Guerrilla Marketing series about Social media, he captivated my interest because the two are a match made in heaven.
Alltop owes its success to social-media guerrilla marketing. We used Twitter and Facebook to create Alltop evangelists, galvanize our supporters and critics, and generate page views and brand awareness. We also tapped community and built multiple nano-casts of content for the nano-markets that Jay and Shane talk about in this book.
The combination of the social media and guerrilla marketing enables entrepreneurs to level the playing field in their industry. Capitalizing on social media is not just about using them as tools but taking matters beyond this and making them guerrilla-marketing weapons.
Jay and Shane have crafted a comprehensive guide for the marketer, entrepreneur, or executive that is serious about profiting from social media. The challenges that people face in social media are:
• What tools to use and how to use them profitably.
• Finding and engaging profitable target markets.
• How to build community and then raving fans.
• What and how to measure ROI.
This book answers all these issues. It's not an easy path; it will take discipline, tenacity, and creativity. For those who are willing to pay this price, Jay and Shane have provided the ultimate roadmap needed to achieve your goal.
Guy Kawasaki
Guy Kawasaki is a founding partner and entrepreneur-in-residence at Garage Technology Ventures. He is also the co-founder of Alltop.com, an "online magazine rack" of popular topics on the web. Previously, he was an Apple Fellow at Apple Computer, Inc. Guy is the author of nine books including Reality Check, The Art of the Start, Rules for Revolutionaries, How to Drive Your Competition Crazy, Selling the Dream, and The Macintosh Way. He has a BA from Stanford University and an MBA from UCLA as well as an honorary doctorate from Babson College.