If your business relies on e-commerce to provide all or part of your revenue stream, then we would suggest that Mobile Advertising is imperative to staying connected to customers with a diversity of digital habits.
Even businesses that don't sell through e-commerce might find Mobile-optimized Advertising a good way to re-market using omnichannel techniques, such as directing searches to mobile-friendly websites that give essential information quickly without having to change devices.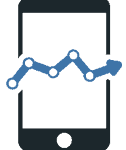 However, the design of your mobile advertising makes a huge difference in how Google will rank you, which is key to people finding you via an online search. Some forms of mobile advertising designcan work against you because Google and its users deem it annoying.
Read on to make sure that your advertising practices and partners are not at odds with Google's new mobile-friendly algorithm.
The post How Mobile Advertising Design Impacts Your Business appeared first on Kansas City Web Design and SEO.