Your

Imap

server has closed the connection FIX
February 18, 2014 0 comments
Sometimes you'll get a timeout error on Outlook when using the synchronized IMAP protocol. You can avoid the timeout error message "Your IMAP server has closed the connection" by changing the settings in Outlook.
Here's how in Outlook 2010:
Click "File" from the top ribbon.
Click Account Settings and then Account Settings from the dropdown.
Select the account you want to modify and then click the Change button
Click the More Settings button.
Click the Advanced tab.
Under "Server Timeouts" slide it to the far-right (10 minutes).
Click "OK" >> "Next" >> "Finish" to save these new settings.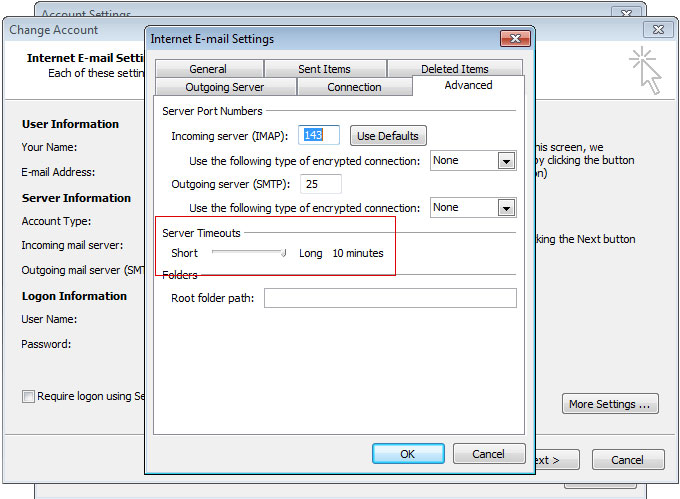 That should fix the issue, or at least minimize the connection timeout error from coming up.
Alternative Fix: Remove from Send/Receive Group
If the above didn't fix your issue, the problem may be that multiple users are accessing the same mailbox frequently. Since the server postfix configuration is not modified, you should consider this a client work-around rather than a solution.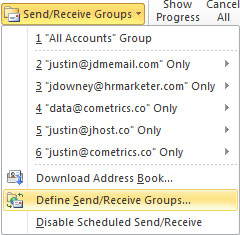 The IMAP connections are live connections and will receive the mail regardless of your scheduled send/receive settings. If you create a separate send/receive group in Outlook (Tools -> Send/Receive -> Send/Receive settings -> Define Send/Receive groups...) for the IMAP mailbox you can avoid the pop-up by de-selecting the option to "Schedule an automatic send/receive every X minutes." This sends a NOOP request that works great for Exchange but is not a standard amongst all IMAP implementations (i.e. Zimbra postfix).
In less technical terms and under Outlook 2010, here's how to deactivate automatic send/receive for your IMAP email account (which already doesn't really need to be on a send and receive schedule. IMAP uses push technology.):
Click Send/Receive from the top ribbon.
Under "Send/Receive Groups", click Define Send/Receive Groups
There is probably 1 group called "All Accounts". Select it and click the Edit button.
Select the IMAP mailbox in question from the right and UNCHECK "Include the selected account in this group".
Click OK
Theoretically, that should stop that IMAP account from being forced to send/receive when the connection has become idle. After all, IMAP doesn't really need to actively send and receive every X minutes. That's a POP3 thing. IMAP is awesome.