Military Lapel Pins
Military insignia pins are a great accessory to any attire. Whether you wear it for sentimental reasons, personal, or just to show support, Military Lapel Pins are a special way to represent our US troops. You can choose any branch to wear. Soldiers and civilians alike can wear it with great pride.
Air Force Lapel Pins
The Air Force symbol is that of Arnold wings, named for the Air Force General during WW II, and was first introduced in early 2000's. It displays a modern design, which incorporates the USAF history and the promise of the future. The symbol is broken down into two forms. The blue and silver contrast is a nice touch to any attire, formal or casual. This is sure to be a sharp Military Lapel pin that will be worn for years to come.
Other us military Lapel Pins that can be worn with much pride is that of the US Army. Here, there are two designs to choose from. The first, the US Army logo, is one that displays a white star outlined in yellow, with black accents. Many supporters may choose to wear this pin. The second, the Department of Army emblem, was first approved in 1974 and represents the Army seal, as well as the Flag of the US. The year the Army was first established, 1775, is also inscribed on the pin. Official members of the Army would be more apt to display this type of pin. There are many branches of the US Army, and with each one, comes a different rank and insignia. Thus, there are many pins to choose from to represent ones position and rank. Any member of the US Army can proudly wear his or her military lapel pin to display their honor and loyalty.
Marine Corps Lapel Pins
The USMC is greatly known for its official emblem of the Eagle, Globe, and Anchor. There are slight differences to the emblem of enlisted Marines and officers. What a wonderful asset this military lapel pin would make to any occasion, especially on dress blues of enlisted Marines. The Marine Corps motto, Semper Fidelis, which means "always faithful," is an honorable way to represent such a distinct branch of the US Military.
Navy Lapel Pins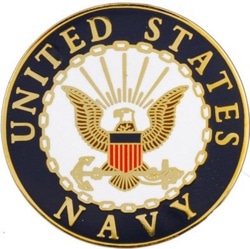 Military lapel pins are a great accessory to any attire.
The US Navy has an official seal that can be worn proudly. It features an eagle, with its wings spread, as if to say it is protecting ships at sea. It is a meaningful culmination of land, sea, and sky. Again, displaying the colors of our country, what better way to support this branch than to wear a lapel pin.
What better way to support and represent each branch of the US military than to proudly wear a military lapel pin. No matter which branch you represent, each pin is carefully constructed with fine detail and care to properly represent the symbols of each branch with such pride and honor.
Military lapel pins can be worn by military personnel, adding a unique touch to their dress blues. They can also be worn by civilians, as a special accessory to any dressy outfit or suit. Pins can also be worn every day, as part of any outfit, to proudly display support and loyalty.
The Pin People is supplier of military lapel pins that can be worn to show your pride. Contact us today.
Author information
Andrew Dale is a former United States Marine and former Police Officer in New York. He is now the CEO of The Pin People. The Pin People is largest distributor, designers and manufacturer of custom lapel pins in the United States. Located in New York, The Pin People has become the brand name for lapel pins.
TwitterGoogle+