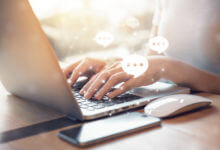 rd, and registration is now open. Designed for researchers who want to moderate online focus groups and multi-day bulletin boards with excellence, this course includes both the theory and actual moderation practice necessary to advance skills.
"Successful online moderation requires a mix of tech savviness and participant engagement skill," according to Research Rockstar President and Lead Instructor Kathryn Korostoff, "I'm thrilled to have Jennifer as a curriculum partner on this course, as she possesses both skills and genuine enthusiasm for helping other researchers develop them."
In addition, Instructor Dale's approach is to help students break past superficial engagement, "As online moderators, we engage with research participants using a variety of mechanisms, yet the basics of human communication remain the same," explains Dale. "Successful online moderators are able to establish and maintain that human communication despite lack of physical presence."
Prerequisites & Course Format
No previous qualitative research moderation experience is required. However, we do recommend that students have at least 2 years' experience directly supporting qualitative research projects in some capacity, or have completed Research Rockstar's course (or equivalent), Managing Focus Groups.
Students who register for this course will gain practical, hands-on guidance from Instructor Dale, who explains, "Students will get a deep dive into what it takes to moderate online, from designing the discussion guide, to choosing the engagement tool, to live moderation. All students will get a chance to ride in the driver's seat and moderate live." This course includes a textbook, which is included in the registration fee; students who register by April 12th will receive the textbook by mail, and those who register after April 12th will receive an ecopy via email.
New Research Rockstar Instructor Jenifer Dale, Online Qualitative Research Expert
This course is taught by Jennifer Dale, a veteran of marketing research and pioneer in web-based methods. Jennifer studies how people express themselves online and the best methods for collecting feedback. She has a BA in Communications from Penn State University and earned an MBA in Marketing from Rider University while working for apparel company Phillips-Van Heusen (PVH). At PVH, Jennifer was part of a core team that successfully repositioned Izod and Bass, two of PVH's most successful brands.
Jennifer developed one of the first platforms for conducting online focus groups in 1996. Today, Jennifer is President + CEO of InsideHeads, where she works with practitioners, entrepreneurs, and corporate teams to collect actionable feedback, uncover hidden insights, and identify successive actions. A longtime writer and presenter, Jennifer co-authored "Qual-Online, the Essential Guide," available on Amazon, and also teaches a graduate class on the same subject at Michigan State University.
Registration and Textbook Details
"Online Moderation Theory & Practice" is a 4-week course, meeting for four consecutive Fridays from 11 AM to 12:30 PM Eastern (6 hours of virtual classroom time total). Class starts Friday May 3rd and meets in Research Rockstar's multimedia virtual classroom (no travel). Students receive real-time instruction, a course textbook (Print or Kindle format), and ample time to practice and receive coaching. All sessions are also fully recorded, including Q&A, for student review. Miss a class? No worries, just keep up with your homework and watch the recordings.
Registration is now open. Registration per student is $425 (including the textbook). Backstage Pass holders have this course available in their course catalog (from the Training Portal, Dashboard>Catalog and select course to self-enroll).
To request group discounts or invoicing options, please contact [email protected] or call 508.691.6004 extension 701. For online registration and class agenda, visit the Research Rockstar training store.
About Research Rockstar
Research Rockstar delivers training and staffing services to busy professionals seeking Market Research excellence. Our 25+ training classes are offered in both real-time and on-demand eLearning formats, and include options to earn Insights Association Certificates. Our Rent-a-Researcher staffing service places qualified market research experts, covering temporary needs due to project fluctuations, family leaves or other short-term needs.
About InsideHeads
Jennifer Dale is the CEO of InsideHeads. InsideHeads designs and conducts custom marketing research studies online. Decades of diverse experience and proprietary, user-friendly interview platforms make InsideHeads the best choice for your online marketing research studies.
Any questions? Please contact us at 877Rocks10 ext. 705 or email [email protected]