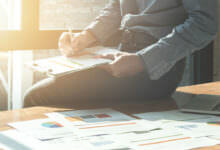 If your primary deliverables are in PowerPoint or even dashboards, are writing skills still important?
I'd say, very important. With fewer words, those words really have to shine. And of course, we don't want to distract our readers with poor grammar, incorrect punctuation or weak sentence structure. Instead, let's master those skills plus strengthen our use of verbs, parallelism and Style.
Join instructor Dan Reynolds for a course that will take your Writing from good to great!
During this 4-week course, you will see strong and weak examples of market research writing, and learn key concepts that will transform your reports, emails, and presentations. The course will cover basics of style such as punctuation and usage, and help students develop their own house style guides adapted to their specific audiences.
This class includes homework assignments directly focused on writing skills and developing a style, and students should be prepared to spend one hour per week on homework. Students will receive writing feedback from the instructor on both in-class exercises and homework assignments.
Click here for class agenda. Registration for this new course, Writing for Impact: A Bootcamp for Market Researchers, is now open. The fee is $379 per student. Class meets on 4 consecutive Thursdays from 11:00am-12:30pm eastern, starting April 19th, 2018.
Have a 12-month Backstage Pass? Then this course is already in your course catalog. Just go to the Training Portal, Dashboard>Catalog, and click 'enroll' on the course. No Backstage Pass? Just use the link above for registration details.
NOTE: This class focuses on word, sentence, and style-level writing. For specific ways to report data and structure reports, see Writing Qualitative Research Reports or Writing Quantitative Research Reports. For specific ways to create data displays in your reports, see Data Visualization 101 or Data Visualization & Dashboard Design.
Hope to "see" you in class!
Kathryn
(508) 691-6004 ext. 705