According to my survey, I have found a genuine and most trustworthy app to earn Money online while you work from home.
When I started my survey and research I found lots of fake websites and apps which doesnt really help people to earn money online.
But here, I have found a way to earn money by installing the Meesho Mobile app. Your advantages of using this is as follows…
Zero Investment
Home Based Online Business
100% genuine mobile app
Trustworthy and Genuineness of this App
Anybody who are wishing to start any part time online business as a side income can give a try for this app.
You might have already heard about this app already… or even if you are hearing this app new, it doesnt matter I will explain in detail how it works…
For any online apps which promise you to give payment… first you should check its background details.
There are so many apps in the market which doesn't give the payment properly and more fake apps out there but this Meesho App is a verified one which is started in 2015 and run by Sanjeev Barnwal (Founder of Meesho).
It has its headquarters in Bangalore and 750 employees are working in this office.
This Meesho app got award in 2017 from Deccan Chronicles. This app is listed as a top 5 E-commerce apps by Deccan Chronicles.
Similarly, Forbes India in 2018 gave the 30 Under 30 List of Young Achievers.
Earn Money Online using this Mobile App
You can also do this business using Meesho.com online website…
What you are going to do here is… "Product Sales"
Now, you may think that should I invest any money and purchase the produce before the sales… No
It is totally free… You can simply select any product from the Meesho App and sell it through facebook, Instagram, Whatsapp and earn your commission.
There are lots of products in this Meesho app… mostly 60% ladiest items 40% is for male.
How to use this App
First you should select any product and then you can get all details about the products like size, weight, color etc…
Now select the friends and relatives… you can share the product in facebook, whatsapp, Instagram and etc…
If they like your product you can send your product price personally to them with your own margin.
Now, after the purchase product will be delivered by the Meesho to the concerned address directly… you will get the commission and bonus online.
Screenshot of the Meesho app…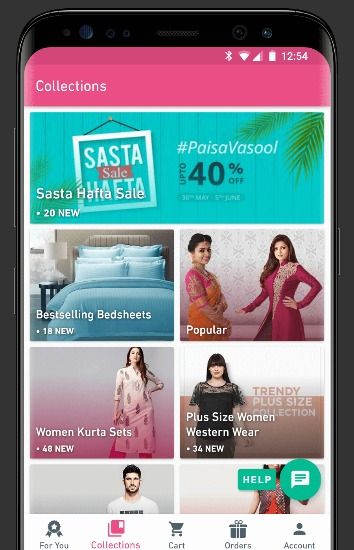 MobileScreenshot Collections
So, there are more collections… for instance you can see the options at the bottom of the pic.
ForYou
Collections
Cart
Orders
Account
If you click the collections you can choose any items that your friends will like and choose any products that you want to sell.
MobileScreenshot Share
After the selection you can share the product details to your friends using the share button.
Now, you may have another question in your mind…
Wont my friends know this app already…? if I send this product to them wont they try to buy it directly from the Meesho?
No… not at all…
The twist is… your friends and contacts wont know it is from Meesho… the product will go to them with your name provided. While delivery also it will go with your name only… No where the Meesho name will be entered.
Just picture and details of the product will be shared and they will not mention anywhere as Meesho. Even delivery will be done by the supplier name only (that is your name).
There will be product reviews also so that you can find the quality and best product to sell.
Meesho App account setup
Go to "Account" and you can choose online payment or cash on delivery.
MobileScreenshot Account Setup
Here, you can give your bank details, and payment methods.
There is other option also that you can earn extra money through this app is by referrals.
You can refer this app to someone, and if they use your referral code and install you will get commissions for their sales also…
If you choose online payment, then you have to pay the amount initially… If you choose cash on delivery then they will collect the payment from your friends and send you the commission online.
You can return the product any time.
General Questions :
Will the customer know that I sell from Meesho App?
No, your customer will not know. The delivery and details of the product will be sent under your name only. This allows you to sell products within your friends without any hesitant…
How will I earn from Meesho App?
Here, you will have collection of products and you can choose any of them and sell it for commission. You can fix your own margin rate for any product. Meesho provides you monthly/weekly bonus and your margin as a payment for you on 10th, 20th, 30th of every month.
Can I return the product that is bought from Meesho?
Yes, you can return the product that you bought/sold from Meesho.
Does Meesho App has customer care?
Yes, Meesho has customer support and you can get the benefit from them.
Thank You, now I have given you a best app details which will help you to start earn money online easily.