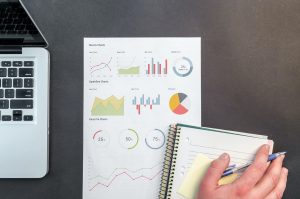 Research is essential
Market research is essential when you're planning an online business. You need to know what type of customers would buy your product or service, how many customers are there, and where they are located. It's also important to understand why potential customers prefer certain brands and what they dislike about others.
You need to understand your competitors in the market – what they offer and how your product or service compares. Competitors' pricing information can help you set your prices.
The five types of marketing research are Exploratory Research, Specific Research, Public Sources, Commercial Sources, and Internal Sources. These types of marketing research usually are combined in only two categories as primary and secondary research.
Primary research is done when for the first time you are gathering information about your market and your customers. It's mostly used when identifying your buyer persona and doing segmentation for your market. Secondary research includes all the public and internally available data.
The Market Research Process
Before we jump to the ways you can do market research online, it would all make sense if I first introduce you to the steps to do market research online. Believe me, you would need to know what to start with.
Step 1: Identifying the problem
If you want to carry out marketing research, that means you need to get some information. You would need some precise and clear goals about what you want to get.
Step 2: Defining your buyer persona
In fact, buyer personas are fictional representations of your potential customers. By identifying them you define some of their characteristics like age, gender, location, income jobs, and more.
Step 3: Engage with your market research participants
This will require some time to process since you're just an individual marketer. But, don't worry. The good news is that you can use your previous lists that made a purchase or use social media to reach for the people that follow you.
Step 4: Prepare your research questions
This is a really important part. Remember, you need to prepare the perfect questionnaire to fulfill your goals for that research. Its structure should be made more with open questions because that's how you get certain pieces of information that you need.
Step 5: Conduct your online questionnaires
Since you have everything ready, you just need to send it to your candidates and wait for their response. Give them some time to get them filled in.
Step 6: Summarize your findings and your research report
The fun part is the end of the course. It looks like a puzzle. Now it's time to find the essence and subtle of the problem through analyzing your answers. Your summary should include the reason for your questionnaire, the answer to your identified problem, the decision, and the action plan.
Online research techniques and tools
There are many different techniques for carrying out market research through interviews, surveys, or 'detective work'.
Survey costs and logistics vary but can be expensive and time-consuming.However, online research can provide valuable market information for little or no cost. Tools such as Google Trends or Keyword Planner, for example, can help you discover levels of interest in different types of products. Just look for terms that have higher numbers of searches or increasing numbers of searches over a while.
If you want to carry out your low-cost online survey, you can create simple questionnaires using some of the tools below and still get the value that you need.
There are some really useful tools that you could use when making market research online:
1. SurveyMonkey
This tool is used for making questionnaires. The free version of SurveyMonkey allows you to have 10 questions, 100 responses,15 question types, and includes some theme customization. It's super easy to use. The bad thing about it is that it doesn't export your data. The paid version starts at $26/month with of course more advanced features.
2. Google Forms
Google Forms would be the first tool to use because it's totally free. Let's see some of its amazing features that you can play with: unlimited surveys, unlimited responses, the data from the survey is collected in Google Spreadsheets, you get custom themes, add your logo, add images or videos, skip logic and page branching and more. And you get all of this for no money at all.
3. SoGoSurvey
This is another on the list to recommend. Using this tool means no need for additional tools for your survey tasks. The best thing is probably that even if you're a free user, you're allowed to get a 24/7 customer service. The free version includes unlimited surveys, unlimited questions, 24 question types, 3 skip logic/page branching, 200 responses a year, data export functionality, and more. The paid version starts at $299 a year.
Published surveys
Market surveys carried out by analysts, research firms or manufacturers can provide a wide range of information on customers, the size of a market, competitors, and growth potential. Some surveys may be published in full online; others may be available for a fee or by registering your details and downloading.
If you can't access the full report, look for a summary of the main findings in press releases or blogs posted by third parties.
Competitor information
Check competitors' websites for a product, service, and company information. Compare the features and benefits of their products with your own and find out where they sell their products – through retailers or online.
Comparison websites provide information on a range of different companies in the same sector – some of them may be your competitors. Car insurance sites, for example, provide information on costs, level of cover, and main policy features. Products are ranked on different features so that customers can make a like-for-like comparison.
Some websites list 'top ten/top 20' products in a sector with the main features and the reviewer's verdict on the pros and cons of different products.
Customer attitudes
To find out more about customer attitudes and preferences, look for customer reviews. Social media has allowed customers to share their views. The information can be useful for identifying strengths or weaknesses of products and this can help you identify opportunities to offer improvements.
Manufacturer and retailer sites may carry customer reviews posted directly to their sites. You can also find reviews for different products on independent sites such as TrustPilot or a local equivalent. Channels such as YouTube carry more detailed product reviews, sometimes by independent testers, retailers, or manufacturers' staff.
Communities, where members share opinions and advice on products and services, can also provide valuable insight. Some may be set up and moderated by manufacturers, while others represent independent groups of users or special interest groups. Posts or questions on community sites may highlight problems with competitors' products or unfulfilled needs that members are looking for.
Act on your research
When you've completed your online research, it's important to assess the information you found and review it in line with your business or product plans. Research may indicate a need to change your plans or add new features to a product so it meets those unfulfilled needs. It can also help you avoid expensive mistakes.
If you'd like to find out more about how research can help generate great business ideas, check our Business Startup Guide. You'll find a useful section on 'Testing your business ideas' with advice on simple research.
Sources (4)

1. How to Do Market Research: A 6-Step Guide (hubspot.com)
2. 10 Free Online Consumer Research Tools (flexmr.net)
3. 14 Affordable or Free Market Research Tools and Resources (leadquizzes.com)
4. Testing Your Online Business Idea(s) (Biizly.com)

The post Simple Ways to do Market Research Online appeared first on Biizly.com.