Gone are the days when lush female forms were fashionable. Now women and men of all ages dream of having a slim and toned body. They achieve this in different ways: someone prefers exercises in the gym, and some are more comfortable to buy a simulator and work out at home in their spare time. After reading this article, you will learn: what is the use of a treadmill for losing weight, how to choose the right treadmill, how to make jogging workouts most effective, how many minutes a day you need to normalize weight (yes, how many minutes!).
Running training is one of the best ways to get the perfect figure, since many muscle groups work in it:
thighs, calf and gluteal muscles,
abdominal muscles, back and neck begin to work, if you keep the correct posture while running,
intercostal muscles actively work due to rapid breathing,
shoulder muscles (biceps) work as the arms move continuously.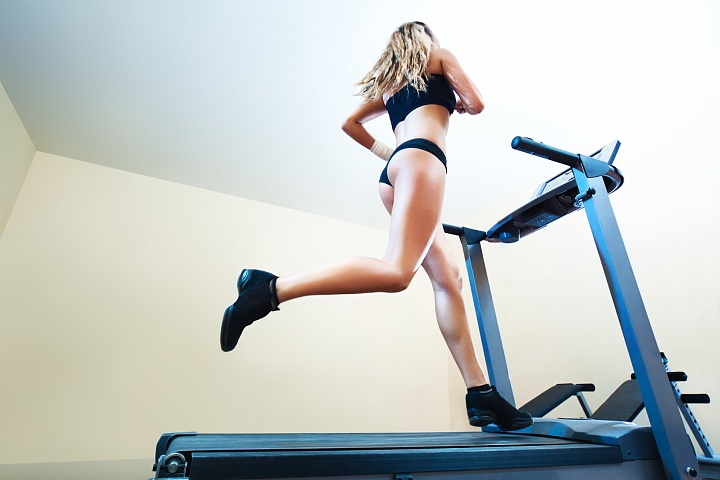 In addition, Running (even at home) stimulates metabolic processes and improves blood circulation. Classes on the treadmill is not only a way to get a beautiful body, but also health benefits.
Running at home
If you are thinking of starting a run, then surely you have a choice: to buy a treadmill for your home or go to the gym? – The answer to this question for each individual. In each case, there are pros and cons that need to be considered.
Advantages of home workouts:
can be engaged at any convenient time
you can conduct classes without leaving home.
Cons home workouts:
not every apartment has enough space to install a simulator; In addition, sometimes it does not fit into the interior of the home environment,
at home there is less time for occupation (after all, there are many unsolved cases nearby).
If you decide to practice at home, you need to choose and purchase a treadmill. They are mechanical and electrical. In mechanical it moves from the efforts of the legs, in electric it is activated by pressing a button. Mechanical tracks have lower cost, they are foldable (they save space).
Electric treadmills are a more modern option. Here you can set the speed, the angle of the track. During exercise on such a simulator, the number of calories burned, pulse, distance traveled, speed of movement and other characteristics (depending on the model) are automatically calculated.
The classes in the gym have the following advantages:
a large selection of simulators (in addition to models of treadmills), which can be used to make workouts more effective,
the possibility of consultation with the coach during training.
The disadvantages of training in the gym can be called:
can be practiced only during the opening hours of the hall,
a waste of time to get to the gym (unless, of course, it is not near your home or your place of work).
Several principles of successful action
There is no single "recipe" for a successful treadmill session. It is necessary to correctly select Training parameters (running speed, tilt angle, training time), based on the person's data (level of training, age, weight). Without knowing these parameters, one cannot say how much and with what speed one should walk or run so that the training is successful. However, you can give general guidelines for running a workout, in which it will be of the greatest benefit:
In order to exercise on the track quickly brought the desired result, you need to run regularly (3-5 times every week).
It is necessary to take food no later than an hour before the workout, and not earlier than two hours after it.
Before training do not take the time to warm up (10-15 minutes), it is very important that your muscles warm up.
Try to keep the entire pulse at a certain level. On average, 120-130 beats per minute. In this case, the higher your level of training, the higher should be the value of this indicator. If the pulse falls below the recommended indicator – you need to increase the speed or angle, otherwise training will be ineffective. To calculate the maximum level of the pulse, you need to subtract from the number 220 your age. For example, for 30 years the maximum heart rate is 190 beats per minute (220 – 30 = 190).
Each lesson should last at least 40 minutes.
Use different techniques of running exercises: monotonous and interval running. Monotonous is called running during the entire workout with one speed and angle of inclination. Interval running involves alternating tempos throughout the session.
During exercise, try to run correctly – keep your back straight, straighten your shoulders.
Finishing the workout – do not stop abruptly. Slow down gradually, it is better for the heart.
After running, do stretching the muscles. This is necessary to make them stretched and resilient.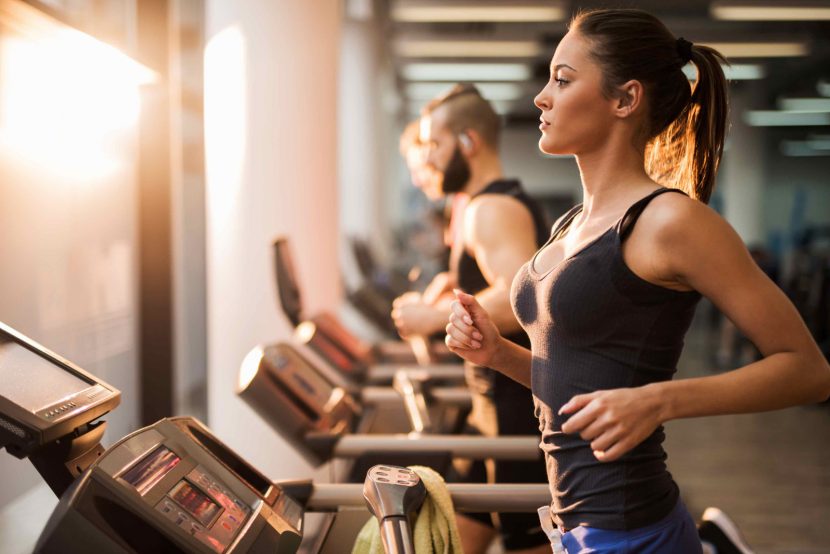 Selection of trainings
If you are only planning to start running, but you do not have sports training, then walking on a treadmill for weight loss will help you to quickly get involved in the process and increase stamina.
"Program": start walking at a speed of 6–7 km / h (5 minutes), then you can alternate walking with jogging (5 minutes walking, 5 minutes – running). Finish the session necessarily walking. Time of training, choose, based on their feelings and well-being, try not to overload the body at the first lesson.
As soon as you feel that the previous type of exercise becomes ineffective (stop tired, it will happen in about 2-3 classes), go to the next workout program:
running at a speed of 8–9 km / h – 5 minutes,
alternation of running (5–10 minutes) and walking (2–3 minutes),
running at a speed of 7–8 km / h – 5 minutes.
How to increase the intensity
We all can not wait to see the results of their work, including the results of work on themselves through training. If in jogging classes you are no longer "newbie", you are probably interested in how to lose weight on a treadmill in a short time.
Accelerate the process of acquiring the perfect figure will help increase the intensity of training. So, to make jogging exercises more effective, you can choose the following program:
Use interval training. It is necessary to alternate an intensive run (2–3 minutes) and a run with an average speed (5 minutes) during the lesson.
Alternate the angle of the track (5 minutes in the usual position, 5 minutes – at an angle).
Use weights on legs and / or on hands.
It is important not to forget about the general rules of running exercises – warm-up, pulse, stretching and so on. At the end of the workout, you have to walk for 10 minutes, gradually slowing down.
Contraindications
Before you begin classes, you need to know if a treadmill is dangerous for your health. Before you begin, consult your doctor, you are forbidden to run if you have:
diseases of the musculoskeletal system,
phlebeurysm,
respiratory diseases,
heart failure.
But it should be remembered that on the treadmill you can not only run, but also walk. Moderate walking is useful in any of these cases.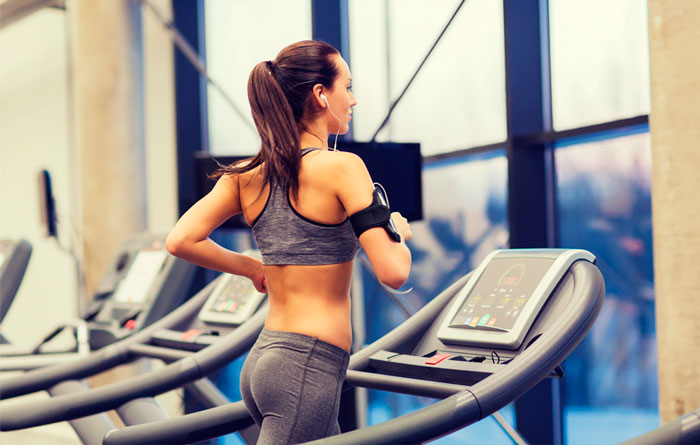 It is also important to choose the right shoes for running. Special sneakers can create cushioning and reduce strain on the knee joints.
How soon can weight be normalized
The answer to this question is individual for everyone. It depends on how many times a week you do; How many times a day do you eat; what kind of food do you prefer? what is the metabolic rate in your body.
The main thing when achieving the first results is not to stop practicing on the simulator, to continue training with the same intensity. It is important to pay attention to nutrition: to comply with the regime, to abandon harmful food. Then very soon you will succeed and you will find a slim, toned and elastic body.