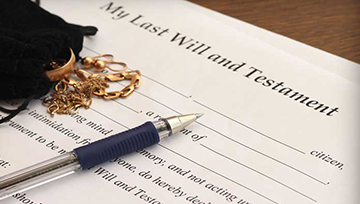 Real Estate attorneys have always advocated the importance of maintaining a will for Estate planning. And many clients adhere to that advice and plan how their assets will be disposed post death.
Succession Law Reform Act (SLRA) gives an individual a right to draft a will to dispose their valuable assets and property upon their death as they deem fit.
But still, some people can't enough take time off work to think about this very important aspect of estate planning. When a person dies without leaving a will, it's said to have died intestate and his/her property becomes subject to SLRA Part 2 that deals with rules of intestacy.
What it's all about? Learn the key points from Will and Estate Law experts at NDM Law in Mississauga.
In case a will has been drafted
If a will has been drafted by the deceased that meets the statutory requirements of being considered valid, it will come into effect upon testator's death and the valuable assets and property will be disposed of as instructed in the will. This is as per SLRA.
In case a person dies intestate
There is a complete list of rules pertaining to intestate succession, grouped in Part 2 of SLRA. Certain Guidelines are set according to this part of the act and deceased's property is disposed of in accordance with these guidelines.
The entire property and assets are pooled together and distributed among spouse and children as stated in the guidelines.
Everyone one should be aware of these guidelines. Inadequate knowledge can be troublesome in understanding the complicated norms of this act. These guidelines can at times go against the usual perspective of spouse and children of deceased.
For an instance, in the absence of joint tenancy of home between the deceased and his/her partner, ownership of the house will not get transferred to the partner. In that case, if the share of spouse/ children does not cover the whole value of home, they'll have to buy the remaining share.
Also, this law does not recognize a 'common law partner' as spouse and the former is entitled to only dependent support upon the death of partner.
Will and Real Estate experts at NDM Law recommend everyone to go through these norms and understand it's pros and cons in detail. Seek professional legal help to draft a will.