If you have delved even a little into the concept of keyword research, you will have an understanding of why it is so important for businesses and their marketing practices. Hashtag and keyword research have a lot in common on their specific platforms and are essential elements for marketing strategy development. It is the key to making sure that your hard work in producing good quality content pays off, by making it accessible to a large audience, and more specifically, the perfect audience. There is no question about the advantage that hashtags pose for promotional activities, but the real question lies in which hashtags should be used and where. Not only are new hashtags ideal for boosting social media reach, but they also help in generating new content ideas for you to explore. If you are still a little confused about what hashtags are and how they function, read on.
Hashtags are indexed that are used by social media platforms to improve the way that they classify their content and make it accessible to certain parts of the viewing population. They are similar to the concept of keywords and search engine optimization since they are the equivalent for social media searches. The discovery process is made better and more efficient by these simple words or phrases.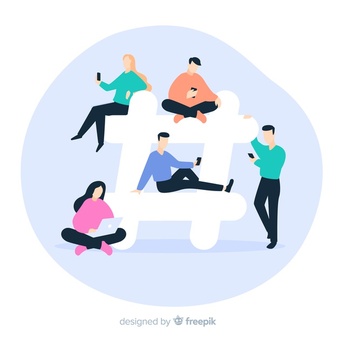 Moreover, now that platforms like Instagram have started letting users follow the hashtags themselves, their use has shot up substantially. But this increase can also mean that it has become more difficult for individual businesses or brand to boost their visibility without getting lost in a sea of similar posts and hashtags. The key is to identify words that are in use, but not overused. Higher volume means higher competition, and basically, a more massive ocean to get lost in.
Make sure you diversify the hashtags you use on every post so that there is an even mix of different types of hashtags, ranging from the common ones to ones that are more specific to the post, to ones that are specific to your business. Include a few smaller volume hashtags that are in trend to boost your posts even more. Small to medium-sized hashtags are the ideal ones to use since these have the highest chance of getting your views in the first few minutes after posting. These are also the most discoverable in terms of specific content. Make sure that your hashtags hold relevance to your business or the post since irrelevant hashtags are either spam-like or completely useless.
If you are unsure about the right hashtags to use, simply a small amount of research about the posts that tend to show up most often in feeds, the hashtags that famous influencers are using, the hashtags that seem to be working for your competition, and the hashtags that relate most to your business can go a long way. After you have found the right hashtag, the next challenge becomes implementation. Decide how much you want to include in the hashtag section, and remember that exploiting hashtags too much and overusing them will not gain you the love of any Social Media Algorithms.
Try not to go overboard, even though platforms like Instagram impose their limit on some hashtags per post. Moreover, remember that as brands and businesses grow in size, they tend to use fewer hashtags since they have started gaining attention. This should be your ultimate goal. To get there, you will need substantial research and constant updating. Keep yourself in the loop about trends and events, and use analytics wherever possible. Try changing up hashtag and hashtag orders regularly since the social media algorithms do not prefer repetitive blocks of the same hashtags on all posts. This means that it is better to think up new hashtags constantly, increase post frequency, and have constant effort, instead of slacking off and turning to copy and paste.