Only the second week into my new job and things at home are already feeling much more manageable. The twins are now six months old and just making it this far seems like an accomplishment. As life is always changing, it definitely feels like we're starting to move forward to a place where we can strive for more than just getting through each day.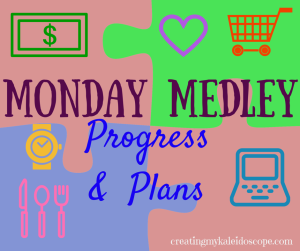 The Kids
The twins are now six months old. Quade loves to babble and Quince blows raspberries all day. We've started experimenting with food. Evenings are still pretty rough – they don't really like to sleep at the same time and still wake up every couple of hours. But they are still very snuggly. The boys definitely seem to be interacting with each other more, even just watching the other one, which is adorable,
Tornado and Goofball brought home excellent report cards the other day. They also worked on Christmas lists. We don't watch much television in our house, so the kids don't see many commercials. They don't usually ask for many toys, because they don't know about all of the over-priced options out there. School and birthday parties have changed that a bit, but the thick Christmas catalog from Toys'R'Us really helped inspire them to make nice, long lists.
Trey is now two and a half years old. He has an excellent vocabulary, which he uses to argue about random things throughout the day. It's hard not to laugh when he crosses his arms across his chest and makes that little pouty face. Little Trey loves all of his siblings, following the older ones around obediently and kissing and "taking care of" the babies.
Money
I should end up with a higher take home pay from the new job. However, there are lots of variables from parking fees, to very different health insurance, and new reimbursements for travel costs. There is a waiting period to get on the new insurance, but the new job is going to pay for COBRA. We also have to wait a while before we can start contributing to my new 401k. We're in good shape to keep moving forward on paying off debt, but it's hard to come up with a completely accurate financial forecast for the next couple of months.
Did you know?
A former employer can't force you out of their 401k program if you have a balance of more than five thousand dollars.
Refinancing my student loans has really helped us shift around our monthly bills so we have more that can be allocated towards paying off our debt. It also gives us more flexibility for this current, somewhat-unpredictable time period. It was so much easier than refinancing our rental property. I honestly wish we had done it sooner and saved on those interest payments. If you want to refinance with Credible, use this link and receive a bonus of $250 (if you refinance more than $20k).
Halloween
I know this is so late, but I did share some pictures on Instagram (follow me here so you don't miss anything). We spent much less than the national average on our trick-or-treating supplies. Trey wore his older brother's dragon/dinosaur costume from two years ago. I made a Paw Patrol Skye costume for Tornado, with a pink vest from eBay. Goofball wanted to be a vampire, so we picked up a cape, pointy teeth, and some fake blood.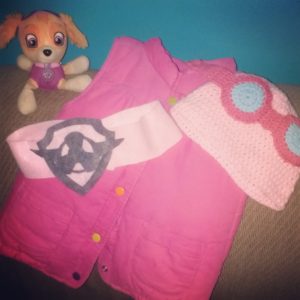 As for the twins, we probably should have thought up something really fun, but life has been pretty stressful. The thing is: it's not like they went trick-or-treating. It was too cold for that. They only dressed up for the Boy Scout Halloween party. The hand-me-down pumpkin outfits worked just fine for that.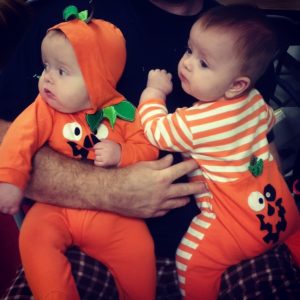 Looking Ahead
The past six months have been very trying, on myself, the kids, our marriage, my career, and our finances. The whole family has been feeling the effects of the stress. It's hard to have fun when you're just trying to survive one day at a time. We're still sleep deprived and have debt to pay off, but there's a perceptible shift towards more balance. I can already tell that the holidays are going to be much more enjoyable this year.
Related: 25+ Cheap and Easy DIY Christmas Presents
I still believe that work-life balance is a myth, but different jobs can give you more time towards living. One of the best things about my new position is that I can work from home a lot – you can save so much time by not having to commute to an office! I want to help others find better options for their families, so we now have a forum dedicated to working parents. Please stop by and join the discussion.
What's new with your family? Have you started your holiday preparations yet?
The post Monday Medley: Kid Stuff and Making Changes appeared first on Creating My Kaleidoscope.