I was given a free ecopy of this
Book
from the author/publisher in exchange for an honest review.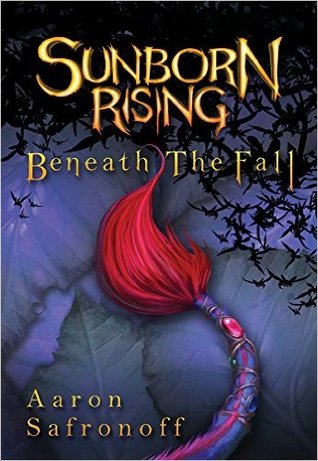 Title: Sunborn Rising: Beneath the Fall
Author: Aaron Safronoff
Publisher: Neoglyphic Entertainment
Publication Date: April 15, 2016
Genre: Fantasy
Length: 385 pages
Format: ebook
Source: author
On a distant world of forests floating on an ocean around a star, a blight threatens to plunge all life into darkness.
But three friends seek the light.
Together, they will Fall and be lost.
And at the very Root of darkness, they will find themselves.
But will it be enought to help them find their way home?
The World of Cerulean
Light and water flow from the ocean into the roots of the Great Trees, up through the boughs, and out over the lush canopies. But the once vibrant treescape has grown dim over generations of arboreal life, and the creatures of the forest have forgotten the light.
Barra, a young ,willful Listlespur, find her late father's hidden journal, and reads about the old world and the mysterious plague her father believed destroyed it. He wrote that he warned the Elders. He urged them to take action. Those were his last words.
Together with her two best friends, Barra will explore every bark, wood, and leaf of the Great Forest to relight her world and complete her father's story, even if she has to travel beneath the Fall.
In an entirely unique world made of humongous trees intertwined together over an ocean with a sun at it's center, a handful of creatures are willing to find out what darkness is plaguing their homes. Barra, along with her friends Tory and Plicks, venture into the dark Middens (lower branches) to find the source of the creepervine fungus they found on an insect. They are attacked by a swarm of life-eating kudmoths and barely escape with their lives only to end up in the 'Fall', landing down upon the roots of the Great Trees. There, they try to find a way back up to their homes but the evil creepervine and it's fungus-puppets make it very difficult for them and they end up the farthest from home they ever imagined they could be.
This has got to be the most unique worldbuilding I've ever come across in literature and it's written so well. This world is so different from our own and so new and yet I never felt overwhelmed by the descriptions or information. It was so easy to imagine this world and it's creatures and the illustrations that are placed throughout the book made it even easier.
I loved the characters, the settings, and the plot. This book was honestly so much more than I expected. It reminded me so much of one of my favorite moves as a child, Fern Gully, along with the more modern beauty of Avatar, but only in that it has a similar otherworldly wonder to it.
The characters were easy to love and care for. Barra is so headstrong and curious. Tory and Plicks are both loyal friends and great supporting characters. The multitude of characters, from Arboreals to Aetherials and more, made this world so diverse.
The illustrations in this book are amazing. is very talented and brings this story to life.
Not only are there plenty of illustrations within the book to help you with the visualization of the unique creatures, but there are even more illustrations and other great stuff (videos, etc) on the website that you can check out to further immerse yourself in this world. If you want to know what the Boil or the Reach looks like, you can!
Yes, there are very lovely illustrations but this is a full length novel that was entirely worth the read and I would highly recommend to anyone who loves fantasy, sci-fi, or adventures. Safronoff has created a world in Sunborn Rising that everyone should explore. It even has it's own soundtrack!
Seriously, if you are wondering what this book is about or if you might be interested in learning more about it, go check out the website!
Or let this video help sway you towards buying and reading this book!