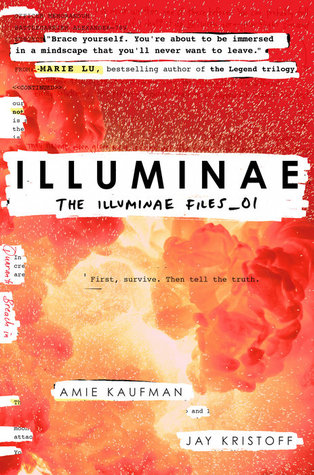 Title: Illuminae
Series: The Illuminae Chronicles #1
Authors: Amie Kaufman & Jay Kristoff
Publisher: Knopf Books for Young Readers
Publication Date: October 20, 2015
Genre: Young Adult, Science Fiction
Format: Hardcover
Source: Gifted
Goodreads | Amazon | B&N
Literary Awards:
Aurelius Award Nominee for Best Science Fiction Novel (2015)
Australian Book Industry Award - Best Young Adult Novel (2015)
Goodreads Choice Award Nominee for Best Young Adult Fantasy & Sci-Fi (2015)
Audie Award for Multi-Voiced Performance (2016)
Synopsis:
This morning, Kady thought breaking up with Ezra was the hardest thing she'd have to do.
This afternoon, her planet was invaded.
The year is 2575, and two rival megacorporations are at war over a planet that's little more than an ice-covered speck at the edge of the universe. Too bad nobody thought to warn the people on it. With enemy fire raining down on them, Kady and Ezra--who are barely talking to each other--are forced to fight their way onto an evacuating fleet, with an enemy warship in hot pursuit.
But their problems are just getting started. A deadly plague has broken out and is mutating, with terrifying results; the fleet's AI, which should be protecting them, may actually be their enemy; and nobody in charge will say what's really going on. As Kady hacks into a tangled web of data to find the truth, it's clear only one person can help her bring it all to light: the ex-boyfriend she swore she'd never speak to again.
Told through a fascinating dossier of hacked documents--including emails, schematics, military files, IMs, medical reports, interviews, and more--Illuminae is the first book in a heart-stopping, high-octane trilogy about lives interrupted, the price of truth, and the courage of everyday heroes.
When Kady and Ezra's little ice-covered planet is attacked, they escape with their lives onto fleeing spacecrafts. One ends up on the Alexander, and the other on the Hypatia. Having just broken up, they aren't quite on talking terms. But with the Lincoln on their tails and ready to blast them out of space and a plague spreading between the Copernicus and Alexander, they end up rekindling their relationship through messages and trying to save their own lives along with the lives of the remaining ships.
This story is uniquely told through a series of hacked emails, medical records, and more, and the formatting really brings the story to life. There are pages where pictures are made of tons of words, pages where sentences follow curves, and pages with very few words. The quick 'instant messaging' dialogue makes this the type of book that you can fly through even though it's 600 pages long.
I was in a pretty big slump before reading this and the unique formatting really helped bring me out of that. I went from reading 5-10 pages a day to reading 100 or more. I really enjoyed reading 'differently' for once instead of just straight lines throughout the entire book.
The story itself is pretty cool with lots of twists and turns. Just when I thought I knew what was going to happen, I would be surprised. The narrative does a great job of giving us some raw emotions despite that this is told through secondhand interviews and emails. The artificial intelligence, AIDAN, was probably my favorite 'character' (if you can call it that).
There was a lot of hype over this book and I completely understand why. I wasn't overly enthralled with the story but the formatting was A+. I'd definitely recommend this to anyone who enjoys science fiction or is just looking for something that is different from anything else they generally read.
My Rating: 4.5 stars